Kuchh Bheege Alfaaz movie review: Onir's lighthearted romance is a fine blend of nostalgia and melancholy
Kuchh Bheege Alfaaz is set in a world of pings, beeps, forwards and rhyme laced with a leisureliness that has become associated with Kolkata.
Love is not just in the air but in the airwaves in director Onir's gentle romance based on a script by Abhishek Chatterjee. Kolkata is united by the rainy season and also by a late night radio show. As hard as it is to believe, Onir would like you to imagine that watchmen, young biker boys, college students and young professionals (men and women) are all tuned into Kuchh Bheege Alfaaz, mesmerised by a sublime voice and lilting poetry. It is perhaps the only hour of the day this audience is not staring into their smart phones and sharing forwards or liking Insta-posts.
Radio jockey Alfaaz (Zain Khan Durrani) recites couplets and tells haunting tales of love and loss. One of this fans is meme artist Archana (Geetanjali Thapa) who seeks meaningless dates through Tinder. We are in the age of millennials, memes and social networking. Her skin anomaly is a major issue that she underplays, which is the explanation for the string of meaningless dates with men who will, most likely, judge her for her appearance.
The meet-cute is virtual. A wrong number dialed, and fate connects Alfaaz and Archana. Even though she is his number-one-fan, yet for weeks after they become unexpected phone friends she still does not recognise his voice. Odd. She is also fielding being unemployed and fighting with her best fried Apu (Shray Rai Tiwari) after we have spent an inordinate amount of time in the conference room of the graphic design company. These scenes just reinforce the vacuousness of meme and viral forward creation to us. In doing so we lose out on the core — the love story.
An agonizingly long time passes before the chance encounter-turned-virtual friendship results in a real-time meeting. This is the story you want to invest in, not the one about a street dog or a woman boss unloading her problems in a bar, and certainly not the workings of a digital agency.
In an interview to Firstpost, director Onir said the story brought together two characters who were both in need of healing. The only difference being that one's wounds are internal while the other carries her scars outwardly.
In an attempt to convert how cool Archana is with her leucoderma, the lovely Thapa sweetly smiles through every travail thereby covering up all other emotions. Durrani, on the other hand, brings out the pain and guilt he is carrying beautifully. Other notable performances are by Tiwari as Apu and Shefali Chauhan who makes quite an impression with few quiet scenes as the teenage schoolgirl.
Kuchh Bheege Alfaaz is set in a world of pings, beeps, forwards and rhyme laced with a leisureliness that has become associated with Kolkata. It is a contemporary setting with a melancholic and nostalgic mood. The blending of innocence and the world of words with modern casualness and the laziness of expression through emojis is what works best for this lighthearted romance.
Entertainment
In an exclusive interview with Firstpost's Lachmi Deb Roy, actor Shahana Goswami, talks about how often she orders from outside through an app, working with Kapil Sharma and Nandita Das.
Entertainment
Filmmaker Ashima Chibber's movie Mrs Chatterjee Vs Norway starring Rani Mukerji revolves around a mother's fight for her two young children who were literally snatched away from her on the grounds of bad parenting by the Norway Children's Welfare Program.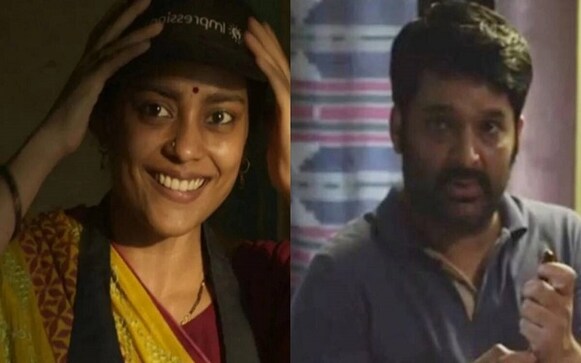 Entertainment
Nandita Das directorial Zwigato strikes a conversation on gig economy and unemployment situation of our country.