Karan Johar's anti-Kangana Ranaut jibe at IIFA 2017 was a below-the-belt hit
Nepotism doesn't 'rock'. But Karan Johar, Saif Ali Khan and Varun Dhawan wouldn't know irony if it walked past them wearing head-to-toe Versace.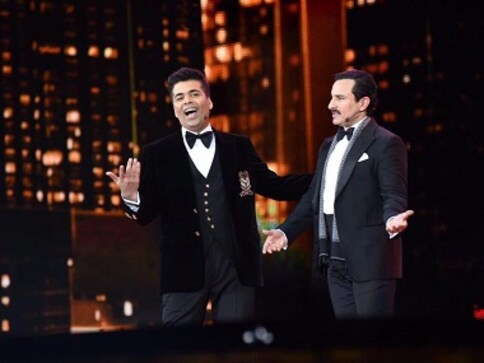 Karan Johar is at it again. 'It' being taking potshots at Kangana Ranaut on a public platform. Over the weekend at the IIFA Awards, Karan, along with Saif Ali Khan and Varun Dhawan successfully brought Bollywood's favourite word of 2017 — 'nepotism' — back in vogue.  
Here's how it played out: Karan and Saif were hosting the awards where Varun won Best Actor In A Comic Role for his work in Dishoom. When Varun came on stage to receive his award, Saif said, "You are here because of your papa." To which Varun replied, "And, you're here because of your mummy." Karan added, "I am here because of my papa", before the trio in unison declared "Nepotism rocks'.  
The joke wasn't over. After all, Kangana was yet to be mentioned.
So, Varun said to Karan, "There was a song in your film: 'Bole Choodiyan, Bole Kangana'". To which the director-producer replied, "Kangana nahi hi bole toh achcha hai. Kangana bahut bolti hai (It's better Kangana doesn't say anything; she talks a lot)."
Since the nepotism row broke in February (when Kangana called Karan the 'flag bearer of nepostism' on Koffee With Karan), this is the second time the Dharma scion has taken potshots at the actress on a public platform. And, both times, Kangana wasn't present. That's the difference between these two personalities. Kangana said what she wanted to Karan's face, on his territory. And, she's moved on since. Karan, on the flip side, hasn't stopped making snide remarks.
Nepotism doesn't 'rock'. But sons of Yash Johar, Sharmila Tagore and David Dhawan wouldn't know irony if it walked past them wearing head-to-toe Versace.  
Saif delivered his first hit with Yeh Dillagi, two years and four films after his debut in the disastrous Parampara. Dilwale Dulhania Le Jayenge was the first film Karan worked on because his childhood friend Aditya Chopra asked him to assist him on that film. It was on the sets of DDLJ that Karan met Shah Rukh Khan and Kajol, who he signed for his directorial debut Kuch Kuch Hota Hai. Varun assisted Karan on My Name is Khan, an opportunity he got probably only because of who his father is.  
Since Kangana mentioned it on Koffee With Karan, every star kid has been asked for his or her take on nepotism. The replies have ranged from Alia Bhatt wanting to 'punch all these people who say that star kids have it easy' to Ranbir Kapoor normalizing the advantage his family's position gave him by saying "it happens everywhere".
Varun went as far as to say, "If my father won't do this for me, then who will... They [outsiders] are behaving as if their fathers haven't even bought them a pencil box. After a point, it just becomes an excuse," he added.
Unlike the thousands who dream of being a part of Bollywood, star kids are born with the privilege of being 'insiders'; to have access that others don't have. For a star kid, the words 'struggle' and 'failure' don't have the same connotations as they do for an outsider trying to make it in the industry. Now, it's not wrong to use whatever advantages life has thrown your way, but to believe that the privilege is natural is deluded.
I am not going to convince you that nepotism is a very real issue and no amount of "But star kids have to work hard" is going to make it go away. My bigger issue with these jokes at IIFA is that they reek of entitlement. Three rich and powerful men belittled someone who questioned the status quo just because they can. Six months ago when Kangana held up a mirror to Bollywood, it would have been natural to expect insiders to at least graciously acknowledge their privilege. Instead, we've only gotten mean-spirited jokes.   
Entertainment
Nikhita Gandhi is the voice behind Kangana Ranaut's Dhaakad song, 'She's on Fire', co-sung by Badshah.
Entertainment
In an exclusive conversation with Firstpost, Dhaakad actress Divya Dutta recalls the time when she was told that she is too sweet to play a grey shade during 'Heroine' days.
Entertainment
In Dhaakad, Kangana Ranaut does a female Rambo act with aplomb approaching a nirvanic expedition.