Kangana Ranaut on Hrithik Roshan row: 'I want an apology from him for his callousness'
Kangana Ranaut reopened the Hrithik Roshan chapter in her interview to Rajat Sharma on his TV show Aap Ki Adalat.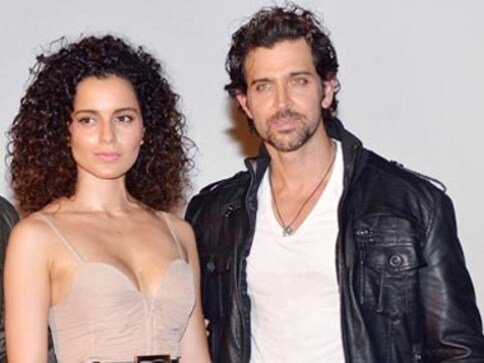 Six months ago, in an exclusive interview to Firstpost, Kangana Ranaut had confessed that her ugly public battle with rumoured ex-boyfriend Hrithik Roshan could have been worse, had she been answerable to anyone.
But in a recently released promo of television show Aap Ki Adalat, Ranaut reopened the Hrithik chapter when she was quizzed about the same by the host, Rajat Sharma. "You should call him here and ask him. I did not send a legal notice to him," says Kangana, referring to the defamation notice that Hrithik sent to the actress last year for allegedly referring him to as her ex-boyfriend.
In the promo, Kangana goes on to spell out the mental and emotional trauma she went through during that phase. "I wept all night. I could not sleep. I had to go through mental and emotional trauma. The e-mails that were leaked are Googled and revisited even today, for cheap pleasures. I want an apology from him (Hrithik) for his callousness," an enraged Kangana says in the promo of the show slated to air this weekend.
Kangana and Hrithik were involved in the legal battle for a majority of 2016 before they announced that they had decided to resolve the issue amicably.
'I want @iHrithik's apology for causing mental trauma', #KanganaRanaut told me in #AapKiAdalat Sat, Sept 2 at 10 pm @indiatvnews pic.twitter.com/6SQBW2v1po

— Rajat Sharma (@RajatSharmaLive) August 30, 2017
Find latest and upcoming tech gadgets online on Tech2 Gadgets. Get technology news, gadgets reviews & ratings. Popular gadgets including laptop, tablet and mobile specifications, features, prices, comparison.
Entertainment
The new deal covers Universal films — which include the Fast & Furious franchise, Jurassic Park movies and the Despicable Me series — in the US over the next three years.
Entertainment
Nepotism is encouraged, above all, by a film industry marked by high risk and volatility. Under such circumstances, the star – who accumulates an almost divine aura in his person – comes to be the biggest investment the producer makes to guarantee a film's success.
India
On 3 July, the police had tried to summon Kangana Ranaut back to Mumbai from her hometown Manali in order to record her statement.