Jab Harry Met Sejal through the lens of the female protagonist, and her conflicted moral compass
Anushka Sharma's Sejal appears conflicted because of the battle between her conscious and subconcious. While the former governs her moral compass, the latter wants to break free from it.
In an interview with Film Companion, Shah Rukh Khan said that a romantic story cannot be told without empowering the female character. It is the leading lady that drives the story. But since almost all his films have had him as the focal point, how fair is it to claim the same?
In their reviews of Imtiaz Ali's recently released romantic comedy Jab Harry Met Sejal, film critics Anupama Chopra and Rajeev Masand had expressed their disappointment in Anushka Sharma's character of Sejal who appears conflicted and contrived throughout the film.
However, what they, and all those who echo their opinions, must realise is that the conflict is a result of the battle between her conscious and subconscious. Consciously, Sejal is aware that as soon as she finds the ancestral ring that her fiance gave her during their engagement ceremony, she will have to leave her co-seeker Harry (played by SRK) and return to her wedding preparations.
But what plays a crucial part here is her subconscious. Sejal is a conflicted woman because of how she has been conditioned to be and how she intrinsically is. Her conflict concerns her moral compass that has been dictated by both her joint Gujarati family and her legal profession.
Since her back story has not been revealed, it is only fair to draw inferences from her background and her reaction to situations to judge where she is coming from. Born in a Gujarati family, it is obvious that she has spent little time alone. Thus, the opinions and moral standards of her family members organically creep into her as she has had no opportunity to shape an opinion of her own.
It could be argued that the reason why she appears so strong headed from the first instance could be because of the setting and lack of familiar company which allowed her natural self to get the better of her conscious side. She could be another Ved from Ali's 2015 romantic drama Tamasha. Conditioned to follow the rut of her schedule, she could only explore her true self once she could travel alone. The viewers never really got the chance to see her in the midst of her Gujarati household in order to get a glimpse into her seemingly monotonous life.
The second factor that governs her moral compass is her education. With an LLB degree, she is well-versed with the laws of the land. Scenes like the 'intercourse indemnity bond' and the one in which she rescues Harry from a bitter ex-girlfriend bear testimony to her grasp of the subject. The laws might prove to be another hindrance in her path to express her true self.
While she accuses Harry's ex of harassment, she is guilty of the same as she harasses him to find her ring. It is then that the lines between the conscious and the subconscious tend to blur. What she consciously appears to be seeking is the ring but what she actually seeks is a lifelong companion who accepts her for the person she is and not for how conventionally 'sexy' she comes across as.
When Harry is seeking stability in every girl he makes out with, he eventually finds it in Sejal who is the other piece of the puzzle that he was looking for. She turns out to be his 'Radha' after his sexual encounters with countless 'Gopiyan'. Sejal, on the other hand, challenges Harry to accept her the way she is, in her quest to prove her worth as a partner despite her 'apparent' lack of sex appeal.
There are two major hurdles that she encounters in the same path, one conscious and the other unconscious. The conscious hurdle is what every leading lady of every Hindi film faces — of leaving a man at the altar. While she could have gone the Mira (Deepika Padukone) way from Ali's 2009 romantic drama Love Aaj Kal and apologised to her husband (Rahul Khanna) the very next day of the wedding and returned to the love of her life (Saif Ali Khan), she does not opt to do so.
Instead, she places all the trust she has in Harry, and the larger scheme of things, and decides to call off her wedding. But she does not convey the same to Harry and just makes it to the wedding venue, hoping he will thwart the marriage.
The subconscious hurdle is that of Harry being on the same page as Sejal. Will Harry gain enough strength to let go of the baggage of "what Sejal thinks" and just act on his instincts? Will he stop fretting over how the move would affect Sejal's image? Eventually, Harry does decide to accept Sejal for the morally skewed (when she is expected to be) woman that she is and embraces her true self by overlooking the perception that she carries in society.
Another instance that proves the same is when she feels liberated after Harry calls her more 'worthy' than the stripper that they encounter. Her joy is clearly depicted when she talks to her sister on Facetime and the ensuing song, 'Phurr' also encapsulates her consequent flying away from the shackles.
Far far away, there exists a field beyond the right and the wrong. You will find the new and improved Sejal there.
Subscribe to Moneycontrol Pro at ₹499 for the first year. Use code PRO499. Limited period offer. *T&C apply
Entertainment
Mandy Moore, who's named her newborn son August Harrison Goldsmith, revealed he was born 'right on his due date.'
Entertainment
Springsteen was arrested 14 November in a part of the Gateway National Recreation Area on the New Jersey coast, a spokesperson for the National Park Service confirmed Wednesday.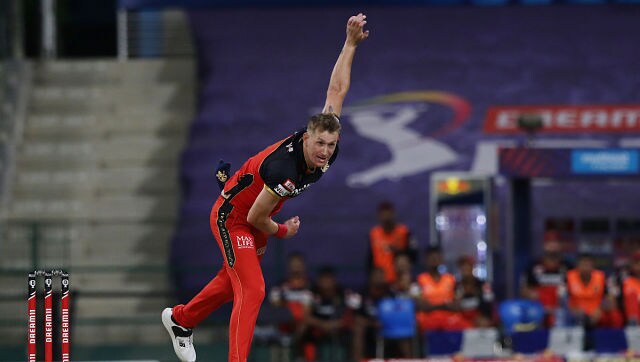 Sports
Tamil Nadu's Shahrukh Khan expectedly got a handsome Rs 5.25 crore deal from Punjab Kings, more than 51 times his base price of Rs 20 lakh.