Gossip Guy 15: Father-son duo Anil Kapoor, Harshvardhan on films and fashion unbuttoned
In the latest episode of Gossip Guy, the host Renil Abraham catches hold of the father son duo - Anil Kapoor and Harshvardhan Kapoor.
Since Anil's daughters Sonam and Rhea Kapoor launched their clothing line Rheson recently, the senior actor talks about his entire family is passionate about films but are branded as fashionistas by the media. "But I do not advise them to rectify that. Do not go all out there to prove otherwise," says Anil, who claims he is referred more as a star than an actor today.
Renil also has the father and the son compete with each other in an interesting game - the one who unbuttons the maximum number of shirts within a stipulated time period wins the game. So who wins? Anil or Harshvardhan? Watch the episode to find out.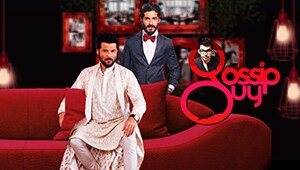 Updated Date: May 23, 2017 11:32:37 IST