Genius movie review: Anil Sharma's dated spy drama is a disservice to son Utkarsh's sincere efforts
It does not take a genius to figure out that the smart play for Utkarsh Sharma might have been to debut in a role better suited to his personality and appeal.
Vasudev Shastri (Utkarsh Sharma) is a topper-type who breezes into IIT where the second ranker, Nandini (Ishita Chauhan), decides to make his life hell. But Vasu is too smart and too in love with her to be outwitted. Does he do smart things to prove his love – not exactly. But suffice to say his sacrifice and stupidity in love is what it takes to win over Nandini.
Besides being the affable 'genius' around campus, he has also got a part-time job working with RAW (Research and Analysis Wing) where his hacking talents are employed.
Vasu was orphaned when his parents were killed in communal riots. He was found by a priest who raised him in a temple complex in Mathura. The life-positive Vasu is the one we see in flashback. In the present, Vasu dresses in all-black, uses a walking stick (limps when he remembers to) and suffers from acute tinnitus. This troubled, damaged Vasu is the one who survived multiple bullet wounds during a high-level mission. Special agent Vasu heads a division of RAW called TOCSI, which was tracking public enemy number one, simply referred to as MRS (Nawazuddin Siddiqui).
The notion of uber intelligence is the wasted theme. Vasu and MRS are supposed to be two sides of the same coin. Their trajectories suggest how untapped genius can go awry, versus how nurturing and channeling of superior skills can be used for the greater good. The film might have been more engaging had this face-off been the core of Genius rather than the infantile love story between Vasu and Nandini (a role that any newcomer might have played and left an equally forgettable impression).
Shabby special effects, outlandish costumes, over-writing, under-editing, ungainly choreography and an excess of songs (I counted three within the first 30 minutes itself) add to the discomfort felt during this viewing.
There were many unintended laugh-out-loud moments, some of them courtesy the dialogues. In one scene Vasu challenges MRS saying, "I will be back", echoing Arnold Schwarzenegger grunting a similar same line in Terminator. At another point, one character asks, "Do you think it's classy?" to which the response is "No it's very, very massy." At one point a doctor describes a patient's condition saying, "Achanak uska brain dead ho jayega" (suddenly, he will be brain-dead). That line summarised my condition at the end of the three hours.
Is there anything Vasudev Shastri cannot do? It seems like he can do it all. However, the question needs to be modified: Can Utkarsh Sharma do it all – ride a motorbike, dance and sing, romance, fight, rock a black trench coat, go shirtless to show off a six-pack, pull of chest-thumping nationalism and emotional drama?
Young Sharma is sincere and puts all his will and might into a chaotic story that loses track of its top and tail quite early on.
It does not take a genius to figure out that the smart play for Utkarsh might have been to debut in a role better suited to his personality and appeal, over an old-fashioned showcase mounted by a zealous father designed to deliver his son as a lover-boy and action hero.
Entertainment
The film is a teen revenge drama set against the backdrop of high school shaming and ostracising.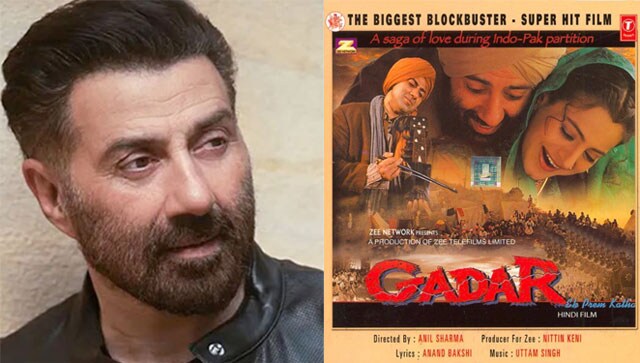 Entertainment
Gadar- Ek Prem Katha was a mammoth post-Partition melodrama, where Sunny Deol sets off across the border to bring his wife Ameesha Patel back from Pakistan. The actor spoke about how the film should re-release while promoting his next, Chup: Revenge of The Artist.
Entertainment
With every plot uptick, first in the form of nationwide media attention, then a CBI enquiry, comes a greater fall. When Siya refuses to be guilted into marrying one of her rapists and pursues justice, her father is tied to a tree and publicly lynched to death.