Dhadak: Will Sridevi turn reel life mother to Janhvi Kapoor in her debut film?
Sridevi has reportedly not given her final nod to Dhadak yet but she is unlikely to turn down the role as it is her daughter Janhvi Kapoor's debut film.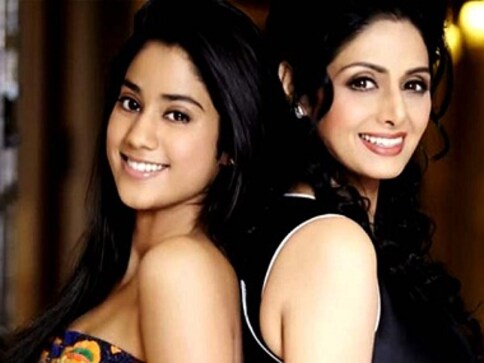 Now that it has been officially announced that Sridevi's daughter Janhvi Kapoor will be making her debut in Karan Johar's production Dhadak, with first look posters of the film being shared by him on Twitter, another surprise seems to be in store.
India Today reports that Sridevi might come on board her daughter's debut film in the role of her mother. The same report states that Sridevi is yet to give a nod to the film but it is unlikely she will turn down her daughter's debut film.
The film is a Dharma production remake of the Marathi blockbuster Sairat, which was a love story between an upper cast girl Archana and a fisherman's son, Prashant, and dealt with themes of caste violence and honour killing.
Deccan Chronicle reports that the role of the girl's mother in this film is brief but very important. And the woman must look graceful, dignified and be able to express her love for her rebellious daughter and be able to stand up for her against the father who is vehemently opposed to her daughter marrying a boy from a socio-economically backward section. 
Dhadak is said to be set in Rajasthan and will be an upscale and glamorous remake of the critically acclaimed original with Janhvi and Shahid Kappor's younger brother Ishaan Khatter in lead roles. Deccan Chronicle reports, "The look of the film would be upscaled drastically. The original Marathi film had two working class newcomers who played youngsters from villagers. Sridevi's daughter can't be launched like Rinku Rajguru in Sairat. Sridevi and Boney Kapoor wanted a glamorous, lavish launch for their daughter. They were very clear on that."
Entertainment
A descending look at the numbers behind Tuesday's nominations for the 95th Academy Awards.
Entertainment
The movie follows two ambitious analysts at a cutthroat hedge fund, played by 'Bridgerton's' Phoebe Dynevor and 'Solo's' Alden Ehrenreich
Arts & Culture
Designer Anavila Misra on how her blockbuster saris are an impact-driven social enterprise.