Being Salman Khan's T-shirt: Tracing how the garment is a not-so-inseparable part of his stardom
On his 52nd birthday, Firstpost measures the role Salman Khan's shirt has played in his career at the cost of getting conveniently disposed time and again.
In a career spanning almost 30 years, Salman Khan has had an enduring romance with his T-shirt. Their love-hate relationship is well documented in the past three decades. The superstar has held his love close to his heart (literally) but never refrained from parting away with it at the drop of a hat.
Years before him taking off his shirt became a foolproof formula for success, Salman stood bare-chested on the poster of Sooraj Barjatya's 1989 romantic drama Maine Pyar Kiya. As Bhagyashree held on to his denims, probably pleading him to not shed those, Salman obliged her by placing his hand on her head.
However, irrespective of whether it was a sanskari Barjatya film, Salman has never let his pants get the better of him. We can't say the same about his shirt though.
In fact, his bare bodied look became the hottest commodity in the business in 1998 when Sohail Khan reintroduced him in his shirtless avatar in 'O O Jaane Jaana' from Pyar Kiya Toh Darna Kya. Interestingly, he was not meant to be shirtless.
In an interview, Salman revealed that he was supposed to wear a red T-shirt in the song but the available sizes did not fit him. Sohail then just asked him to go ahead without the tee. And the rest is history.
With his chiseled physique and boyish charm, he sent women drooling to such an extent that they even failed to notice that the electric guitar, that he went about strumming like a pro, was cordless. And so started Salman Khan's saga of shirtlessness and helpless suspension of disbelief.
This effect was even cashed in by parents and used against their stubborn kids. In an interview, Sohail Khan said that many mothers shared with him how they used their kids' aspirations to become Salman Khan as a bait. "If you don't drink this glass of milk, then how would you become as fit as Salman?" they would tell their gullible kids.
And Salman's producers used this trope (of him taking the shirt off) as a bait to get his fans to the theatres. The scene was either strategically incorporated into the narrative or forced into it in the eleventh hour. If you had Salman Khan in your film, you would be a fool to not let him take his shirt off.
Even in what is considered his second innings, Salman has ensured he gives his fans that one scene in which his shirt is flung far away. Most of the time, it is in the midst of a high tension action scene. Arbaaz Khan even tried to lend logic to the trope when he directed the antagonist to tear off Salman's shirt in Dabangg 2 rather than just have him take it off himself.
Kabir Khan, who has often said he is not ready for the Bollywoodisation of his craft yet, resorted to a fleeting shirtless scene of Salman in his 2012 spy thriller Ek Tha Tiger.
In that bargain, leaked images of Salman's not so ripped body surfaced on the internet. The kids who grew up aspiring for the six-pack abs discovered that the key to stardom is in fact VFX, not milk (or how Katrina Kaif pronounces 'mulk' in the same film). But can we blame the 50 year old for not keeping up with the times?
Ali Abbas Zafar committed the blunder of humanising the demi-god when he asked Salman to bare his soul in his sports drama from last year, Sultan. In a film which was designed to have Salman shirtless in the majority of scenes, what peak could have Ali come up with? But it did come when Salman cried his eyes out looking his paunch in the mirror right before he shed off his ring rust to reenter the akhada in the film. In other words, probably for the first time, he bared his soul along with his body.
Ali continued this strategic taking-off-the-shirt moment in Tiger Zinda Hai, the sequel of the film that Salman was trolled for his ill-maintained physique and attempt at deceiving his audience. Spoilers aside, Salman uses his shirt in a key scene of the film to cover his face in order to protect himself from a highly toxic gas. He then goes about bashing the bad guys with his covered face and bare chest.
Many discerning members of the audience objected to the logical feasibility of such a scene. But wait, aren't we way beyond the point where we can demand logic from bhai and his yes men? What we can demand, and expect, is wholesome entertainment laced with the thrill of waiting for the scene where he disposes his shirt.
The only one who can deservedly object to this trope is the shirt itself. What is the purpose of that shirt if not to just sacrifice itself for the sake of cheap thrills. Being Salman Khan's shirt comes with a price, not just a price tag.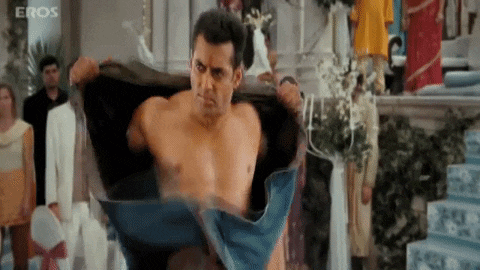 Find latest and upcoming tech gadgets online on Tech2 Gadgets. Get technology news, gadgets reviews & ratings. Popular gadgets including laptop, tablet and mobile specifications, features, prices, comparison.
Entertainment
The Television Academy announced that each network and streaming service competing on the telecast has pledged a $100,000 donation for every Emmy they win.
Entertainment
Ragini Dwivedi was arrested last week in the police crackdown against drug abuse in the Kannada film industry.
Entertainment
Himani Shivpuri said she is receiving treatment at Holy Spirit hospital in suburban Mumbai on the advice of her doctors.