Anushka Sharma deserves praise for taking on genre that A-list stars shy away from, with Pari
Before Anushka Sharma, A-list stars have seldom ventured into the horror genre that treads on the fine line between a spine-chilling thriller and a farce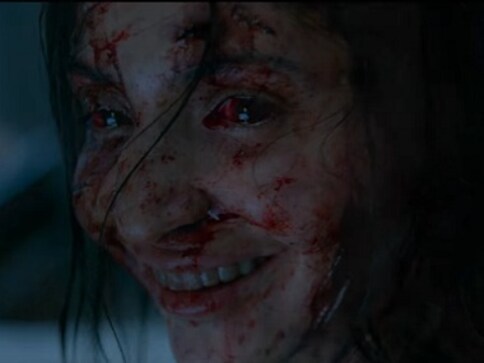 Amitabh Bachchan has featured in two while Dharmendra has acted in just one, that too as a guest appearance. Vinod Khanna has none to his credit while superstar Rajesh Khanna, despite his romantic image, took a bold step by signing two such movies during his salad days. The same holds true for the Khans. Aamir Khan and Shah Rukh Khan have just one against their name while Salman Khan has none. That more or less sumps up the lackadaisical attitude of superstars towards the horror genre.
Pari, scheduled to hit theatres this Friday on 2 March, starring Anushka Sharma, is a much needed attempt by an A-lister to give this genre a booster shot. It also means that all is not lost and there is still hope. 
The step-motherly treatment that has been meted out to horror films by Bollywood superstars over the years is nothing new and the practice has been there since ages. Ashok Kumar, even after the mega success of Mahal, never opted for another horror film and Dilip Kumar followed suit. Under the baton of Bimal Roy, Dilip Kumar gave a super hit in Madhumati but preferred doing tragic roles more.
Amitabh Bachchan's Hum Kaun Hai was an extremely bad copy of The Others. Rajesh Khanna, at the peak of his career, gave consent to working in the Danny directed Phir Wahi Raat and then again appeared in Woh Phir Aayegi.
Talaash, Paheli and Suryavanshi were more on the supernatural side and of the three, the Salman Khan starrer evoked more laughter than the desired purpose. Salman, while interacting with media during the run up to the release of Sultan, had clearly stated that the horror genre scares him and he would rather refrain from horror and sex. The bottom line is when it comes to horror, the superstars fare poorly.
So what is it that discourages the sultans of box office from dabbling in a genre that also remains the most profitable genre vis-à-vis the cost of production. One look at the horror films of this country and the straightaway notion that one assembles in mind is of semi-porn flicks. So deep has been the imprint, thanks to the house of Ramsays horror films that it is almost indelible. The safe bet attitude of stars who are always on hunt for films that can project their clean image and have the potential to appeal to the whole family keep such films at bay.
When Ramsays saw great business opportunity in the horror genre, they swamped the era of 70s and 80s with such films. In the absence of known stars, they made in their own formula and defined their own style sheet. When horror was first served smeared with the right amount of titillation, little did they knew that the audience will smack up everything. Slowly and steadily, this gave a reputation to the horror genre that in later years, horror and soft porn became synonymous with each other. This also forced the A-listers not to associate themselves with this genre which was likely to create dent in their 'family star' reputation. Ramsay could churn out such films in numbers as the cost of production of such films was on the lower side compared to an average film. With the passage of time, the taboos associated with such films became so strong and irreparable that A-listers started shunning such films altogether.
It might be interesting to note here that in coming months, Bollywood is all set to be bombarded by films of this genre and barring Pari, none of them is helmed by an A-lister. If Stree has Rajkummar Rao and Shraddha Kapoor, Nanu Ki Jaanu is fronted by Abhay Deol.
It is said about horror movies that if made in the right manner, it can really help a person's career soar high. The range of emotions involved in such dramas are complex and they definitely require skilled talent to sail through the emotions. In recent years, credit must be given to Vikram Bhatt's Raaz for reviving and giving some respectability to a genre which never figured in the radar of mainstream popular filmmakers after the genre was sort of ripped by the Ramsays. The success of Raaz helped Mahesh Bhatt and Mukesh Bhatt's production house Vishesh Films make a fortune on such films. Last heard, the banner is mooting to bring out the fifth installment of Raaz.   
About A-listers not being comfortable with this genre, the general notion is that in such films the genre is completely controlled by the writer and the director who have an onerous task of ideating an eerie ambiance. There is also the fear of Damocles' sword that always keeps hanging on such films as they tread a very fine line between giving a spine chilling experience and becoming a butt of laughing stock. The fear of getting a backlash always lurks somewhere.
Horror films, in most cases, are driven more by the ambiance and less by the histrionics of the character and thus, benefits which A-listers might reap from such films are far less compared to other films. But the biggest fear which often haunts them is the dreaded A certificate which such films are often awarded by the Censor Board. The fear of alienating a section of their fans is simply too much for them.
With stars like Anuhska Sharma, Rajkummar Rao and Shraddha Kapoor joining the bandwagon, the move can only be termed as a positive one towards this genre. One only hopes that the A-listers move out from their cocoon for once and give their fans something else to chew about.
Images from YouTube.
Entertainment
The actress shared a picture of the pizza sent to her by Shilpa on her Instagram story.
Entertainment
The actor shared the pictures of the posters too, which have been used by the Congress party for their movement against corruption in Karnataka by the ruling party.
Entertainment
Kantara is an important story that is portrayed stunningly with the help of folklore, and art that is native to the Kundapura area. Rishab Shetty has performed stunningly in an affecting film.