Bollywood in 2017: From Golmaal Again to Padmavat, debating the what ifs and what nots of the year
2017 is almost over and we have witnessed a plethora of sentiments when it comes to cinema this year.
(This is part two of Showsha's two-part series on what went wrong in Bollywood in 2017. Widely considered to be an unsuccessful year for the Hindi film industry, 2017 saw big films fail at the box office, and concept-heavy, indie films took away the cake. Here, we try to decode this paradigm shift in how cinema is being consumed in India. Part one here.)
Here we are, again, debating the what ifs and what nots of 2017.
2017 is almost over and we have witnessed a plethora of sentiments when it comes to cinema this year. From scarcity of films that were memorable to the cringeworthy tales of remixes, to bigots trying to protect the honour of a mythical queen — we have gone through a roller coaster ride. All we wanted were some good films to watch over the weekend with a brewing cuppa, but nevertheless.
Another year has gone by and Bollywood has deferred to grow.
While some are calling it the graveyard year of films, others are just netflixing everything and have sworn to stay inside their homes forever. Out of 200 odd films that have released in 2017, most of them have been forgetful and all you can remember is a hazy day at the cinema. Not a great sign, for sure. Even big ticket movies did not strike a chord with the audience and despite Salman & SRK headlining projects like Tubelight and Harry Met Sejal, it floundered at the box office.
Well, the problem with star studded vehicles is that we don't have enough of them to maintain a balance. Studios are fighting a different battle altogether: they would like the stars to scale down their fee so they can experiment with them. Their fee is so high that studios don't want to risk losing the buck and they end up making the stale formula over and over again, which, this year, has resulted in absolute boredom. How many times would you watch the same film with different embellishments?
With digital entertainment available at the comfort of everyone's pyjamas and popcorn, many do not want to take the effort to get out of their house to a theatre cramped with people to watch something which is not worth their money, time and effort.
Many people in the industry today are chasing the instant hit and leaving filmmaking for posterity behind. We have entered a time when we are losing longevity from our films and even our music for that matter. All everyone talks about is if whatever they touched turned gold or not.
Amidst all the pitter patter of the chase to the box office, Aditi Rao Hydari is someone who has made the effort to stay as effervescent as she can when it comes to what she is doing. She told me, " Everyone one has their own reason and their individual choices and they are valid. My brain is wired differently, I am idealistic. Though I'd love to have a big huge hit, but there has to be something more for me. I believe, longevity is where the film is not consumed properly and spat out, right? But I love the kind of film that you can keep going back to. I am naturally drawn towards films or directors that have the 'forever' vibe. Directors who create cinema, and films that live beyond you, that will be spoken off many years later. You call it posterity ,I just call it magic."
This rat race doesn't really end as on one side we have trade analysts predicting how much moolah a film rake in and on the other hand, makers are cashing in every time they add a 'Returns' 'Again' 'Reloaded' as a suffix to the title. The biggest film of the year is yet again a sequel and a film that might have mesmerised us has been held hostage for political gains.
Is it a conducive environment to make films? I don't know, but what we are doing is finding comfort in the familiar and just adding bells and whistles to it. We have forgotten that a film is made for posterity and not just the opening weekend as that is not the way one should measure a film. If that was the case, we would not have sat down and giggled every time Andaz Apna Apna is on TV.
Today, films are competing with various forms of 'free' entertainment and that is where the experts need to step in as they create an experience which is astounding. The time is to tailor the art to suit the audience and that is when we'll be making sense and money together. Till we find that balance, we will feel stranded even in the chaos that is every Friday at the movies.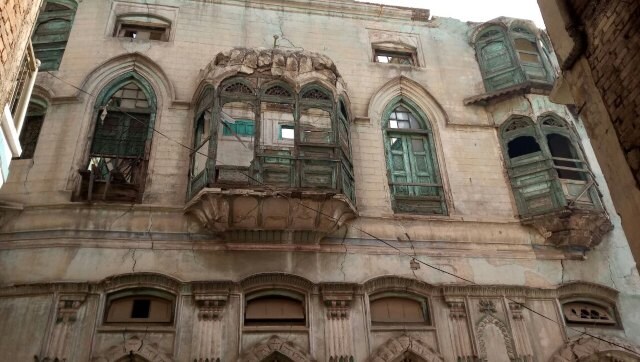 Entertainment
The director of Khyber Pakhtunkhwa Archaeology and Museums Department said the restoration work will take place after Eid-ul-Fitr following the takeover of the two houses.
Entertainment
The FIR against Pal was lodged by the Andheri police on the basis of a complaint filed by Sushmita Bhatnagar, head of the Association of Medical Consultants, a police official said.
Entertainment
Radhe: Your Most Wanted Bhai, releasing both in theatres and on Zee Plex on 13 May, features Khan as an encounter specialist who is tackling the drug menace in Mumbai.