Blake Lively, Ryan Reynolds never cease to savagely troll each other on social media; here's their latest exchange
Blake Lively and Ryan Reynolds, who have been married for six years never leave an opportunity to poke fun at each other on social media.
It's never too late to admire Ryan Reynolds and Blake Lively's sense of humour. They have been known to troll each other on social media for years. The A-list actors have the looks, the talent, a huge fan following and a delightful relationship. The couple wed in 2012 and are parents to two children.
Even though fans sometimes miss out on their inside jokes, they still keep coming back for more.
This time, it all started when Lively tweeted a teaser of her upcoming movie A Simple Favor based on Darcy Bell's novel of the same name.
❓❓ @ASimpleFavor pic.twitter.com/e4hh4VZF7u

— Blake Lively (@blakelively) May 26, 2018
Reynold's was quick to respond to her.
You can tell me. We're married. You once drove me to the hospital when you were giving birth. So... what the fuck happened to Emily? https://t.co/W5vWQI9TVr — Ryan Reynolds (@VancityReynolds) May 26, 2018
Lively wrote back.
Oh darling, of all the secrets I'm keeping from you, this should be the LEAST of your concerns... trust me. — Blake Lively (@blakelively) May 26, 2018
Also, here's a list of the couple poking fun at each other:   Blake posted a comparison picture of her husband as Deadpool.
#WhereAreThoseEyesWanderingReynolds wrote Blake about this photograph of Helen Mirren and Reynolds during one of Woman In Gold promotions. 
When a tabloid wrote about their marriage being on the rocks. Reynolds turned it around and joked about wanting 'me time.'
I wish. I could use a little "me time". https://t.co/S6kXFsWaMe — Ryan Reynolds (@VancityReynolds) March 31, 2018
 When Lively made fun of Reynolds' baking skills. 
When he wished her happy birthday. 
And she took her revenge.
When he poked fun at her look from her new movie.

When she made sure Ryan knew who the real influential person was.
"Congratulations to the most influential person in my life. The best man I know… you deserve this @time 100 honor … If only my husband wasn't blocking you in this shot. I'm so sorry @johnlegend."
Find latest and upcoming tech gadgets online on Tech2 Gadgets. Get technology news, gadgets reviews & ratings. Popular gadgets including laptop, tablet and mobile specifications, features, prices, comparison.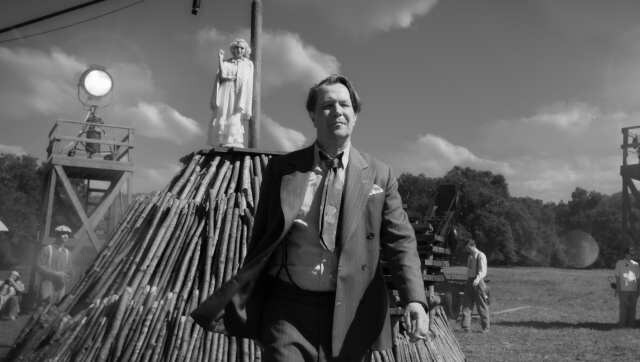 Entertainment
Mank will follow Herman Mankiewicz as he finishes the script of Citizen Kane for director Orson Welles.
Entertainment
In Away, the thrills of space travel are side-lined in favour of This Is Us-flavoured family melodrama.
Entertainment
The Television Academy announced that each network and streaming service competing on the telecast has pledged a $100,000 donation for every Emmy they win.