Black Panther Teaser: The story of the king-turned-Avenger is a unique first for Marvel
After all the hype around Black Panther's casting in Avengers: Infinity War, Marvel Studios has finally given us the first poster and teaser for Black Panther starring Chadwick Boseman in the titular role as the King of Wakanda turned Avenger.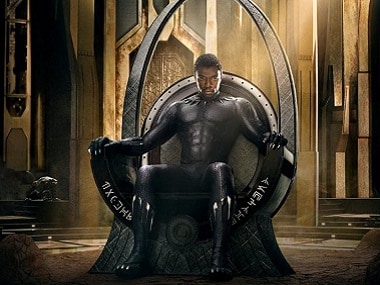 We first saw Black Panther — or T'Challa as he is known to the subjects of his country Wakanda — in 2016's Captain America: Civil War.
Directed by Ryan Coogler, Black Panther is the first solo black superhero film in Marvel's current cinematic universe. Boseman is T'Challa, a.k.a. Black Panther, King of Wakanda, a fictional African country that is a major technological leader in the Marvel universe. In the comic books, the precious metal called vibranium is found in Wakanda, making it a place of interest to forces of good, evil, and everyone in between.
In the first scene we see the smuggler Ulysses Klaue/Klaw (played by Andy Serkis) being interrogated about Wakanda, and Boseman and his bodyguards watching through a two-way mirror Klaw talks about it as, ". . A place of wonder, hidden from the rest of the world, where few can visit and fewer leave…?"
Then cut to the country of Wakanda, and we get a story of how hard it is for a good man to be king, actions sequences of T'Challa in his suit taking on a full storm of bullets and his female bodyguards, the Dora Milaje, lowering the boom on some bad guys.
We also get a look at Oscar winner Lupita Nyong'o as a member of Dora Milaje, T'Challa's circle of bodyguards. T'Challa has a duty, first and foremost, to his people and is tasked with protecting their interests — interests that might not always coincide with what the Avengers want.
Black Panther will be the first Marvel film to tell a story from a point of view of a superhero that isn't a white male. A majority of Marvel's stories have had not just heroes but also villains, allies, and supporting characters who are white or Caucasian, until now.
Just like Wonder Woman had an all-woman ensemble, Black Panther has an extremely diverse cast and crew: Michael B Jordan plays Erik Killmonger, one of Black Panther's comic book nemeses. Angela Bassett, and The Walking Dead's Danai Gurira also have starring roles in the film.
The film release on 16 February 2018. Here's the trailer:
Updated Date: Jun 10, 2017 10:37 AM