Black Panther takes over both Avengers: Infinity War, Star Wars: The Last Jedi to become most tweeted-about film
Black Panther has broken another record: it has become the most tweeted-about movie ever!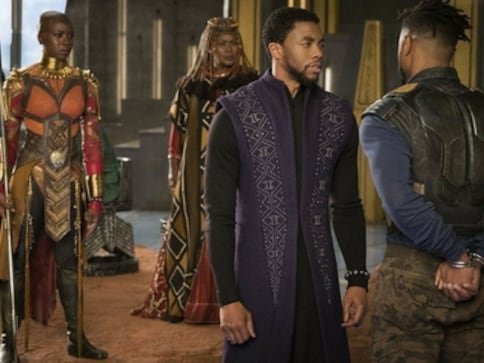 Black Panther has been breaking records ever since it released on 16 February. The movie was historic even before it hit the big screens. Being the first all black superhero movie, and the first Marvel movie to predominantly feature black artists, Black Panther opened up a new avenue for Hollywood. What filmmakers thought was impossible — making an all black or female centered movie that is commercially viable — has now been proven doable.
And now, Black Panther has broken another record: it has become the most tweeted-about movie ever, according to Forbes.
With more than 35 million tweets, Black Panther has surpassed Avengers: Infinity War and Star Wars: The Last Jedi to become the top-tweeted movie of 2018.
The Ryan Coogler directed movie, which has already raked in more than $1.195 billion worldwide, also became the first movie since Avatar to top weekend charts for five straight weekends. The total collection makes Black Panther the fourth-biggest fifth weekend of all time (behind Frozen, Titanic, and Avatar).
Before the release of the movie, Twitter was flooded with the hashtag #WhatBlackPantherMeansToMe. Those who watched special screenings of Black Panther flooded social media with praise, and the posts continued when the movie was released. The United States tops the tally of countries, followed by the United Kingdom and Thailand.
The most-tweeted days were the three following its 16 February release: 17, 18, and 19 February. The top three hashtags associated with the film are #BlackPanther, #WakandaForever and #Wakanda.
Kendrick Lamar scored the most retweeted Black Panther tweet. The second-most retweeted tweet featured a pair of people attempting to buy one ticket for the two of them. On the third spot was former the First Lady Michelle Obama's tweet praising the film's representation.
Black Panther The Album 2/9 pic.twitter.com/MqhsEcj6iF

— Kendrick Lamar (@kendricklamar) January 31, 2018
We tried getting the two for one special at black panther. The manager was not having it. pic.twitter.com/Ktqsuh7s3m

— Pillsbury (@stevelikescups) February 16, 2018
Congrats to the entire #blackpanther team! Because of you, young people will finally see superheroes that look like them on the big screen. I loved this movie and I know it will inspire people of all backgrounds to dig deep and find the courage to be heroes of their own stories. — Michelle Obama (@MichelleObama) February 19, 2018
Find latest and upcoming tech gadgets online on Tech2 Gadgets. Get technology news, gadgets reviews & ratings. Popular gadgets including laptop, tablet and mobile specifications, features, prices, comparison.
Entertainment
Ten of Disney's top films shuffled release dates on Wednesday, including Steven Spielberg's West Side Story, which will now debut in December 2021.
Entertainment
Jennifer Aniston, who was up for best lead actress in a drama series for The Morning Show, appeared during the virtual broadcast alongside her Friends co-stars Courteney Cox and Lisa Kudrow.
Entertainment
The pandemic protocol includes mandatory and comprehensive use of personal protective gear and testing of cast and crew members and a dedicated coronavirus supervisor to oversee it all.