Black Panther: CBFC reportedly muted 'Hanuman' reference in a scene from Marvel's latest
Black Panther's rival M'Baku and his renegade Jabari tribe pray and worship the gorilla god, Hanuman.
As Marvel's Black Panther breaks cultural barriers and dominates the international box office (including India), our country's entertainment watchdog, the Central Board of Film Certification, has brought unwanted attention to itself (yet again) with an unnecessary edit in the film. The CBFC muted the word "Hanuman" from the Ryan Coogler-directed film, according to The Quint.
Black Panther's rival M'Baku and his renegade Jabari tribe pray and worship Hanuman. In a scene in the film, M'Baku hails his God, saying, "Glory to Hanuman!" While it sure would have made for an interesting little reference for Indian fans of the Marvel superhero, the CBFC, sadly, thought the reference to the Hindu demigod would presumably "hurt religious sentiments."
In an interview with Variety, Winston Duke — the actor who portrays M'Baku — had spoken of the importance of contextualising the religious beliefs of the Jabari tribe in order to avoid "negative perceptions." "They haven't been affected by colonialism and all the narratives that are associated with developing a sense of inferiority and people comparing them to animals. To them, this is just who they pray to, and they find their strength and agency in this religion. So being a bit gorilla-influenced was a sense of pride for them," he said.
Black Panther, from Disney-owned Marvel Studios, features a star-studded, almost entirely black cast led by Chadwick Boseman as the first non-white superhero to get his own stand-alone movie in the franchise. Starring alongside Michael B Jordan and Lupita Nyong'o, Boseman plays the titular superhero also known as T'Challa, king and protector of the technologically advanced fictional African nation of Wakanda, an affluent, never-colonised utopia.
Entertainment
The film shows that creating a multiverse doesn't require sky-high VFX budgets, star cameos and huge sets. All one needs are a laundromat, an IRS office and the conviction to tell a story on human struggle.
Entertainment
RRR had already managed to get foreign audiences and critics to talk about it. The battle was half won and the film had already been noticed. Why, then, FFI didn't choose it as the official entry is a mystery?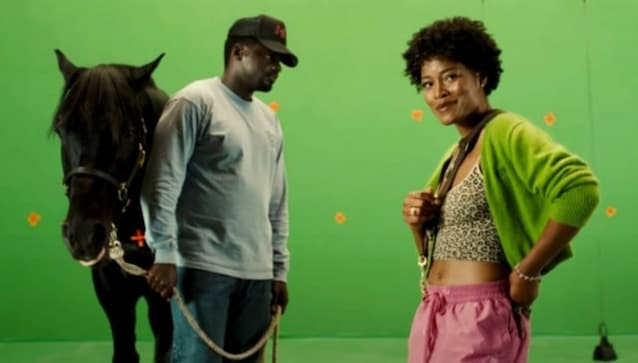 Entertainment
In Nope, Peele posits this age of smartphones, social media and surveillance states has warped how we respond to trauma. Instead of processing it through therapeutic outlets, we flatten it into consumable spectacles.