Black Mirror season 4 conforms to San Junipero formula: Netflix show ceases to surprise with its signature darkness
Spoiler alert: This article discusses Black Mirror and all of its episodes (including endings) in some detail. Ideally, do not read this until you have seen all of the episodes. But most definitely read it after that.
In a 2014 interview about Black Mirror, its creator Charlie Brooker spoke about the shows he saw as its forebears (The Twilight Zone, Night Gallery and Hammer House of Horror). He said that one of the things he liked about them was that "quite often they would end on a devastating note." He goes on to describe an episode of The Twilight Zone where a bookworm is the last survivor of a nuclear holocaust and is going to kill himself in despair. However, he discovers a library and decides to read all the great books he did not have time for earlier. He piles them all up but as soon as he reaches out for the first one, his glasses fall off and smash on the floor. He bursts into tears surrounded by books he can now never read.
That is what the creator of Black Mirror thinks it should be.
That is precisely what the latest season is not.
It is too… optimistic
In season 4's opener, Brooker introduces to initially-likeable-later-repulsive Robert Daly who is a nerd with a dark secret. The episode is beautifully constructed, from its hat-tip to Star Trek to the sudden twist delivered early on. Towards the end, the actual protagonist, Nanette Cole, leads the crew towards a wormhole which will free them from Daly's clutches. Just as it seems that they are about to escape, they hit an asteroid and lose power. Daly is informed of this and he gives us his best villain laugh as he exclaims, "I'm coming to get you!"
Right there was the Black Mirror ending. But instead, the episode proceeds and a sacrifice later, Nanette and the crew are free. It is fair to say that the episode did not end on a "devastating note".
This is not the only episode with a happy ending in season 4. 'Hang the DJ' ends with Amy and Frank ending up together as it is revealed that the system works after all. At the end of 'Black Museum', Nish manages to ensure that her father's consciousness is laid to rest and the antagonist is dead. Even the ones which do not end on an unambiguously happy note are not as horrible as they could be. 'Arkangel' ends with the mom alive and the daughter free of her control. In 'Metalhead', Bella is at least accorded the dignity of taking her own life as opposed to a sudden robodog attack. In fact, only 'Crocodile' is a true Black Mirror story with horrors everywhere.
The fact that this is a departure from the norm is obvious to anyone who has seen the earlier seasons. In season 1, the Prime Minister does have sex with the pig, Abi ends up in pornography, Bing becomes part of the system and Liam's marriage ends terribly. In season 2, Martha's AI experiment does not work out, Victoria is doomed to be tortured eternally and Jamie ends up in a dystopian police state. In 'White Christmas', Matt is universally blocked while Joe's AI is trapped in the cookie with each minute lasting a thousand years. In season 3, Lacie winds up in prison, Cooper dies, all the blackmail victims have their information released, Stripe succumbs to Arquette's threats, and everyone who had used #DeathTo dies.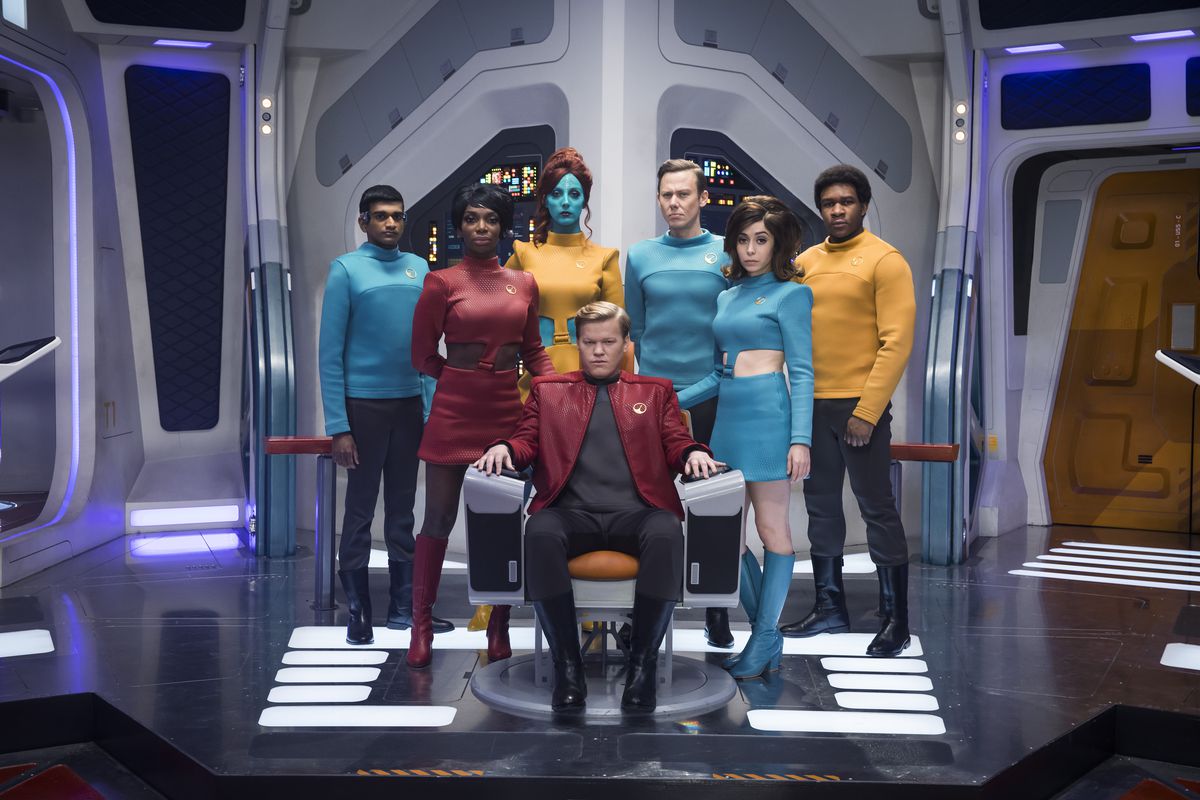 A still from Black Mirror season 4. YouTube
It is clear that Black Mirror was properly dark till season 3. Why then did we suddenly get three happy endings in season 4?
Basically, 'San Junipero' happened.
Hitting upon a successful formula
Ah 'San Junipero', the darling of fans and critics. Considered by many to be the best Black Mirror episode (it is not, that honour goes to 'Playtest'), 'San Junipero' is the only story in the first three seasons with an unambiguously happy ending. And it truly is great television, right from the different aesthetics for different time periods to the delightful acting by Mackenzie Davis and Gugu Mbatha-Raw to the delaying of the twist just till the right moment.
But it was also so satisfying because you never saw it coming. It is Black Mirror after all. Surely, Brooker will manage to find a way to mess it all up. But he did not and we had one of the best Black Mirror episodes of all time.
Maybe the success of 'San Junipero' forced Brooker into a rethink. Or maybe it is the mainstreaming of the whole thing with Netflix taking over. But something has clearly changed in the very essence of Black Mirror. And that means that it has lost out on what made it great in the first place: the bleakness of it all. Sure, the wonderful what-ifs that the show conjures up are still there but they are only one part of the appeal. The show has never been about technology awakening to take on mankind but about how humans always find the worst uses for technology.
Unfortunately, season 4 has taken upon itself to redeem humans. And in doing that it has lost out on something that was crucial in making it special. Black Mirror is still a good show but it can now no longer claim to be a great one.
In a 2016 profile of Brooker, Giles Harvey in The New Yorker discussed how the prototype for Black Mirror might well be TVGoHome, a website Brooker ran till 2002 where he put out listings of alternate reality TV shows which were disturbingly dark. As I watched season 4, I almost hoped that somewhere Brooker is uploading BlackMirrorGoHome, a website where he puts up alternate endings of season 4 episodes which actually conform to what Black Mirror is supposed to be: a mirror into the blackest parts of us.
Updated Date: Jan 10, 2018 11:55:48 IST
Your guide to the latest election news, analysis, commentary, live updates and schedule for Lok Sabha Elections 2019 on firstpost.com/elections. Follow us on Twitter and Instagram or like our Facebook page for updates from all 543 constituencies for the upcoming general elections.