Bittoo Boss: Bit too goody goody to be funny
What's life until it's on video. The small town video-wala who sees all, flirts with pretty girls, and dances with the aunties could have been a laugh riot. But alas, Bittoo Boss is too much of a good boy much to the film's detriment.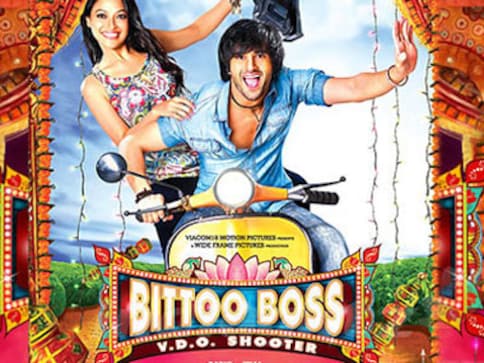 by Trisha Gupta
The opening sequence of Bittoo Boss is pure delight. A large Punjabi family is gathered in the sprawling courtyard of an old-style house – the aunties have assembled with the dholak, the groom is waiting for his haldi, the uncles are fretting silently – but nothing can move forward, because the video-wala isn't here yet.
"Aaj tak koi rasam video-wale ke bina shuru hui hai?" says the sharp-tongued young woman in the fetching yellow choli, swinging her long black plait in emphatic disdain. And then finally the elusive video-wala arrives, galvanising this bored, almost grumpy gathering into a sudden storm of activity. Director Supavitra Babul begins with a bang, showing rather than telling us what we all already know: that life is no longer really lived – or liveable – unless it's choreographed for the camera.
The camera should have really been the star of this film, which starts off feeling like a slightly risque version of Band Baaja Baraat, but then moves more and more in a Love Sex aur Dhokha direction. But Supavitra Babul is no Dibakar Banerjee, and so the star of Bittoo Boss is Bittoo, the strapping young video-wala, played by a floppy-haired, rather winsome Pulkit Samrat. Bittoo is the hero of every wedding in Anandpur Sahib. The ladies love him to bits: he's always up for a raunchy dance move or two, he's perfected the art of the flirtatious caressing gaze that pre-empts his camera, and he always makes everyone look good.
But the thing about Bittoo which Bittoo Boss is at pains to establish – much to the film's detriment – is that Bittoo is a good boy. He may flirt outrageously with every arch young thing in the house, he's alright to steal a kiss or two, he isn't even above a secret peek into the window where a pretty girl is getting dressed. But just as he turns his camera determinedly away from that broken window, he draws the line at the sex video business that his boss Varmaji (the always effective Rajendra Sethi) is constantly urging him to get into. It's the most kudrati (natural) thing, says the persuasive Varma. Nah, says Bittoo. Looking is one thing, and making money off what you see is another.
If it had stayed put at this point, this would have felt like a great scene. Unfortunately this exchange is merely the cue for the film's rapid transformation from lighthearted nudge-nudge wink-wink comedy to a moral tale full of homilies about how money isn't everything. To cut a long story short, Bittoo falls in love with local rich girl Mrinalini (the utterly uninteresting Amita Pathak) and even when she finally reciprocates and lets him take her to the gurdwara, the gulf between their social status is too glaring to go away easily. Bittoo, determined to pay off his debts and become rich, succumbs to Varmaji's advice and goes off to Shimla to shoot honeymoon porn.
The Shimla section is enlivened greatly by the presence of a hilariously lascivious taxi driver named Vikki (Ashok Pathak) who, when he learns about Bittoo's project, decides to become his apprentice. The introductory scenes, when Vikki decides to impress Bittoo by calling the girls with whom he has a 'setting' – har sheher mein, boss – and making the embarrassed Bittoo listen in, are a riot. After this revealing glimpse of its unapologetic sadakchhaap soul, the film gets quickly derailed into good boy terrain again, with the heart-of-gold Bittoo unable to use his hidden camera to do anything but help sort out various people's tangled lives. So we get to see the resolution of the lives of a mismatched newlywed couple, and the reconciliation of a stern rich man (Mohan Kapoor) with his runaway schoolgirl daughter ("aayi toh khud ko liberate karne thhi, par main toh ek illusion mein trapped hoon").
Several silly twists and turns later, Bittoo is reconciled with his Bitti-ji, and all is saccharine-sweet ever after (though I must note that all the girls in the film are kept in the dark while Bittoo plots to improve their lives). The last half an hour of the film is a bit of a hotchpotch, with Bittoo tying up loose threads we didn't even know existed, and bringing the narrative to its necessarily hypocritical anti-porn conclusion. But suffice it to say it's not the half-baked climax that's the real trouble with Bittoo Boss, it's the ham-handed morality tale that's hung around the neck of a film that might have actually been frothy and fun.
Entertainment
In the last decade, if there has been one Hindi film director who has constantly resisted being boxed in, it's Dibakar Banerjee.
Entertainment
Luv Ranjan's upcoming film Sonu Ke Titu Ki Sweety's release date has been postponed from 3 November to 12 January, 2018
Entertainment
Rajkummar Rao on making movies, why niche is the new 'mass', and how Bollywood's found its latest 'Switzerland' in India's small towns | #FWeekend