Bird Box trailer: Netflix film shows a blindfolded Sandra Bullock guide her family to safety in post-apocalyptic world
Bird Box is slated to premiere on Netflix on 12 November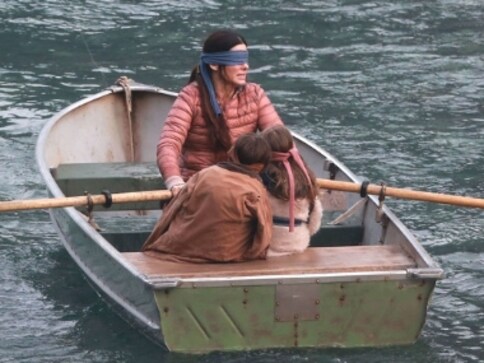 Netflix released the first trailer of Bird Box, its latest horror offering starring Sandra Bullock in the lead. The film has been adapted from The High Strung lead singer's  Josh Malerman's post-apocalyptic novel of the same name.
The trailer revolves around the struggle of a single mother (Bullock) as she looks for ways in which she could guide herself and her children to safety, in a world threatened by an unseen adversary. Much like the John Krasinski led A Quiet Place, which was the sleeper-hit of the year, Bird Box plays on the same theme, of enforced sensory handicap.
In Bird Box, no one knows what the monster looks like, but anyone who does ends up killing themselves. Hence, to combat the force, Bullock puts on blindfolds, inhibiting her movement and abilities. As people continue to succumb to the forces of of the unknown monster, leading themselves into horrific deaths, Bullock takes her family through a river on a small rowing boat while blindfolded.
Sarah Paulson, Danielle Macdonald, Trevante Rhodes, Jacki Weaver, Rosa Salazar and Lil Rel Howery are part of the ensemble cast, alongside John Malkovich, reports variety.com. The script has been written by Eric Heisserer and Susanne Bier is directing the movie. The film start streaming from 12 November.
Watch the trailer here:
Entertainment
"Befriending a notorious entity is no crime. Pretending you do not know him, as Jacqueline Fernandez did when questioned about conman Sukesh Chandrasekar, is certainly inviting trouble of the serious kind."
Entertainment
Dil Bekaraar does a great job of building the world of DD, Campa Cola, and imported perfume. It adds to it with the music and opening credits, which immediately place you in that world.
Entertainment
In an exclusive interview with Firstpost's Eshita Bhargava, Kartik Aaryan speaks about the success of Dhamaka, his journey in the Hindi film industry, being director's favourite, upcoming projects, his take on OTT platforms, and much more.