Billboard Music Awards 2016: Priyanka Chopra on red carpet to Madonna's Prince tribute
The Billboard Music Awards 2016 saw starry appearances by Priyanka Chopra, Madonna, Justin Bieber, Adele and others
The 2016 Billboard Music Awards, held on the night of 22 May in Las Vegas, provided an evening of glamour and entertainment to all music lovers. From the performances that were talked about most, to the red carpet appearances and the artistes who won big, here's a lowdown on everything that transpired.
Madonna and Stevie Wonder's tribute to pop icon Prince
Madonna paid an emotional tribute to late pop icon Prince along with veteran musician Stevie Wonder.
The Oscar-winning musician, who tragically died on 21 April this year at age 57, had received Billboard's Icon Award only three years earlier.
Madonna performed "Nothing Compares 2 U", a song written and composed by Prince, at the awards gala, reported dailymail.co.uk.
She donned a Gucci lavender paisley suit and ruffled blouse for the performance.
Madonna was then joined by Wonder for an organ-heavy rendition of Prince's hit number "Purple Rain".
Earlier this month, some fans of Prince had started an online petition against Madonna which said that she shouldn't be "the main and only artist" paying tribute to Prince.
Adele and The Weeknd win big
Singers Adele and The Weeknd won multiple awards for their hit tunes.
The Weeknd bagged a total of eight trophies from multiple categories like Top R&B Artist, Top R&B Album for Beauty Behind the Madness, Top R&B Song for "The hills" and Top Streaming Songs Artist. Adele was named Top Artist, Top Female Artist and Top Billboard 200 Artist, reports aceshowbiz.com.
Adele also won the Top Billboard 200 Album Award for her records-breaking, multi-platinum selling full-length 25, and the Top Selling Song Award for its first single "Hello".
Justin Bieber, Wiz Khalifa and Twenty One Pilots were other artistes who walked away with multiple awards.
Bieber bagged the Top Male Artist and Top Social Media Artist Awards. Khalifa won the Top Rap Song and the Top Hot 100 Song Awards thanks to his collaboration with Charlie Puth for the track "See you again".
As for Twenty One Pilots, the duo won the Top Rock Artist title and had their Blurryface named Top Rock Album.
Celine Dion breaks down on stage; as does Kesha
Celine Dion was honoured with the Billboard Icon Award during the ceremony.
Before receiving the award, she performed a moving cover of Queen's "The show must go on". Looking radiant in a golden gown, she sang the tune while accompanied by an orchestra and violinist Lindsey Stirling.
Later, she broke down in tears when son Rene Charles joined her on the stage to present her with the Icon Award.
"I'm so sorry. "I'm sorry for crying. I want to be so strong for my family and my kids, and I don't want to cry in front of you," said Dion, who lost her husband of over 20 years, René Angélil, in January this year, to cancer.
Kesha was another artiste who couldn't hold back the tears on the Billboard stage. She received a standing ovation following her emotional rendition of Bob Dylan's "It aint me babe".
Kesha, 29, was refused permission last week to sing at the ceremony because of her ongoing dispute with Dr Luke, sang Dylan's 1964 hit at the T-Mobile Arena on Sunday along with a violinist and pianist, reports femalefirst.co.uk.
Following her performance, Kesha took to her Instagram to thank fans and said: "I'm so grateful for tonight and for the Billboard Music Awards for allowing me to sing. It's my form of prayer. It is my therapy. It literally reaches the untouched corners of my soul. Thank you for having me."
"I have so much gratitude. Thank you so f*****g much to my fans I have you to thank for tonight. Thank you for having my back in a way no one ever has before. Ugh, so emotional... Love you," she added.
The "Tik tok" hitmaker was axed from the event earlier this week when Luke's Kemosabe label — which she was prevented from leaving earlier this year despite her allegations that she was abused by the producer — withdrew their permission for her to sing.
However, the record company restored approval after gaining "reassurance" there would be no mention of the court battle.
Priyanka Chopra walks the red carpet
Priyanka Chopra walked the red carpet in a cerulean halter dress with a thigh-high slit. She kept her makeup minimal. She took selfies with Meghna Trainor and shared them on her social media accounts later.
Other artistes who made a splash on the red carpet were Rihanna, Kesha, Britney Spears, Ariana Grande and Jessica Alba among many others.
Check the complete winners' list here.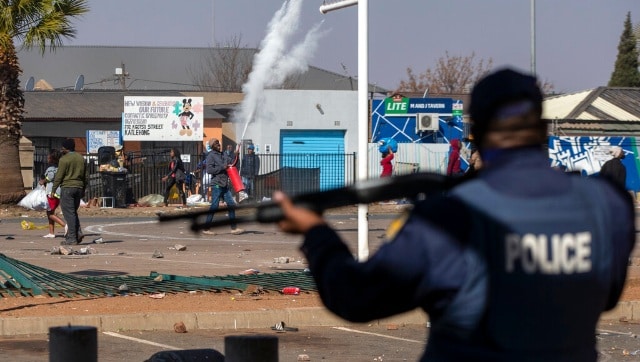 World
The tensions have been particularly high in the sprawling Indian township of Phoenix, north of Durban, and residents of three surrounding Black areas following the deaths of 22 people in Phoenix during the riots and looting last week by vigilante groups
India
The fans of the Harry Potter film series are commenting and reacting to the social media post in large numbers. In a day, the tweet has got over 15,400 likes and many comments.
Sports
Along with Rashford, Jadon Sancho and Bukayo Saka were also subjected to racial abuse on social media after missing decisive penalties in the Euro 2020 final against Italy