Bigg Boss Telugu: From Jr NTR's hosting to contestants' rapport, highlights from the premiere season
From Sampoornesh Babu's dramatic exit to Mumait Khan's return and Diksha Panth's wild card entry, Bigg Boss Telugu has indeed a lot going on over the past week.
But in the midst of all of this, another thing that stood out was Junior NTR's first time anchoring gig, thanks to which the Telugu audience has seen an extroverted side of his like never before. Thus, the high TRPs of 16.18, as reported by International Business Times.
While Bigg Boss Telugu might not have created a social media sensation like Bigg Boss Tamil, the show has projected a different tone, unlike any other version of the reality show.
We have seen contestants fight like cats and dogs, diplomatic situations, double crossing players, weeping actors, love stories on the sets of Bigg Boss Hindi and now, Tamil. While most of these factors exist in Bigg Boss Telugu too, one must say, the atmosphere is still very much 'chilled' out. And that is definitely a first for a format like Bigg Boss.
Here is how the show unfolded over the past 15 episodes and offered proof that things are yet to heat up in the Telugu version.
Jyothi and Madhupriya get eliminated
The first one to bid adieu to the Bigg Boss Telugu house in the first-ever elimination round was Jyothi. The actress was nominated by Prince, Sameer, Madhupriya, Adarsh and Kalpana for being intrusive, trying too hard to fit in, and other reasons. Jyothi also received flak from Mumaith Khan for being domineering while inmates were performing the student and teacher task.
Exactly one week after Jyothi's elimination and more than one impromptu exits, Madhupriya was the latest to be eliminated last Sunday. From the looks of it, the super singer's elimination came as no surprise for many and most housemates including Adarsh, Dhanraj, Archana and Mumaith pointed out that Madhupriya was constantly falling ill, emotionally stressed and terribly homesick.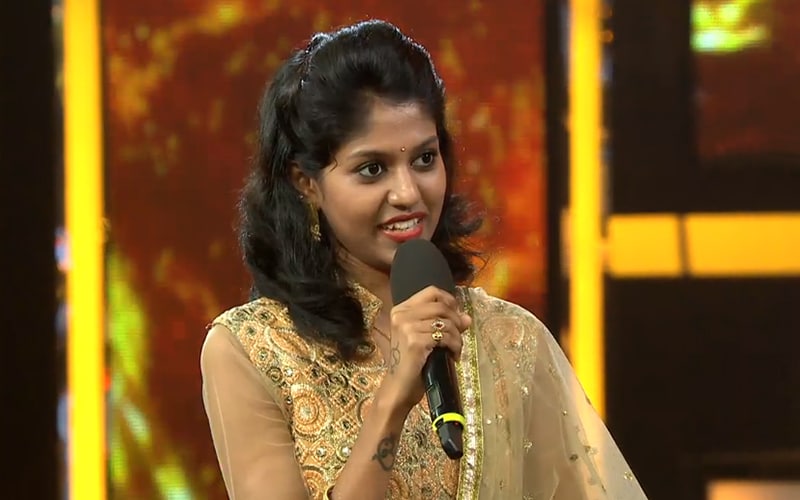 Sampoornesh Babu's early exit
Soon after the first elimination, a lot of hype surrounded the promo aired by Bigg Boss Telugu, in which most of us saw a highly agitated Sampoornesh Babu. It turned out the 'burning star' wanted to leave the house of his will.
The actor was seen crying in relief when he exited the house, as he wished. However, in Episode 15 — right before Diksha Panth's wild card entry — we were in for a surprise guest appearance by Sampo. Jr NTR jokingly stated, "I expected so much from you, saw so many dreams, wanted you to be the batsman who will score a century, but instead you retired hurt and left." He then questioned the star: "You were so confident when you went inside, what exactly happened?"
Sampoornesh revealed the reason behind his guest appearance and explained to the audience why exactly he left. "I felt like I was locked up amid those four walls, so when Bigg Boss questioned me, I pleaded to leave and immediately exited without thinking twice," Sampoornesh said.
"And then, I logged onto Facebook after returning home and received huge flak for my early exit, but seriously I did not understand what was happening to me in that house. Mentally I wasn't fit to be in the house," he added, conveying the same to his ex-housemates.
Mumaith Khan's one-day exit saga
"You have been asked to exit the house due to legal complications," said Bigg Boss to contestant Mumaith Khan. Now, what happened next was a super-frazzled impromptu Mumaith Khan exit with most housemates, especially Dhanraj, Kalpana and Archana turning emotional. While most housemates were shocked as to why Mumaith was leaving so unreasonably, reports suggest that the actress had to appear in court at the same time.
According to NDTV, Mumaith Khan was questioned by the Special Investigation Team of Telangana's Excise Department regarding an ongoing drug racket in Hyderabad.
Soon after the investigation, Khan returned to the reality show, with Dhanraj being the happiest of them all. The comedian teared up on seeing Mumaith and the house went gaga over Mumu (as she is lovingly called) returning.
Mumaith, by the looks of it, is the favourite of the house. Khan's rapport with the other housemates became evident after she disappeared for a day and the house was in complete silence and despair. Also established in these two episodes was a special friendship: Dhanraj and Mumaith Khan are now the popular 'bffs' of the house and have got each other's backs no matter what. From bear hugs to chai mornings and friendship goals, they seem to be a fun combination.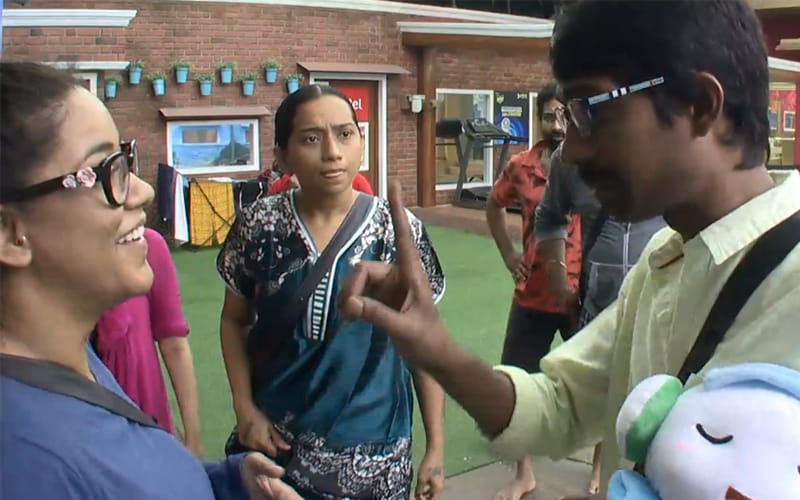 Kalpana, the big momma and the 'villain'
Fifteen episodes later, the one person housemates think is not in line with the rest of the house, is evidently Kalpana. The contestant has gotten attention for all the wrong reasons, and she seems to get on the nerves of the other contenders.
Mumaith Khan was even shown reduced to tears because of Kalpana.
Kalpana's tryst with being the 'villain' of the house began with the Race Gurram task, where Prince, Siva Balaji and Kalpana were asked to rock a horse for almost an entire day in order to win captaincy. Kalpana and Prince were the last two left. Though Jr NTR and all the housemates admired Kalpana's stamina, in performing the task until the very end, Prince, Dhanraj and few other contestants were shocked at how adamant Kalpana could get.
Prince went on to state how Kalpana could have let go since she was already the captain and considering this would save him from elimination, she could have been a better team player. Kathi Karthika and Madhu Priya, considered Kalpana's best pals — also went on to share a similar view.
In the very next episode, Kalpana was nominated as the villain of the house several times as per Jr NTR's task.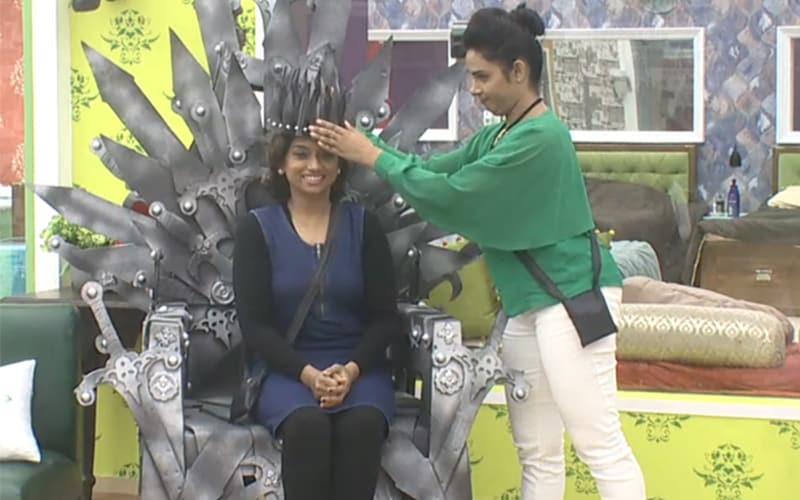 Is there a love story brewing between Prince and Archana?
Prince Cecil definitely has won hearts of the Telugu audience for being the chocolate boy of the house. The Bus Stop actor, however, has also grabbed eyeballs for having a soft corner for fellow contestant Archana. While it all began with the romantic task assigned by Bigg Boss, Dhanraj and Sameer continue to tease the two for their apparent chemistry. Though Archana has hinted that nothing is really brewing and her interest lies elsewhere, the disappointment in Prince's eyes tell a different story altogether.
Meanwhile, it is also being guessed that Siva Balaji might have the hots for Archana and Hari Teja. Now who will win over whom and whether they will all remain one big happy family, we'll have to wait and watch.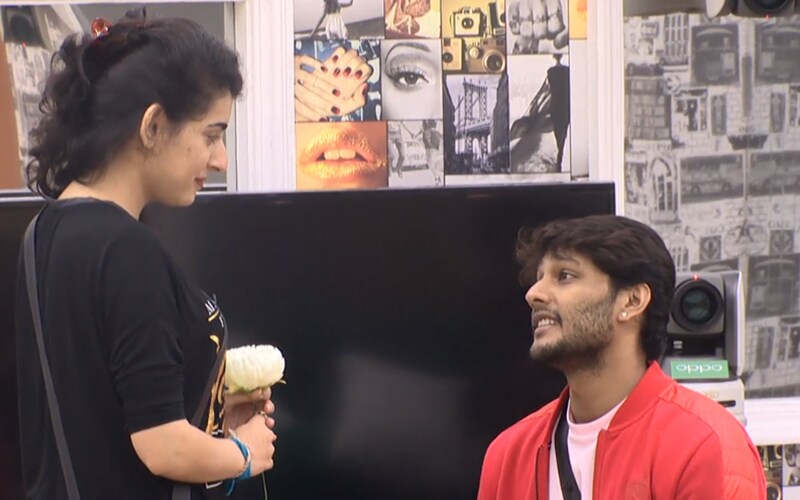 Diksha Panth's wild card entry
Bigg Boss Telugu housemates were in for a surprise this week as actress Diksha Panth made her way into the house. The Banthi Poola Janaki star is this year's wild card entry and is anticipated to have an 'advantage' over the other contestants for having entered late and witnessed all the drama unfold from the outside world.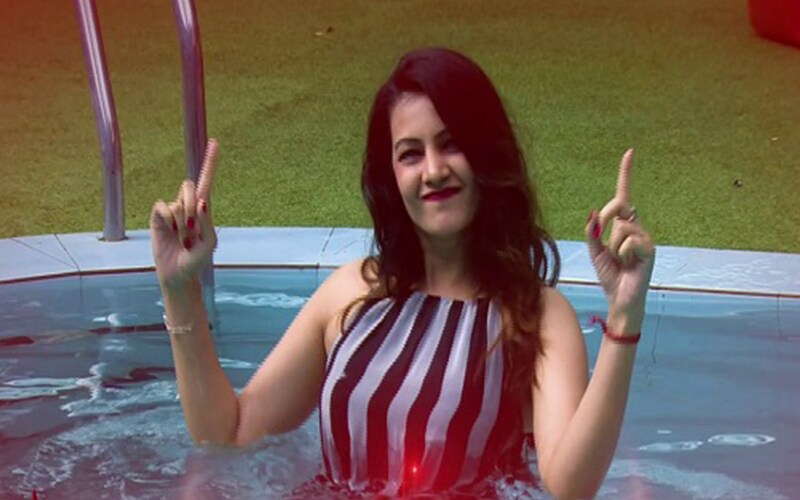 So far none of the changes or eliminations has taken a serious turn for the contestants. The different and best among all the versions of Bigg Boss, the Telugu show has been widely discussed on social media for its fun and lighthearted episodes.
We have Dhanraj imitating contestants, Mahesh Kathi being neutral, Mumaith Khan being the bundle of joy and Prince and Adarsh being the 'chaddi buddies'. All of this which is a stark contrast to Bigg Boss Tamil, where drama has unfolded to another level, camps have become evident and the enemies are out there battling it out. Of course, Bigg Boss Telugu doesn't have an #OviyaArmy yet.
Also worth noting is Jr NTR and his fun commentary involving the contestants every week. While Kamal Haasan spices things up during his weekend gig, Jr NTR, on the other hand, has mainly stuck to humour. But at the Bigg Boss Telugu house, this can be used to make quite a point:
In the same episode where Mumaith Khan re-entered and Kalpana was crowned villain, Jr NTR emphasised: "The cameras are watching everything, you can't hide anything for too long and from anybody." It may seem like a regular statement for the host to make — except that he meant it for Archana and Mumaith Khan, who have been hiding coffee powder from the housemates, especially Dhanraj. His statement had the contestants perplexed, and as for the audience — we're hooked.
Updated Date: Aug 01, 2017 18:55:20 IST
Your guide to the latest election news, analysis, commentary, live updates and schedule for Lok Sabha Elections 2019 on firstpost.com/elections. Follow us on Twitter and Instagram or like our Facebook page for updates from all 543 constituencies for the upcoming general elections.