Bigg Boss Tamil week 3 update: Demoralised Bharani ousted from show; Julie vows to trounce Harathi
Midway through week 3, and Bigg Boss Tamil has already stepped up the drama
The third week of Bigg Boss Tamil opened on a highly dramatic note following two eventful weeks that exposed a lot of characters and established the personality traits of contestants in the house. With Sree, Anuya and Ganja Karuppu evicted, the third week kicked off with 12 inmates in the house. However, the episode turned quite dramatic when a demoralised and utterly dejected Bharani, feeling let down by his housemates, attempted to escape by climbing the tall outer wall of the Bigg Boss house.
Bigg Boss' warnings to Bharani fell on deaf ears since the former turned down his repeated requests to send him home immediately. Bharani was eventually ousted from the show, on the grounds that he had flouted the fundamental rules of the house. The apathy among the other housemates (to this development) was quite palpable as everyone saw Bharani as an attention-seeking phony. However, there has been an overwhelming wave of sympathy for Bharani on social media platforms.
Ganesh Venkatraman elected as the new house leader
After losing out to Snehan and Gayathri in the first two weeks, Ganesh Venkatraman was finally appointed as the captain of the house this week. A majority of the candidates feel he's a deserving, fitting person for the job, mainly because of his calm and composed temperament.
The customary new nominations for this week's eviction were given by the inmates in the confession room. Oviya, Julie, Harathi, and Vaiyapuri are the contestants who are facing elimination this week. Oviya and Julie have already survived eliminations earlier, and they haven't made a big deal of it yet. Vaiyapuri has been showing a feeble enthusiasm of late after his only companion in the house — Ganja Karuppu — was expelled from the show. Harathi has already shown some signs of anxiety about facing elimination.
"I really don't understand why everyone is wearing a mask when it comes to me. I don't have any friends outside. Even if I go out, I will definitely keep in touch with each one of you. But I feel you all are being fake with me," Harathi told the other housemates.
Oviya-Aarav romance short-lived; Julie has a crush on Aarav now
The romance between Oviya and Aarav has already ended. Aarav has steered clear of Oviya's approaches, but we have a new romance brewing in the show. Julie has a developed a crush on Aarav and is yet to understand what kind of feelings she has for him.
"Something happens to me when I see Aarav. I don't know how to explain this feeling. I think I like him. When he put makeup on my face, I felt like looking into his eyes forever. There's something in him," Julie revealed to Gayathri, the most gossipy inmate on the show. Her non-stop 'feeding' of malicious talk to the other participants has made her among the subject of growing hate on the internet.
Julie vows to triumph over Harathi before she leaves
Julie's character arc has been the most significant so far in Bigg Boss Tamil. From being a naive, innocent girl who entered the show as a big mouth to now becoming a mature, vendetta-bent grown-up, Julie has indeed come a long way.
"I feel Harathi and I will be the last two contestants in the house, fighting for the Bigg Boss title. I have my reasons to arrive at this theory, but I'll tell you all about it later. It doesn't matter if I win the title or not, but I will not let Harathi win. I won't mind if anyone of you wins the title. In fact, I would be happy too for you guys. But, I vow that I will never allow Harathi to achieve that feat," a furious Julie told Gayathri, Snehan, and Sakthi.
Outside the house...
Kamal Haasan called for a press meet on Wednesday, 12 July, to respond to the complaint filed by right-wing fringe group Hindu Makkal Katchi, which demanded his arrest on the grounds that Bigg Boss 'tarnished' Tamil culture.
"They say that I need to be arrested... I am very confident that the justice system will take care of it. I don't have to worry about these people who insist that I be arrested. I don't mind going in because it will prove the strength of the justice system and its clarity in dealing with this group," said Haasan.
Asked if Bigg Boss is really a necessary show for the country, Haasan said, "Bigg Boss is as required for this country as cricket."
About accusations that Gayathri is using foul language with other inmates, Haasan said, "I've never given any script to the contestants. I did not write and ask Gayathri to behave so. It's how their natural behaviour is. It's not bad to learn from your neighbours. If you think their behaviour is wrong, learn to be right."
Subscribe to Moneycontrol Pro at ₹499 for the first year. Use code PRO499. Limited period offer. *T&C apply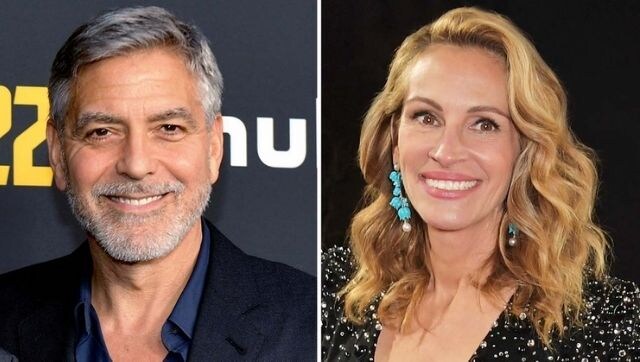 Entertainment
Ticket To Paradise, directed by Ol Parker, will go on floors later this year
India
For candidates interested in applying to various postgraduate programmes, the last date to register is 31 March, 2021. Candidates can submit their applications till 5 pm