Bigg Boss Tamil 2 weekly updates: Mumtaz, Mahat, Balaji, and Sendrayan face elimination
After Mahat and Aishwarya lashed out at Mumtaz in last week's episode, the environment inside the Bigg Boss Tamil house turned even more grim
It's week ten in the Bigg Boss house. After Mahat and Aishwarya lashed out at Mumtaz in last week's episode, the environment inside the house turned even more grim. Mahat and Aishwarya seemed worried about Yashika being aloof but didn't try to approach her. The groups have gradually started to disband again, paving the way for a changed dynamic.
Patch up on the cards for Yashika and Mahat?
Some of the contestants such as Riythvika and Danny tried to better things between Mahat, Aishwarya and Yashika again. Riythvika asked Aishwarya to talk to Yashika and sort things out between them, but Aishwarya, who already has been through a similar situation, said, "Even if I try to talk, she will hurt me by being blunt."
Danny left Mahat in the smoking room where Yashika was, to give them some private moments to make things better between them. "Everyone in this house talks about someone or the other behind their backs and eventually ends up getting close with the same person. Mumtaz is no exception. But you can't blame me for influencing you. You might think I'm emotionless, but the fact is I choose not to show it even if I'm hurt. Even now, I care for you and Aishwarya," said a level-headed Yashika.
Mumtaz, Mahat, Balaji, and Sendrayan nominated for elimination this week
Bigg Boss used a different strategy for this week's nomination process. It was a pair nomination, where Bigg Boss himself had already selected the pair. Rows of clay pots were arranged in the garden area, and the housemates, in a set, were asked to discuss amongst themselves and nominate one each by breaking the pots stuck with the contestants' photographs. Mumtaz, Mahat, Aishwarya, Balaji, and Sendrayan were nominated for this week. Bigg Boss gave Yashika the power to save one person from nomination, and the captain used it to prevent her buddy Aishwarya from eviction. And this gesture eased the rift between the friends and they decided to leave things behind and start afresh.
Mahat confesses falling in love with Yashika
Bigg Boss gave Yashika to confront the housemates about the issues she has with them. She expressed her genuine opinion about Mahat not being transparent about his relationship with her and not standing up for her at times, to which he replied, "I know I had developed feelings for you too but as everyone knows, I have my girl waiting for me. I was trapped between my personal life outside and my life here. So I tried to be defensive to stay away from people's judgments. That's why I had to be careful about what I say about our relationship."
Mumtaz and Mahat fight again!
Bigg Boss devised a new cricket task with strange rules for the contestants. As Mumtaz umpired the activity, she again found herself in a dispute with Mahat. After nine weeks in the house, Mumtaz shook a leg for the first time this week. Mahat criticised her for dancing and imitated how she talks about her morning numbness.
Mumtaz, who was never bothered about being isolated, tried to start a conversation with some of the inmates herself. As Janani told Riythvika about Mumtaz trying to talk to people, the latter replied, "When we needed guidance or moral support, she was there for us. It's time for us to reciprocate the love she showed us." Post the nominations, Mumtaz spoke to Sendrayan about how Mahat, who is disrespectful, deserves to leave the house.
Luxury budget task tests the patience of inmates
This week's luxury budget task was designed to test the patience of the inmates. The housemates were divided into superheroes and supervillains. The superheroes had to unlock the five magnetic locks to free Doctor Helena (a mannequin), and the supervillains had to stop them. The supervillain team comprising Mahat, Janani, Riythvika, and Sendrayan was assigned the task of irritating the superheroes without physical violence. They had to make superheroes lose their temper to win.
Mahat who already was rude to Mumtaz took this as an opportunity and started to irritate her with all his efforts to which she replied with a broad smile. Throughout the task, he kept hurling uncharitable words at her. Janani and Riythvika tried their luck with Aishwarya by imitating her dictator role. Once again Mahat and Danny got involved in a fight and blamed each other for the provocation. Yashika, in spite of being in the superheroes team, supported her friend Mahat who was in the opponent team.
Entertainment
Top artists like Sting, Bob Dylan and Shakira have in recent years sold rights to their catalogs for massive sums, but at 28, Bieber is the youngest superstar singer to do so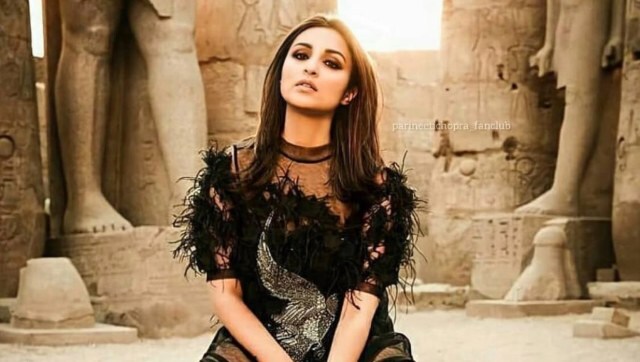 Entertainment
arineeti took to social media to share the happy news.
World
The oil-on-canvas painting, which the suit says is worth more than $5 million, was part of the Detroit Institute of Arts' recent 'Van Gogh in America' exhibition