Bigg Boss Tamil 2 weekly updates: Danny faces heat from fellow contestants; Ramya NSK evicted
The fifth week in the Bigg Boss house ended with the contestants venting out their frustration caused by fellow inmates and introspecting themselves
The fifth week in the Bigg Boss Tamil house ended with the contestants venting out their frustration caused by fellow inmates and introspecting themselves. Ramya NSK faced eviction, and the host, Kamal Haasan, had to umpire a lot of issues like people being irked about Sendrayan's hygiene quotient, Ponnamabalam and Aishwarya's never-ending conflicts and the latter's concern about her character being assassinated in public as well as under Mahath's captaincy.
A surprise visit from kids make contestants introspect
A surprise visit by the kids of New life, New hope and Good life homes made the housemates appreciate what they already possess in their life. Throughout the day, the kids and the contestants indulged in crafting, swimming, and other fun activities. Their day ended with the kids narrating how some of their parents and relatives failed them and how they want to do better no matter what life puts them through.
It was a moment of self-realisation for the Bigg Boss inmates who momentarily forgot to be grateful for their lives. Balaji, who first mingled with the kids, later stayed aloof from them for reasons unknown. He even remarked that many housemates didn't engage themselves wholeheartedly with the kids. When this was brought up on Sunday's episode, Sendrayan expressed his interest in adopting a kid.
Balaji spends a day in jail for giving evasive answers in a task
As Danny asked a set of questions given by the Bigg Boss to the nominated housemates, the other participants were also given a chance to ask some limited questions. The inmate who gave the most honest answers will enjoy a surprise superpower, and the most evasive answers will earn the contestant a day in jail. Aishwarya got the secret superpower for her head-on answers and Balaji had to spend his night in the lockup. Few felt that Balaji should not have been sent to the jail as his answers were not dishonest, but the ultimate decision was in Danny's hands. "Balaji continues to backbite people although he knows it's dangerous to the harmony in the house. So, he deserves the punishment," replied Danny to those who questioned his stand.
Danny earns the wrath of fellow inmates
During the question and answer session, Balaji accused Danny of being so pretentious and irritating people with his demeanor. Danny did listen to his comments without trying to interrupt or reply. During the Saturday's episode with Kamal Haasan, Ponnambalam also revealed his contempt for Danny and his character. "Danny, Yashika, and Aishwarya are undoubtedly talented. But I feel Danny is guiding them in the wrong direction," told Ponnambalam in Kamal's presence.
"This is how I am, and anyone who knows me personally knows it. Few inmates think I'm camera conscious and when I asked them to address a few social issues like discrimination against the third gender, they felt the same. I wanted to use the stage to bring some change for them but all they see is selfishness in me, and it hurts," Danny retorted on the accusations placed on him.
Ponnambalam recalls childhood days in a tearful speech
Ponnambalam, who has never shed tears in the show so far, wept bitterly while talking about his childhood and how he had to enroll himself in AVM school since he was brought up by his mother all alone. Haasan and the audience were surprised as he listed his national level accomplishments in high jump and shooting. "Corruption and discrimination were our problems for a long time, that's why people who were behind me in the medal charts went ahead of me, and I paved my way to cinema as a stunt person." Kamal took this opportunity to emphasise the importance of undenied education.
Singer Ramya NSK evicted from the house
Ramya NSK, who was considered the most level-headed person in the house by the inmates, had already said that she would be happy if she gets evicted this week. "I am a person who is never ready for a verbal fight; silence is the way I show my anger. I couldn't tolerate the atmosphere inside the house. In a task, each of us was asked to take pictures with five of our favorite inmates, and every contestant took a picture with me. It was indeed a proud moment," said Ramya talking about her stint of thirty-five days in the house.
"Maybe your character seemed boring inside the Bigg Boss house, but in the real world it is and will be interesting for sure," said Kamal as the show bid adieu for Ramya.
As Haasan is gearing up for the release of his espionage thriller Vishwaroopam 2 on 10 August, he revealed a surprise update on his upcoming magnum-opus Indian 2 directed by Shankar. "I will start shooting for Indian 2 after completing my Bigg Boss commitment in September," he said.
World
American scribe Danny Fenster was handed over to former US diplomat Bill Richardson, who helped negotiate the release, and the two landed in Doha, Qatar
Entertainment
In a brief statement Monday, Makkal Needhi Maiam president and actor Kamal Haasan had said he experienced 'mild cough' following his return from the US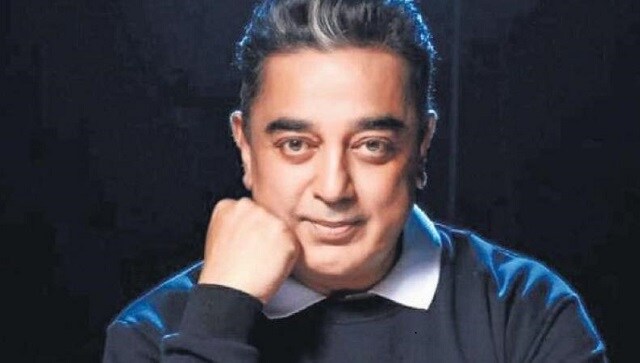 Entertainment
"Please remind yourself that the COVID-19 pandemic is not over yet and be careful," Kamal Haasan tweeted.