Bigg Boss Tamil 2 weekly updates: Contestants escape eviction; Vishwaroopam 2 team visits the house
Kamal Haasan pulled off a surprise in the house during the Sunday's episode of Bigg Boss by sending Vaishnavi to the secret room and making other inmates believe that she was being evicted
Kamal Haasan pulled off a surprise in the house during the Sunday's episode of Bigg Boss by sending Vaishnavi to the secret room and making other inmates believe that she was being evicted. Now, six weeks have been concluded in the Bigg Boss house, and four contestants have been eliminated so far including Mamathi Chari, Ananth Vaidyanathan, Nithya and NSK Ramya. The sixth week was declared a no-eviction week and witnessed the presence of the team of Vishwaroopam 2 inside the house.
Sendrayan's 'Selfie Pulla' song
In a mini task, Mumtaz asked Sendrayan to recite the 'Selfie Pulla' song to use the restroom. Sendrayan felt she was humiliating him and sought Danny's help to memorise the song that had too many English words. After he tried twice and ended pronouncing it wrong, Mumtaz asked him to start over again. An agitated Sendrayan went to the garden area, started to unzip his pants and threatened to urinate there. But nothing could stop Mumtaz from making him sing the song. She was palpably displeased with his act and exclaimed, "Who is he trying to threaten? Such cheap behavior!" She allowed him to use the restroom only after he recited the Pallavi five times.
It's wartime in the Bigg Boss house
This week's luxury budget task ended with a clash between the yellow and blue teams lead by Mumtaz and Janani respectively. When Bigg Boss let the teams invade the opposite team's areas, both the teams indulged in a battle to bring most of the fields in the house under their control. Yellow team won the task by securing three regions and earned full luxury budget points. As they did the luxury budget shopping, the blue team was sent away, which was not well-received by the blue team. Post the results announcement Bigg Boss asked both the squads to select the best performer from their teams. Yashika and Sendrayan got chosen for the yellow and the blue team and this saved them from next week's eviction nomination.
Kamal Haasan questions contestants on Janani Iyer and Mumtaz's cold war
On Saturday's episode, when Kamal Haasan asked the housemates if there's a cold war between Mumtaz and Janani, a sect of the inmates and even Mumtaz agreed to it. A few days earlier, some contestants like Shariq, Danny, Aishwarya, and Mahat felt Mumtaz was influencing Yashika and that's why she was keeping herself aloof. Yashika could easily guess what's in the minds of her friends but she didn't find any fault in her actions. When Aishwarya attempted to speak to her, and what's running in her mind, Yashika said, "I don't care about what people think about me." Mumtaz understood the trouble between the friends and advised Yashika to stay away from her to avoid any misunderstandings between them.
Team Vishwaroopam II visits the house
Composer Ghibran, singer Sathya Prakash and actors Pooja Kumar and Andrea Jeremiah visited the Bigg Boss house during their breakfast time. Pooja and Andrea even tasted the home-made food. Sathyaprakash and Andrea performed a song from Vishwaroopam II penned by Kamal Haasan for the contestants and aired the second trailer of their film. Post the performance, the inmates indulged in an antaakshari session with the guests. During the weekend episode, Haasan spoke about his movie, the Kargil war, and how more than four hundred soldiers from the Gorkha regiment helped to protect our territory. He also recollected meeting with Colonel Lalith Roy and hearing the heart-wrenching wartime moments from the survivor himself.
Can a piece of cloth define a person?
Kamal Haasan took Ponnambalam to task and asked what he means by Tamil culture as every time he gets into a spat talking about it. Ponnambalam hinted about how the short dresses Yashika and Aishwarya wear are not suitable for Tamil culture. "No one should derive any woman's character by the type of dress she wears. I am not advising Ponnambalam just for publicity's sake, but only because I practice that. I don't decide what my daughters wear," said Kamal.
Aishwarya elected leader; Vaishnavi sent to the secret room
Aishwarya was elected the leader of the house on Friday. A Chettinad home with a knee-high entrance was erected in the garden area. At every buzzer, contestants were asked to enter the Chettinad house, and every time, the last two to come will be disqualified to compete. Aishwarya took over Danny in the final round of buzzer and emerged as the leader for this week. Vaishnavi, who was announced as this week's evicted contestant, was sent to a secret room, and she was made to watch what every contestant felt about her. "Solitude may make you go mad or give time to introspect yourself. Hope you use it for introspection," Kamal told Vaishnavi, who was in the secret room.
Entertainment
In a brief statement Monday, Makkal Needhi Maiam president and actor Kamal Haasan had said he experienced 'mild cough' following his return from the US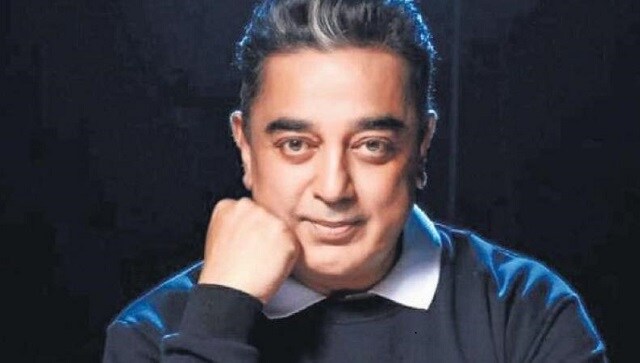 Entertainment
"Please remind yourself that the COVID-19 pandemic is not over yet and be careful," Kamal Haasan tweeted.