Bigg Boss Tamil 2 weekly updates: Balaji and Yashika Anand evicted in pivotal pre-finale week
The contestants in the Bigg Boss Tamil house are in the pre-finale week and are not missing any opportunity to push themselves through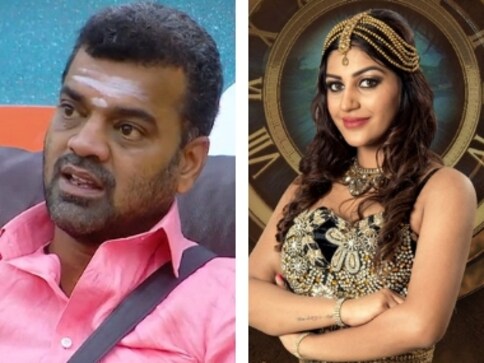 The contestants in the Bigg Boss Tamil house are in the pre-finale week. With double eviction on the cards, this week was quite a roller coaster ride for the inmates. The contestants are not missing any opportunity to push themselves through this pivotal time. With Balaji and Yashika's eviction, Riythvika, Janani, Aishwarya, and Vijayalakshmi gear up to face the finale heat next week.
Janani and Aishwarya lock horns
In a task, six towers filled with sand at different levels were erected in the activity area. The goal was to retain maximum sand in their respective towers. Each inmate randomly selected a tower by picking numbered chits from a bowl. Balaji's tower was almost full, so all other inmates started targeting him first.
In the struggle between Yashika and Vijayalakshmi, the former played it aggressively, and the latter's tower broke. Yashika's push was so hard that Vijayalakshmi ended with bruised hands. The contestants stopped the task to give Vijayalakshmi first-aid. Meanwhile, Aishwarya tried to make use of the time to drain Janani's tower. Janani and Riythvika irked by her behavior reprimanded her.
"Understand the situation and pain of fellow inmates before you focus on points and games," said a displeased Balaji. When Aishwarya and Yashika jointly attacked Janani's tower, surprisingly, the latter put up a tough fight. The task was suspended for several hours as some of the contestants was hurt. The next day, when Vijayalaksmi and Janani strategised to attack Aishwarya's tower, she couldn't take that easy and toppled Janani's. Miffed at Aishwarya's unfair act, Janani struck the latter's tower. In turn, Aishwarya knocked Balaji's tower for no apparent reason. It was an ugly fight at the end.
Yashika wins five lakh cash prize
After several tasks, Yashika topped the charts to win the five lakh cash prize from Bigg Boss. Vijayalakshmi who put a tough fight throughout stood next to her in the scoreboard. Post the tasks, Aishwarya, and Yashika gossiped about how Janani, Balaji, and Vijayalakshmi frowned upon the latter's success.
In the weekend episode, while appreciating Yashika and Riythvika for their sportsmanship, Kamal didn't fail to emphasise how Aishwarya's unsporting behavior in a task could set a wrong example for the kids who watch the show.
A couple who won the Amazon contest on Bigg Boss visited the house for a few hours. They brought the housemates their luxury budget items for the week. After having a tour of the house, the guests expressed their liking for Riythvika and Janani and suggested they increase their involvement in tasks.
Balaji evicted with golden chances of reuniting with his family
Balaji who was evicted this week didn't expect his wife Nithya and their daughter Poshika waiting for him in the audience. A short AV of his Bigg Boss journey was aired for him. Poshika kept glancing at her mother for every snap of her parents made them looked happy together. It was a heartwarming moment when she called her mother to stand next to Balaji. "Bigg Boss and you succeeded in doing what I couldn't for the past nine years. There are another hundred days full of tests awaiting him, and if he proves he has changed, then we are a family again," said Nithya.
Kamal Haasan announces special campaign for contestants
Kamal Haasan started the Sunday episode by making the contestants campaign for themselves for next week's finale. He also gave them cards to pick from and asked to propose someone else's name for the final stage. "It might be useful for me too in the future," hinted Kamal Haasan implying his political plans. The inmates received surprise calls from their family that prepped them for the show's finale.
Yashika who dreamt of being evicted told Kamal about her dream on stage. As she bid adieu to the show, Kamal Haasan was all praise for Yashika's spirit, sportsmanship, and amicability." When I started my journey in Bigg Boss, the fellow contestants and public had judged me for the type of films I had done. I think I have made some of them change their opinion of me," she said.
Entertainment
Apart from Aari Arjuna and Balaji Murugadoss, Ramya Pandian, Som Shekar and Rio Raj also made it to the finale
Entertainment
After Mahat and Aishwarya lashed out at Mumtaz in last week's episode, the environment inside the Bigg Boss Tamil house turned even more grim
Entertainment
Mugen wins the 'Golden Ticket to Finale' task; becomes the first inmate to enter the final round of Bigg Boss Tamil.