Bigg Boss 10, episode 19, 4th November 2016 Written Update: Friction flares between Bani and Lopa
Episode 19 of Colors TV's Bigg Boss 10, aired on the night of 4 November 2016, had the contestants fighting over the immunity challenge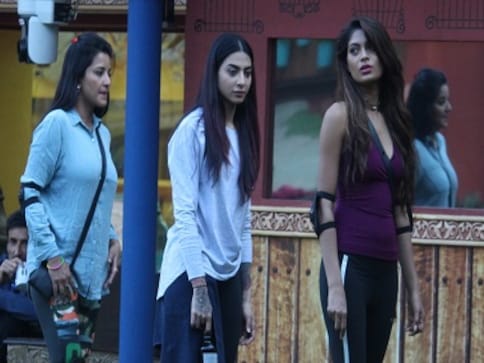 We're now on to episode 19 of Colors TV's reality TV show Bigg Boss season 10.
Each day there is some excitement in store for the Bigg Boss 10 contestants, and day 19 — proceedings of whivh, were aired on the night of 4 November 2016 — had plenty to mull over.
Here are the major highlights:
How Gaurav, Bani and Rahul fared in the punishment task:
Bani J, Gaurav Chopra and Rahul Dev burnt the midnight oil in order to complete their punishment for speaking English in the house. As punishment, they were commanded to pedal a sewing machine-like device through the night. While casually chatting with each other late into the night, Gaurav and Bani have a candid discussion about the politics in the house. Gaurav says about Manu Punjabi: "He is not (of) my class and I will always maintain mine, never stoop low. We will never be par with each other."
It's a new day in the Bigg Boss house:
Welcoming a new day with cheer, the contestants wake up dancing to the tunes of 'Hawa Ke Saath Saath'. Swami Om and Mona Lisa began dancing hand-in-hand in the washroom area. At breakfast, Navin requests Om Swami to sing a particular bhajan. While singing the bhajan, Om Swami gets emotional and breaks down. He reveals that he is feeling detached from the Lord because of his anger and behaviour with others. He cries, saying that while praying, he feels like a failure as his present behaviour is contradictory to his prayers. Everybody in the house gets up to console him. Rohan Mehra and Gaurav Chopra talk to Karan and Nitibha in jail, with regards to Swamiji's breakdown.
Celebrities-Indiawale politics:
Manveer Gurjar and Navin Prakash are seen talking about Manu's behaviour. They feel he is pulling the team down by being sweet to the celebrities in the house.
The celebs of course, are the new maaliks of the house. Based on their performance during the luxury budget task, Bigg Boss ask the celebs to elect three contenders who performed exceptionally well during the luxury budget task (Raja Aur Rank) to compete for immunity. While discussing the names, Mona gets into an argument with Rahul because she feels that the team won't recognise her efforts and Rahul tells her to have faith in her team members. After discussions, the celebrities elect Bani, Lopamudra and Mona. The winner of the immunity task will be exempted from nominations in the next week. Navin Prakash is nominated the supervisor for the task.
So what exactly is the Immunity Challenge?
The contenders (Mona, Bani and Lopa) are given a pair of skis with three shoes attached to it. They have to stay on the skis for the longest time in order to win immunity. During this duration, the other contestants are not allowed to help the trio in any manner. As the task progresses, Lopa starts feeling a little cold, so Rohan quietly keeps her shawl in a corner from where she can pick it up. Swami Om notices this and taunts Rohan. When Lopa picks the shawl, Navin orders her to keep it back. Further, when Lokesh Kumari tries to serve Bani lunch, the supervisor asks Lokesh to stop and take the food back. He says that if Bani wants something to eat, she will need to help herself. Annoyed with his behaviour, Bani argues with Navin. Mona Lisa gives up, citing back-ache. Swamiji decides to help her by giving her a back massage!
With only Bani and Lopa in the running, the competition turns aggressive as Bani tries her best to win. She goes to such at extent, that Lopa accuses her of getting physical and questions Navin if such behaviour is allowed. But, Bani justifies her actions to Manveer Gurjar, claiming to be extremely tired after the back-to-back tasks.
When the task ends, Navin Lopa the winner, stating that Bani's foot was first off the ski. Bani, who is later seen spending time with Manveer, feels Navin was unfair. Bani also tells Manveer that even Rahul and Rohan were on Lopa's side. Further, Bani refuses to talk to Navin and calls him biased.
Friction between Bani-Lopa:
Meanwhile the friction between Bani and Lopa's is coming out in the open. The duo have been having problems with each other for quite some time now but it was hidden pretty well. Lately, the two have started getting somewhat vocal about their issues. Bani and Lopa have been talking about their issues not with each other, but with other celebrity contestants in the Bigg Boss 10 house.
More tasks ahead:
Adding more fun to the night, Bigg Boss introduces the 'Appy Fizz Feel The Fizz' task. The Celebrities and Indiawale will compete against each other in order to win the luxury budget. For the task, pairs are formed comprising one celeb and one non-celeb. Rohan-Manveer, Lopa-Nitibha and Manu-Bani are the pairs for the task. They will be asked questions about their fellow contestants' perception. A wrong answer will be rewarded with a punch and a correct answer wins them a point. Celebrities win the task and get the right over luxury budget for the week!
also read
Bigg Boss Season 10
Day 85 of Colors TV's Bigg Boss 10 starts on a happy and joyous note but the contestants have a ranking task in store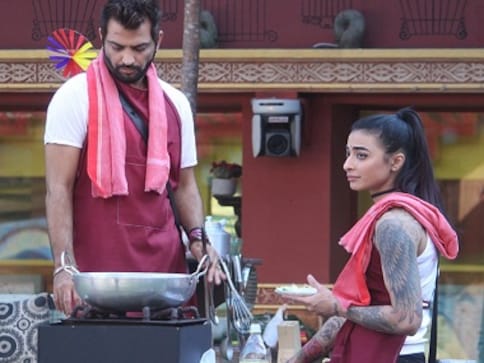 Bigg Boss Season 10
Manu Punjabi, Manveer Gurjar, Ban J, Rohan Mehra and Lopamudra Raut mark Day 100 in Colors TV's Bigg Boss 10 house
Bigg Boss Season 10
Here's a preview of the drama that will unfold on episode 31 of Colors TV's reality show Bigg Boss 10