Bigg Boss 12 evicted contestant Somi Khan says she hopes 'a commoner like Deepak, Romil, Surbhi wins the trophy'
Bigg Boss 12 contestant Somi Khan after being evicted: 'I don't hate anyone; there is no harsh feeling towards anyone.'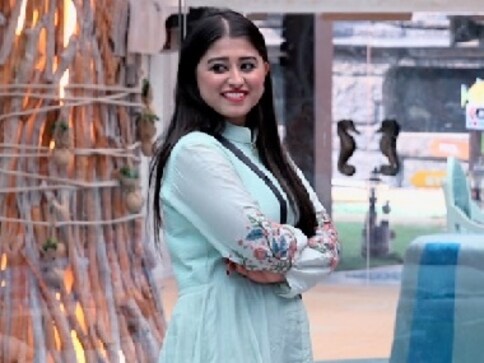 Somi Khan has been evicted just a week before the Bigg Boss 12 finale and she's feeling terrible about it. The girl from Jaipur had entered the reality show along with her sister Saba, as a commoner. While the two initially created a lot of drama that even won them the nickname 'Dabangg Sisters', the duo fizzled out in the game as soon as wild card Surbhi Rana made an entry into the house. And post Saba's eviction, Somi found support in the 'Happy Club' formed by the commoners, including Surbhi, Romil Chaudhary and Deepak Thakur.
"It definitely feels horrible to be evicted just a week before the finals especially since if you have the desire to win. I wanted to spend maximum time inside the house, I am already missing the house, Bigg Boss's voice and all the contestants. Bigg Boss house becomes an interesting place to live essentially because you get to meet and spend time with people from different walks of life. I have had a great experience; I saw both good and the bad times," said Somi in an exclusive chat with Firstpost as soon as she stepped out of the house.
And talking about her not-so-good experiences was the link-up with her co-contestants, Deepak and Romil, that would often leave her embarrassed. While Somi took her link-up with Deepak in good spirits as it was all in fun and games, but it created some awkward moments for her when it came to Romil, especially when his wife came to visit him in the house. "Yes, that was quite embarrassing. If we are living with some people in the house, we develop a close bond and it isn't necessary to give a name to every relationship. We were living like a family and we would often forget that there were so many cameras all around capturing our every move."
She further said, "We really get so involved and don't realise but when controversies and link-ups happen then you are shocked. I did feel bad when Romil's wife came in and hinted at these things but then I understood where she was coming from. She is not inside the house, she came with her viewpoint just like other viewers. I couldn't clear it to her but later through Romil and the camera, I cleared it out," explained Somi.
When asked to choose the winner, Somi said, "I would hope that only a commoner wins the trophy, someone among Deepak, Romil and Surbhi. Any of these three would be great. What was nice is that despite celebrities being pitted against us, several guests who came inside the house felt that we commoners saved the show with our performance. We brought that interest value to the show. The celebrities may have a lot of fan following which is their plus point but the performance of commoners have brought them lots of fans. Now, slowly I have started realising that we have also become celebrities, we couldn't understand that when we were inside the house. Now when we see ourselves on screen, we believe that," she further added.
Sreesanth and Dipika's sibling relationship has been the talking point throughout this season with some calling it fake and some calling the latter opportunistic, to which Somi said, "Sreesanth and Dipika's relationship isn't fake, they genuinely love and care for each other. They spend a lot of time with each other. Dipika has often been attacked for her game that she is seen because of Sreesanth, or she's seen around him. But we would also feel bad for her because we felt she was spoiling her game for Sreesanth but she's very confident about what she's doing."
While Somi shared a cordial relationship with all the celebrities, she has a special place for Karanvir Bohra. "I love him. He is a very nice person. He is actually mahaan. I am leaving the house with a lot of respect for him. He may not be a good player; he remained behind in the game but he could win people's heart with his good nature; he has that 'Good boy' image," said Somi, who would like to stay in touch with all the housemates. "I don't hate anyone; there is no harsh feeling towards anyone. Nobody is bad, it is just that the situation inside the house makes you negative. Even I must have done or said something wrong. But I would definitely stay in touch with the members of the 'Happy Club' which eventually got dissolved."
Entertainment
The reports of Tina exiting the house started making rounds on the internet after a paparazzo account tweeted about the same.
Entertainment
She was talking to Priyanka Chahar Choudhary and mentioned how Shalin wanted to meet her before entering the show and planning a game
Entertainment
Sources also add that Ekta Kapoor will be accompanied with a special guest who is connected to the development, piquing our curiosity even further.