Bigg Boss 12, 29 December, Day 104: Sreesanth, Dipika, Karanvir, Romil, Deepak relive their journey inside house
Bigg Boss Day 104 saw the Dipika, Karanvir, Sreesanth, Deepak and Romil relive the time they spent in the house.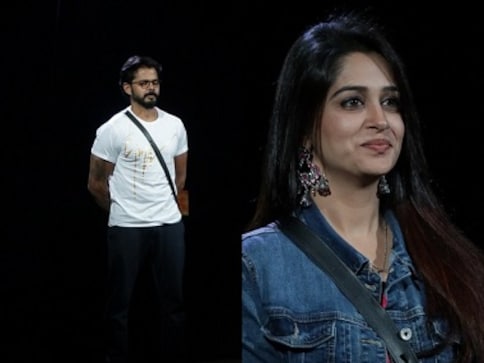 After spending 15 weeks in the Bigg Boss house, the five finalists – Sreesanth, Dipika Kakar, Karanvir Bohra, Romil Chaudhary and Deepak Thakur, got a chance to revisit their journeys from the time they entered in September.
While Sreesanth, Dipika and Karanvir already have a huge fan following, Deepak and Romil, too, have been able to garner much support and appreciation from the audience. Bigg Boss called the contestants individually to the activity area and showed them the viewers' love and support, along with their journeys so far in the house.
Deepak, who hails from Muzaffarpur in Bihar, was extremely touched by the viewers' reaction. From his spirit and cleverness in the completion of tasks to entertaining the audience with his various performances, especially singing and poetry, led him to win thousands of hearts. Deepak tore up and could not stop crying when he watched his father on the screen.
The next contestant to go through his journey was Karanvir. He felt bad when he saw how the housemates were making fun of him behind his back. However, he says he was grateful towards those who found him kindhearted and innocent. Karanvir said that Bigg Boss changed his life.
Sreesanth was the next to get in the activity room. Audiences poured their love and hailed him as the winner. All his fights and the drama that he indulged in before getting inside the kaalkothri, were shown on the screen. Bigg Boss says that Sreesanth is the only contestant to have made a real relationship and nurture it. While he had his share of struggles and came a long way post that, witnessing the love and support from the viewers made him sob.
Romil, too, had an enriching journey in the Bigg Boss house, especially in the initial days. In spite of having celebrities as his co-contestants, Romil created a place for himself as a strong and outspoken personality, earning him the 'Mastermind' title in the early days.
Dipika, who has a huge fan-base was judged at every point in the game and compared to her on-screen character. She was also accused of using Sreesanth to her advantage. However, her patience and perseverance paid off as viewers admired her grace. Right from her fights over 'Saiyaan' and 'Bhaiya', to her romantic moments with hubby Shoaib Ibrahim, all of it.
The video of the contestants' journeys leave them overwhelmed, but their anxiety is still soaring high as they are just a day away from the finale night.
Find latest and upcoming tech gadgets online on Tech2 Gadgets. Get technology news, gadgets reviews & ratings. Popular gadgets including laptop, tablet and mobile specifications, features, prices, comparison.
Entertainment
While there were reports that Deepti Naval suffered a heart attack in Manali, the actor clarified saying "it was a heart symptom."
Entertainment
Robert Redford's publicist said in a statement Monday that the 84-year-old father is mourning the death of James Redford with his family during this "difficult time."
Entertainment
Channeling his The Dude character from The Big Lebowski, Jeff Bridges says "new s**t has come to light" and he will start his treatment for the same.