Bigg Boss 12, 27 December, Day 102 written updates: Surbhi Rana gets eliminated in mid-week eviction
Former Bigg Boss contestants Kamya Punjabi, Priyank Sharma and Gautam Gulati challenge this season's housemates, where BB12 contenders emerge victorious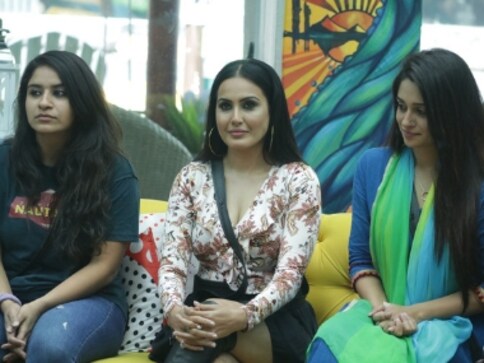 Bigg Boss 12 hotel task ended on an ecstatic note with many celebrity guests entering the Bigg Boss house. Another surprise that awaited the contestants was the entry of ex-contestants Kamya Punjabi, Priyank Sharma and Gautam Gulati. The contestants were extremely happy to see them and thought they had come to cheer for them. But what they weren't aware was a task that was to follow.
Bigg Boss announced a task called BB water station, which gave the contestants an opportunity to regain the amount of Rs 6,65,000 that they lost from the prize money. To make the task more exciting and fun, the ex- contestants challenged the current housemates.
The housemates had to choose any three amongst them to compete with the ex-contestants in the task and Romil, Surbhi and Deepak were selected for the task. As a part of the task, two tanks were placed in the garden area along with a water tap. After every siren, both the teams had to rush to the tap to collect water in their respective buckets and fill the tank. Only one person could fill their bucket at one time. Hence it was a tough fight among the contenders. At the end of the task, whichever team's tank was filled the most, that team would win the task. Dipika was chosen as the sanchalak of the task.
With the task coming to an end with the Bigg Boss 12 contestants emerging victorious. Kamya, Gautam and Priyank leave the house and the housemates were ready to retire for the night but a new surprise came knocking at their door. Giving everybody a jolt Bigg Boss announced the midweek eviction. The housemates get tensed, they go to the garden area and the mid-week eviction process begins. Bigg Boss then names the two top contestants to reach the finale, and they are Sreesanth and Dipika.
Bigg Boss then asks them to name two contestants according to them who are unsafe and should leave the house, and they name Romil and Surbhi. Bigg Boss then names Karanvir and Deepak safe. Romil and Surbhi give an emotional speech. And very soon Surbhi gets eliminated. Karanvir get emotional as Surbhi leaves the house. It's Salman Khan's birthday and he sends gifts to the five finalists.
But the challenges are far from over. Today, news anchor Shweta Singh, Vikas Gupta and Jay Bhanushali will enter the house and grill the contestants.
Entertainment
"The Little Mermaid," helmed by visionary filmmaker Rob Marshall, opens exclusively in theaters nationwide May 26, 2023.
Entertainment
RRR's Naatu Naatu, which became a global sensation soon after its release, won the Oscar for Best Original Song on 12 March.
Entertainment
Also starring Chitrangda Singh, the film is all set to premiere on Disney Hotstar on March 31. It's a thriller about a girl who's searching for her father who has gone missing under mysterious circumstances.