Bigg Boss 12, 25 November, Day 70 written updates: Srishty gets evicted; Romil defeats Karanvir in Sultani Akhada
In the latest episode of Bigg Boss 12, a fight ensues between Romil and Surbhi about what they said about each other during the 'Sultani Akhada' task.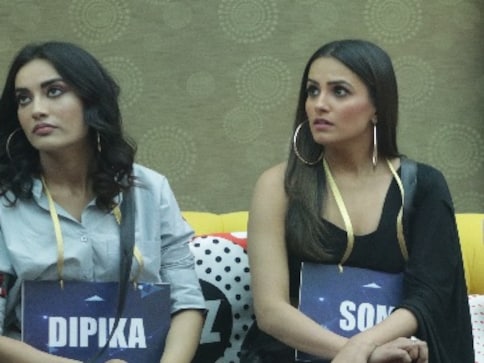 Yesterday, after a brawl among the contestants and Salman Khan's chide on their behaviour, the contestants were a little low spirited. To brighten their day, Bigg Boss invited members of the Colors family to meet the contestants inside the house. Bela (Surbhi Jyoti), Mahir (Pearl Puri) and Vishaka (Anita Hassanandini) from Naagin 3, Preeto (Kamya Punjabi) from Shakti Astitva Ke Ehsaas Kii, Aditya Hooda (Harshad Chopda) and RJ Jai Mittal (Shivin Narang) take part in some fun activities with the contestants.
There was a Bigg Boss 'pageant' organised for the boys of the house. Kamya, Anita and Surbhi were the judges while Shivin was the host. The boys had to showcase their talent. Karanvir and Rohit dance to the title track of Desi Boyz and also went shirtless to flaunt their chiseled bodies. Romil is asked to do a rap called, 'Romil Chaudhary Ki Chatpati Baatein', and Deepak sings Kailash Kher's 'Teri Deewani.' Everybody is surprised to see Sreesanth do a break dance on the song 'Muqalla Muqabla.' They get so excited that they join him in the dance. Later, the judges announce that Sreesanth is the winner and hand over the trophy to him. 
Soon after, Rising Star 2 winner Hemant Brijwasi joins Salman to entertain the contestants. There was jukebox that was kept in the garden, where the contestants had to pick a song  and dedicate it to each other. Hemant would  sing that song. Dipika starts by dedicating the song, 'Khud Ko Kya Samajhta Hai' to Rohit. Hemant sings the song for her. Salman asks Dipika the reason for choosing that song. She says that Rohit has an attitude issue and was very rude in his interactions with people in the house. Next is Jasleen, who chooses 'Bholi Soorat Dil De Khote' for Deepak, saying that immediately after praising someone, he says rude things about that person. Deepak chooses 'Lipstick'  for Somi. Sreesanth dedicates 'Phoolon Ka, Taaron Ka' for Dipika. Later, Salman asks Hemant to sing the song, 'Aa Dekhen Zara,' indicating that it is time for the Sultani Akhada.
Salman asks Surbhi and Romil to fight in the Sultani Akhada, where Surbhi chooses a male contestant to fight against Romil. She asks Sreesanth first but Sreesanth refuses as he is not feeling well. So Surbhi requests Karanvir to fight against Romil for her. In the verbal Dangal, Surbhi and Romil explain how they are better than each other. Romil wins the first round as he gets more support of the contestants. Later, Karanvir and Romil fight in the Sultani Akhada. Romil wins that round also.
Later, Salman welcomes the actors of Colors on stage. The Naagin characters, Vish and Bela, come with the flower garland, asking Salman whether he will marry them. Salman asks them to have a competition to get him. Further, Salman dances with both the girls on 'Jag Ghoomeya' and all the actors leave.
Salman goes back to interact with the contestants and asks everyone for their guesses on the elimination. While Dipika is the only one to name Srishty, Sreesanth feels it is Rohit. The rest say that it would be Jasleen. Salman announces that Jasleen is safe and Srishty has been eliminated. Later, at the dining table, a fight ensues between Romil and Surbhi about what they said about each other during the 'Sultani Akhada' task. Surbhi sits down to discuss the matter with Karanvir.
also read
Entertainment
The official Twitter page of "RRR" shared a behind-the-scenes photo of the late actor filming a crucial action scene in the movie. "He was 56 years old when we were shooting this difficult scene but he did not hesitate while performing this stunt."
Entertainment
Disney India is set to release 'The Little Mermaid' on May 26th, 2023, in English, captivating audiences in theatres with its wondrous tale.
Entertainment
Trishla's debut at the Cannes Film Festival was nothing short of breathtaking.