Bigg Boss 12, 25 December, Day 100 written updates: Hina Khan, Juhi Parmar turn house into hotel for quirky task
The top six contestants of Bigg Boss 12 — Karanvir, Dipika, Deepak, Surbhi, Romil and Sreesanth — are getting ready for the finale race this week.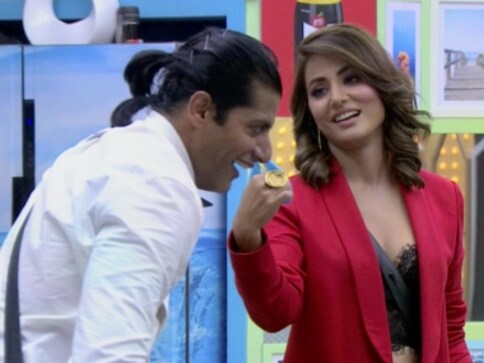 The top six contestants of Bigg Boss 12 — Karanvir, Dipika, Deepak, Surbhi, Romil and Sreesanth — are getting ready for the finale race. As all of them are nominated this week, Bigg Boss decided to give an opportunity to the contestants to make a vote appeal video. But to win this opportunity, contestants had to do their best in a task. The task was called Bigg Boss Hotel and the house was turned into the same, with a reception, a spa and other facilities. Bigg Boss announced one guest among the contestants and others were stewards. Along, with the house guest, there were other celebrity guests that came throughout the day to spend time in the Bigg Boss hotel. But these guests had to give challenges to the housemates, who had to fulfil them. The one who was successful got a star from the guest and also a chance to make the vote appeal video with the guest for support. The contestant who could not do the task was eliminated from the game.
First, Sreesanth was chosen as the house guest. To accompany him, Hina Khan entered the house as celebrity guest. Everyone gave her a warm welcome. But they were unaware of the challenges that were about to follow. Hina asked Deepak to swim and sing a song for her. She later asked Surbhi to shave half of Deepak's face. Hina told Dipika to curl Karanvir's hair and also put make-up on him. She asked Romil to clean the Kaalkothri.  Sreesanth demanded from Surbhi a single mattress for his bed. Hina told Bigg Boss that she really appreciates how the 'employees' have worked like a team and picks Romil for the star. Romil wins the opportunity to ask the viewers to vote for him.
After Hina, Sumati Khanna (Juhi Parmar) from the tele-serial Tantra entered the house. Along with her, Karanvir was chosen as the house guest. Sumati's first demand was to have coffee made by Romil. But unfortunately, Karanvir had already hidden the coffee. As Romil could not fulfil the demand, Sumati decided to punish him. Sumati also told Surbhi to wash a few clothes and sing for her while washing the clothes. She told Dipika to clean the jacuzzi and give a pedicure to Surbhi. Sumati's last challenge was to Deepak, and she asked him to lyrically describe everyone but in English. Juhi selects Sreesanth and the two proceed to make a vote appeal video.
Later in the day, Ranveer Singh Baghela (Neil Bhatt) from Roop Mard ka Naya Swaroop, entered the house. Deepak was chosen to be his co-guest in the house. Ranveer asked for masala chai, to which Sreesanth obliged. He later asked Romil to do a stand up comedy set and also rap. Deepak instructed Karanvir to wax Romil's torso. Deepak also asked Surbhi to have tea in Sreesanth's cup, the one that came as a Christmas gift from his family. Sreesanth was furious at Surbhi for this request but Surbhi kept convincing him. Neil chooses Romil as the winner and the latter gets one more chance to make an appeal to the viewers to support him.
Entertainment
Jug Jugg Jiyo will open theatrically at a time when there's so much uncertainty around the box office performance of a film.
Entertainment
Sidhu Moosewala's spng refers to the Sutlej-Yamuna Link (SYL) canal, which has been a bone of contention between Punjab and Haryana for several decades.
Entertainment
Don't forget to tune in to 154 to watch it on Tata Play, and 117 on Dish TV and D2H on June 28, 2022 at 7pm for the Indian Television premiere of Baaghi.