Bigg Boss 12, 24 November, Day 69 written updates: Salman addresses Dipika and Karanvir's crumbling friendship
aying for the deeds in the week gone by, Bigg Boss 12 contestants faced Salman Khan's wrath for their misbehaviour in the Weekend Ka Vaar
Paying for the deeds in the week gone by, Bigg Boss 12 contestants faced Salman Khan's wrath for their misbehaviour in the Weekend Ka Vaar. The preceding week had seen multiple fights in the house: Deepak and Megha's massive fight which ended with the latter spitting and throwing a shoe at the former, Jasleen and Somi's heated argument had created a divide in the house. Dejection was in the air and a bitter feeling took over most contestants.
Salman reprimanded Deepak for his misbehaviour and the tonality of the language used by him for the last few weeks. Salman told him that he was being over-smart as he knew nobody could touch him in the house. He also told him that if he did the same things in his village, he would be beaten black and blue. He even told him he was becoming irritating rather than entertaining. Megha was also questioned and pulled up for her terrible actions of throwing her footwear at Deepak and spitting on him.
Salman further told Megha that she was coming across as a frustrated person as she was not able to find a place for herself in the house. A wild card entrant, Megha recently won Marathi Bigg Boss. Salman said that he had asked Marathi Bigg Boss host Mahesh Manjrekar about her and he said she was fantastic. Salman said that he himself was probably a bad host because he told her last weekend that she wasn't seen enough on TV. Therefore, maybe she was forced to take some of these measures to be seen. Both Deepak and Megha apologised profusely.
In the beginning of the Weekend Ka Vaar episode, Salman slammed Romil for failing as a captain and behaving like the owner of the house. He then steered the discussion towards Dipika and Karanvir's broken friendship. Dipika confessed that she doesn't trust Karanvir, whereas the latter defended himself saying Dipika did not sort out issues but kept them to herself for weeks. Surbhi nudged in between and said Dipika's priority changes every week as per her convenience. Surbhi further said that Dipika's only priority in the house is Sreesanth. Salman, in a tongue-in-cheek manner, concluded that maybe Dipika does not consider anyone else worthy of her friendship. Salman then directed the discussion towards Somi being safe from the nominations. Salman said that Somi got her immunity as charity; Somi felt offended by this statement.
The discussion then moved towards Rohit's betrayal of his team during the luxury budget task. Jasleen was most affected by it and Salman pulled her leg by reiterating her statement which indicated that she didn't wish to include Rohit in the task. Rohit revealed that Karanvir was the one who gave him the idea of betraying his own team. Salman took Karanvir's side and appreciated his strategy.
The discussion then shifted to Jasleen heading to jail. He pulled up Surbhi, who had nominated her twice. Giving her reasons, Surbhi said Jasleen interferes in other people's matters. But Salman said that Somi, too, interferes in others' matter and tattled; she deserved to be punished more than Jasleen. Salman asked for Dipika's opinion and she said that she was disappointed with Surbhi, who admitted she wanted to save her friends.
It was time for the caller of the week. The question was for Megha. The caller told her that she was being a hypocrite. In her response, Megha insisted that she still has her individuality. Suddenly, Deepak and Somi broke down, and Romil and Surbhi try to pacified them. Deepak and Megha then apologised to each other.
Later, Salman asked everyone as to who they thought was the 'gunehgaar' of the week and Megha was nominated for the same. While Sreesanth and Dipika took Deepak's name, everyone was surprised with how Jasleen did the same although she was in their team. Megha was then sent to the torture chamber. Salman then revealed that Deepak, Karanvir and Dipika were safe for the week. And when Sreesanth, Dipika and Jasleen went to support Megha in the torture room, Megha called Jasleen a dumb, brainless beauty. Sreesanth, too questioned Jasleen as to why she took Megha's name. Soon after, they patched up. Megha hugged and apologised to Jasleen, who was seen crying uncontrollably.
Tomorrow, on Weekend Ka Vaar, the Colors 'family' will enter the house aping the current housemates. Surbhi, Pearl, Harshad, Anita, Shivin and Kamya will mimic Dipika, Sreesanth, Karanvir, Somi, Deepak and Megha, respectively.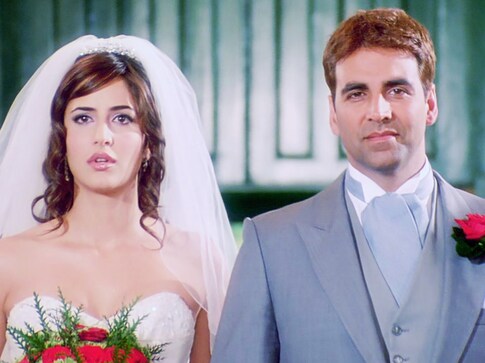 Entertainment
A story of a British girl and a Punjabi boy! Vipul Amrutlal Shah's directorial Namastey London completes 16 years
Entertainment
Further highlighting that everyone is running behind to become public and famous due to the wide range of opportunities in the market, Grover noted how people have lost interest in going to theatres. 
Entertainment
Bholaa has consciously corrected the marginalisation of women in Kaithi and made other interesting tweaks. Sadly, this is not enough to overshadow the noise, the gore and the laughable sight of a wild beast cowering in the presence of Ajay Devgn.