Bigg Boss 12, 23 December, Day 98 written updates: Team Simmba surprises contestants with intriguing tasks
Simmba stars Ranveer Singh and Sara Ali Khan entered the Bigg Boss house, dancing to 'Aankh Maare' from their upcoming movie Simmba.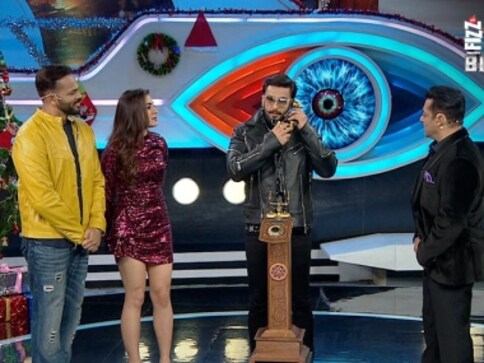 As the Christmas week begins, the Bigg Boss 12 contestants started receiving surprises. Ranveer Singh and Sara Ali Khan entered the house, dancing to their super-hit song, 'Aankh Maare' from their upcoming movie Simmba. The contestants were surprised and excited and could not stop themselves from swinging to the beats.
Later, Ranveer and Sara play an interesting game with the contestants where they are shown few news clippings and they had to guess whether it was real or fake news and all their answers turned out to be correct. They could guess that between the news of Anup Jalota-Jasleen's engagement and Srishty Rode making her Bollywood debut, the latter news was real. The second news clip was Deepak entitled to Bihar Ratna and Karan Johar meeting Prime Minister Modi to discuss some issues. While they were doing the task, one news clip that upset Deepak, was a comment from the evicted jodidaar Urvashi Vani, who said that Deepak was her biggest enemy and she will never want to see him again. Deepak thought this news was fake, but unfortunately it turned out to be true.
Another surprise that awaited the contestants was Rohit Shetty's entry. Contestants' joy knew no bounds when they saw the Simmba director in their midst. Rohit gave them interesting tasks and decided to take their screen tests. He told Deepak to create a scenario where the women of the house will see him as a prospective NRI groom. Dipika goes first followed by Surbhi and Somi. Further, Rohit divided the house into two teams — Team Ranveer had Dipika, Somi, Surbhi, and Team Sara were Sreesanth, Karanvir, Romil and Deepak. He gave dancing challenges to the teams like Zombie Dance, Electric shock dance etc. Post this, they bid goodbye to the contestants and proceeded to meet Salman on stage.
On stage, the trio had a lot of fun with Salman when they decided to create Salman's matrimonial profile to which the superstar agreed.
Post Ranveer, Sara and Rohit's exit, Salman moved to the Sultani Akhada. This time the akhada task had a twist with all seven contestants participating in the same.  There were two teams — Team Romil and Team Sreesanth. Team Sreesanth had Dipika and Deepak and Team Romil had Karanvir and Somi. Surbhi was the sanchalak of the task. In round one, Dipika and Romil engage in a verbal dangal and Surbhi announces Romil as the winner which Dipika doesn't approve. Between Deepak and Somi, the former wins, and between Sreesanth and Karanvir, Surbhi declares Sreesanth as the winner. In the physical dangal between Deepak and Romil, Deepak wins hands down. Another twist that awaited them was the winning team would be showered with green slime and hence Romil sprays green slime on Sreesanth, Dipika and Deepak. The winners, who were expecting to be honoured, were taken aback.
After all the fun and games, it was time for the eviction announcement. Somi Khan gets eliminated. Deepak breaks down and Surbhi is saddened. In the beginning of the last week of this season, Deepak will be seen doing a secret task to earn Christmas presents for the house.
Entertainment
Actor Aahana Kumra in an interview with Firstpost mentions that the digital platforms are bringing out stories which are an integral part of our life and OTT is the present and the future of entertainment.
Entertainment
'Someone cast these Two in a Film', demand Ranveer Singh and Kriti Sanon fans.
Entertainment
From an industry outsider to a leading young superstar, Kartik Aaryan's Bollywood journey truly stands out from his contemporaries.