Bigg Boss 12, 22 November, Day 67 written updates: Sreesanth's big reveal on Harbhajan gives Surbhi captaincy
Deepak and Surbhi became reporters for a task titled Breaking News in Bigg Boss 12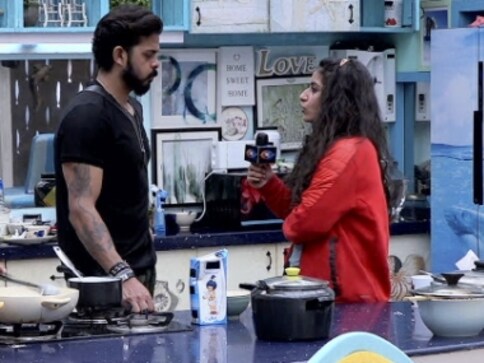 Seeing is believing and that is most important when it comes to sharing information, or more so, in giving breaking news. A similar situation had Deepak and Surbhi become reporters in a task titled — 'Breaking News'.
Surbhi and Deepak are the contenders for the Fizz Captain of the week.  To judge their reporting capabilities, Sweta Singh, a popular journalist and news presenter, was invited as a special guest in the Bigg Boss 12 house. Sweta gave them a task which was to reveal happenings from within the house as news breaks. The two contenders were allowed to discuss the task amongst their fellow contestants. Sweta would then decide whose news was the most important and accurate, and that contender would be graded with a plus point.
Surbhi and Deepak were in the prowl for news from the house. Surbhi decided to break the news that Happy Club did not exist anymore. Surbhi's news spread like a wildfire in the house and everyone gave their comments supporting her conjecture. However, Romil, who formed the Happy Club, refrained from giving any comments. Also, after his fight with Surbhi, he wanted Deepak to become the captain and hence didn't want to help Surbhi. Next, Surbhi laid hands on some sensational news when she sees Jasleen and Somi's argument turning into as major battle. She instantly reports this news. Jasleen and Somi fought because both alleged each other for passing unnecessary comments, or interfering in other people's affairs.
Rohit and Romil tried to create news pretending to leave the house jumping off the wall. Deepak condemns the act and gets appreciation from the anchor. Surbhi further tries to investigate about her fight with Romil. But Romil decides not to talk about it and merely says, "No comments." Megha tells Deepak that she is not a contestant here but has come inside the house only as a guest, and after leaving the show, she will go to women commission for the treatment meted to her by him (Deepak) and Rohit. Deepak gets excited about the first part of the news that Megha wasn't a contestant but it turns out to be fake. Rohit tells Deepak that he dated a producer's daughter two years back. Surbhi manages to establish that the Happy Club has dismantled. Surbhi thus wins a point.
Deepak's hunger for news reaches another level where he tries to malign Megha's reputation which results in a huge fight between the two of them. Megha threatens Deepak that she will slap him going beyond control. She spits and abuses Deepak and even hurls a shoe at him. His next attempt was to declare the Bigg Boss house was haunted. Rohit and Romil continue to create fake news. Rohit goes inside the jail.  Megha goes inside and starts crying, lying on the bed. Deepak again tries to get her quote on the topic of haunted house but she stays indifferent to him by saying, "No comments."
By now, both the contenders of captaincy – Surbhi and Deepak — manage to get two points each, and finally Surbhi hits the jackpot when Sreesanth promises to give her breaking news. Since majority of the contestants preferred Surbhi to become the captain, they don't cooperate with Deepak and hence it becomes much easier for Surbhi. So when Deepak goes around collecting quotes on Sreesanth 'doing a flip', or wanting to run away from the house, he barely manages to get any reaction.
Sreesanth tells Surbhi what happened between Harbhajan Singh and him during the T20 tournament and the latter listens intently with a boom mic thrust on the former cricketer. Apparently, Harbhajan told him right at the start to not show any aggression. Harbhajan got out in the first ball and Sreesanth admitted that he was a little too elated because he was happy for his team. He says that when he went up to Harbhajan to say 'tough luck', he didn't slap him but back slapped him. He says that people can check the video. Sreesanth reveals he was helpless and so he cried. He then addressed on the camera that there is nothing awry between him and Harbhajan now. He keeps in touch with him and enquires about his family and Harbhajan too tweets about Sreesanth and his family. Deepak tries to interfere while Surbhi is conducting Sreesanth's interview, but the latter doesn't speak to him.
Quite obviously, Sreesanth's big reveal wins Surbhi one more point and also the captaincy. Deepak gets disappointed. Surbhi and the rest of the contestants feel that it was a proud moment for her. Sreesanth feels happy as he spoke about the incident for the very first time and hence it becomes the 'Breaking News' for the nation. Not just Surbhi but Sreesanth, too, celebrates the moment along with his friends in the house — Dipika, Megha and Jasleen. He tells his wife through camera to call Harbhajan and inform him about it.
Entertainment
A recent video in which Kartik Aaryan and Shah Rukh Khan are having a short conversation went viral on the internet, and Kartik has now revealed what both actors were talking about. Read more!
Entertainment
Created by Manish Hariprasad and directed by Vijay Maurya, Crash Coursestars eight fresh faces - Mohit Solanki, Hridhu Haroon, Anushka Kaushik, Riddhi Kumar, Bhavesh Balchandani, Aryan Singh, Hetal Gada, and Anvesha Vij.
Entertainment
Ektaa R Kapoor coups in a spectacular team of Taapsee Pannu, Anurag Kashyap, Sunir Kheterpal & Pavail Gulati, the best in the genre for 'Dobaaraa'.