Bigg Boss 12, 18 November, Day 63 written updates: Dipika blasts Romil, Srishty
In order to lighten up the mood after Shivashish's eviction, former Bigg Boss host Farah Khan entered the house to play some fun games with the contestants.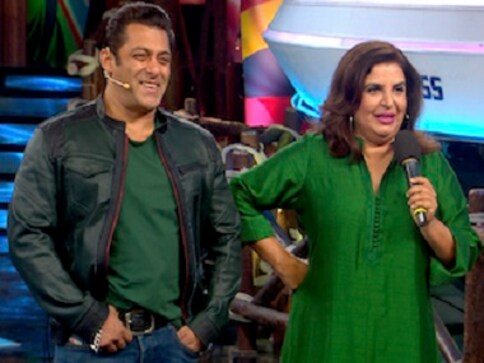 After Shivashish's unfortunate exit, the atmosphere in the house turned a little dull. Brightening up the mood was director-choreographer, Farah Khan who claimed to be the biggest fan of Bigg Boss. Her entry in the house came as a breath of fresh air, leading to a lot of happy faces.
While engaging with the housemates, Farah made the contestants perform some fun acts which made them roll on the floor with laughter. Farah asked Deepak and Somi to recreate the climax scene of Titanic. Deepak and Somi added their humorous twist to it. Later, they were also asked to dance on the boat set up, on the popular song 'Gerua', that she had choreographed on Shah Rukh Khan and Kajol for Dilwale. Since Somi was feeling shy to do this act, Rohit volunteered to dance with Deepak on the same song, which turned into a funny act.
Farah's next task was called, 'The Tree of Sins.' As a part of this task, there were placards of the seven sins, ie pride, greed, lust, envy, gluttony, wrath and sloth, on the tree. The housemates had to decide who is the most suitable for the sin. Post this, the chosen contestant would be given a punishment accordingly. As a punishment, Romil, who was declared lazy, was asked to polish shoes, Rohit was given the Top Ki Salami and Deepak was made to eat a spicey laddoo. As Jasleen had three sins to her name, she was given three different punishments, one of them being surrendering her belongings weighing up to five kilograms.
After all the fun and games with the contestants. Farah decided to have some fun with the host Salman Khan as the duo danced on 'Baby Ko Bass Pasand Hai'. She also reminded Salman that he always copies her hook step in every film of his. Then, she showed the funny videos of each contestant that she made. It created ripples of laughter. Dipika and Sreesanth's could be rated the best. She said Dipika is behaving like Meena Kumari in the house and being over dramatic. Farah thought Dipika had genuine sisterly feelings for Sreesanth. She showed a video of Sreesanth as well. Her video on Sreesanth was all about saying 'No' to jail, having his dinner and eventually going to jail. She also showed that how Deepak, despite his hand cast in plaster, is the most aggressive when it comes to physical tasks, where he pushes people.
Salman then played a game with the contestants, which is similar to Fill in the Blanks. Itna hi___tha toh ___ ghar mein aaye kyun?" is the statement given, but with some words missing. Sreesanth got a bit miffed when some of them indicated that he was proud and arrogant.
Just like Salman had talked to Deepak's family in his village in Bihar, this time, he decided to talk to Somi's family in Jaipur. Saba, who was evicted a few weeks ago, had some nice words to say about Deepak. The family even sent some gifts for him. Salman pulled Somi's leg, saying that usually, girl's parents get angry at the flirtatious behaviour of the guy but in this case, the boy was being given gifts by the girl's parents.
Next, it was Jasleen and Srishty's fight in the Sultani Akhada. While Srishty won the verbal round as seven of the contestants supported her, she lost in the wrestling round, making Jasleen the winner of the Sultani Akhada match. Deepak, Sreesanth, Dipika, Jasleen, Srishty and Romil were the nominated contestants. Salman said that because Shivashish had already been evicted, no evictions will take place on Sunday.
But the episode ended with a massive fight between Romil, Srishty and Dipika. Dipika got angry at Romil and Srishty for dragging her husband into the show during the 'talk show', which was a part of the task Farah had asked them to do. In this 'talk show,' Romil, who is the anchor, 'interviews' Srishty, who is role-playing Dipika. Romil asked her a question on who she loves more, her husband or her brother by using the words, 'saiyyan' and 'bhaiya.' Srishty (as Dipika) said that she was in the show because of her brother (taunting Dipika about Sreesanth).
Dipika had gotten angry but she did not react then. Later, she yelled at Romil asking him how he could compare her husband and her 'brother,' and who had given him the right to do so. Dipika told Srishty that she was disappointed in her.  Everyone advised Romil to apologise and not utter a word in his defense. However, Romil felt that there was nothing offensive about his actions.
Entertainment
She was talking to Priyanka Chahar Choudhary and mentioned how Shalin wanted to meet her before entering the show and planning a game
Entertainment
The house of Bigg Boss 16 is getting more and more chaotic. Recently, Tina Datta and Shalin Bhanot got into a massive argument for this reason.
Entertainment
While several speculations have been doing the rounds on the second instalment of the blockbuster film