Bigg Boss 12, 15 December, Day 90 written updates: Shah Rukh Khan's Bauua Singh interacts with contestants
After having a week full of ups and downs, the contestants of Bigg Boss 12 eagerly await the weekend they believe Salman Khan will solve all their issues
After having a week full of ups and downs, the contestants of Bigg Boss 12 eagerly await the Weekend ka Vaar as they believe host Salman Khan will solve all their issues. Not only Salman, they also await the special guest who comes to meet them.
This time, Swara Bhaskar and Sumeet Vyas entered the house to meet the contestants. They had also come to promote their upcoming web series It's Not That Simple on the show. They made the contestants complete the sentence 'It's not that simple to stay in Bigg Boss house because….', and all the contestants shared some interesting experiences. Post this, the male and female contestants were divided into two groups. The contestants were then asked to reveal who had discriminated against them on the basis of their gender. They could apply mud on that particular contestant and it turned out that each and every contestant had issues with someone or the other.
Romil blamed Surbhi for misunderstanding him and accusing him for staring at her inappropriately. He also brought up the incident when Dipika turned furious over the 'saiyaan bhaiyya' dialogue which was part of a task. Dipika and Surbhi counter questioned him for humiliating them. Sreesanth spoke out and pointed fingers at Romil for disrespecting women. Romil stood up and asked Sreesanth to apply mud on his face. Later Surbhi blasted Romil and Deepak for hurting her. Karanvir consoled Surbhi. When Romil said that his father cried because of Surbhi's behaviour, Somi advised him to learn to let go of things instead of seeking revenge. Karanvir felt that sensitive things should not be discussed and he also agreed with Dipika and Deepak that Romil was behaving weird.
As the day proceeded, Salman met the contestants while relaxing on a reclining chair. His agenda was to make the contestants aware of their laid-back behaviour in the house, like sleeping at odd hours and not being actively participating in the show, even after several warnings from Bigg Boss. Salman picked on Romil who had broken the rules the maximum number of times and also scolded Deepak and Rohit for the same mistake.
Later, Salman asked each one of them to choose the bottom three contestants who they thought did not deserve to make it to the finale. Romil and Karanvir got the maximum number of votes for the same. Salman also appreciated the change in Surbhi's behaviour as she was found to be less aggressive the last week. Soon after, Sreesanth was asked a question through Voot about the reason why he was on the show when he had often been heard saying that he had won lot of trophies and did not need one more. Sreesanth accepted that he used to say he had come here for seven weeks but after the encouragement from all the contestants and his wife, he got motivated to win the show. Salman encouraged him further to do well.
Another contestant asked Somi about the reason for justifying her relation with Romil and yet another viewer asked Romil whether he always used his friends for his own benefit. Surbhi got upset with whatever Romil said and ended up calling him a disgusting person. Somi also made Romil understand that his behaviour hurts all.
Salman announced that there would be a call for the contestants made by Shah Rukh Khan but it would be in the name of Bauua Singh, the character he playes in his upcoming film Zero, but contestants won't be told about it. Referring to Sreesanth's repeated plea to run away from the house, Shah Rukh asked Sreesanth that had Bigg Boss opened the door, would he have left the house? Everybody breaks into laughter. Further, Shah Rukh pulled Romil's leg over his sleeping issue. When the contestants were not able to guess that it was Shah Rukh's voice, Salman told them that it was the superstar talking and they were delighted to know that he would be coming to meet them the next day.
Later into the episode, there was a dramatic video of Salman and Shah Rukh coming to Lonavala on a bike. Both the actors performed on the song 'Issaqbaazi' from the movie Zero.
Entertainment
Shah Rukh Khan rules each and every frame as Pathaan in Siddharth Anand's directorial.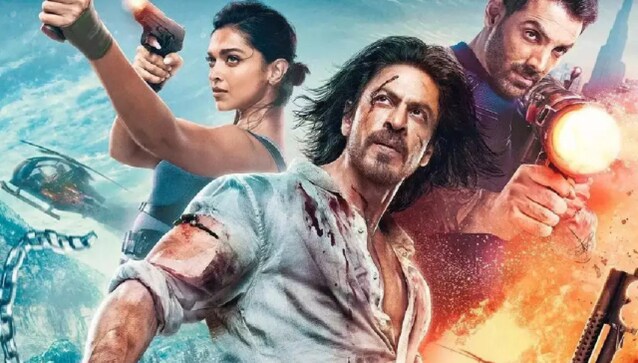 Entertainment
Pathaan is setting new benchmarks at the global box office.
Entertainment
The makers have planned a unique approach for the unit launch which is "theatres first", the motion units will be first launched on big screens in the theatres followed by digital