Bigg Boss 12, 12 November, Day 57 written updates: Dipika, Srishty, Sreesanth and four others nominated
The beginning of the week in Bigg Boss 12 was marked with a new round of nominations. This time, two friends were paired opposite each other and had to decide who they wanted to nominate amongst themselves. Bigg Boss woke the contestants with the popular song, 'Yeh Dosti Hum Nahi Todenge' to forewarn them, in a way, of the times to come.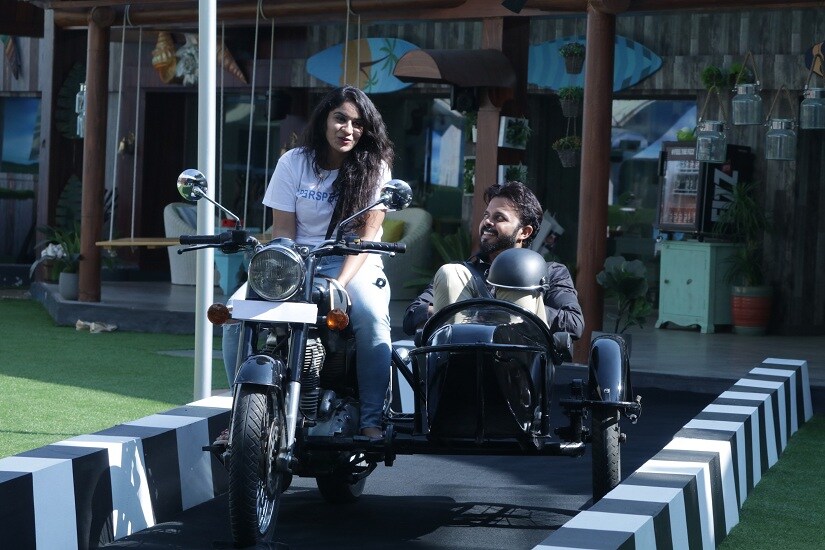 A bike with a sidecar was placed in the garden area with only one helmet. The task started with Bigg Boss announcing two contestants' name who would go to the garden area. One of them would sit on the bike and the other on the sidecar. They would then unanimously decide who they wanted to nominate and save within the stipulated time. There would be a crashing noise afterwards and if the couple failed to come to a conclusion, both would end up getting nominated. The one who would go on to become safe would wear the helmet and sit until the crash.
The pairs that were chosen were Dipika-Megha, Srishty-Jasleen, Somi-Deepak, Sreesanth-Surbhi and Shivashish-Rohit. Being the captain of the house, Karanvir was safe from the nominations. Romil had already bought the Immunity Ring that made him safe too.
The nomination task began with Deepak and Somi. All other inmates were asked to stay inside the house. The game was to stay put on the bike with a sidecar. Deepak sacrificed for Somi and put the helmet on her head. Sreesanth and Surbhi were the next couple to go. They could not come to a conclusion initially but later agreed that Surbhi should be safe. Dipika and Megha took the bike next. Dipika saved Megha and nominated herself. Surbhi and Somi asked Dipika as to why she helped  Megha; they did not expect her to.
Jasleen and Srishty were the next couple to perform the task and both of them ended up getting nominated. Jasleen and Shivashish had a conversation and the former felt that Shivashish had changed and did not want to be friends with her. The latter did not care much and wanted to be left alone. Shivashish then took the car with Rohit. The latter tried to reason that he wanted to stay because he had a lot to prove. Sreesanth felt that Rohit was playing the emotional card with Shivashish just like Karanvir, who was also a television actor. In the end, nobody gave up which brought Deepak, Shivashish, Sreesanth, Jasleen, Rohit, Srishty and Dipika in the danger zone.
While there was already a bit of a brouhaha over the nominations, what they weren't expecting was Bigg Boss' wrath. Bigg Boss was really upset with the contestants for constantly breaking house rules even after several warnings. He had extended Rohit's kaalkothri tenure for trying to escape but Rohit still didn't learn his lesson. He was caught sleeping even after several warnings. Bigg Boss asked Karanvir to nominate two people who he thought broke the maximum rules. Karanvir named Sreesanth and Rohit. As a punishment, Bigg Boss sent a huge pile of dirty utensils and plates that both of them had to wash. This further created a rift between Sreesanth and Karanvir. Although reluctant, both of them had to accept the punishment and finish the mammoth task.
While all this was happening, Deepak and Megha got into an ugly fight. As Megha tried to help the boys, Deepak accused her of seeking attention. He felt that since she wasn't seen the whole week, she was trying to seek attention by pleasing Sreesanth and Rohit. Megha got furious and was on the verge of hitting Deepak with a broom. And as they fought, Romil and Sristhy were seen roaring with laughter while Dipika tried to resolve the matter.
Updated Date: Nov 13, 2018 09:57:24 IST