Bigg Boss 11 wild card entries: Dhinchak Pooja has no strategy; Priyank Sharma prepped up for his second innings
The entry of wild cards in Bigg Boss 11 – Priyank Sharma and Dhinchak Pooja – will be real treat for the avid viewers of the controversial reality show.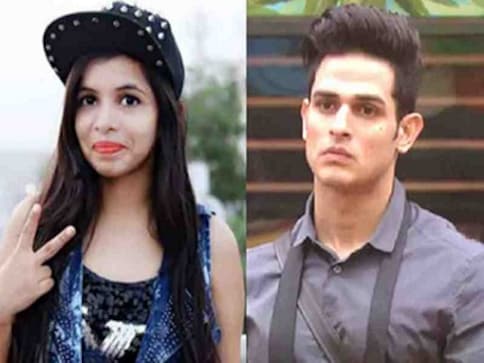 In an already chaotic and volatile atmosphere in the Bigg Boss house, wherein the cat fights between Hina Khan and Arshi Khan is getting worse by the day, and rivalry between men fiercer by the minute, the entry of wild cards – Priyank Sharma and Dhinchak Pooja – will be real treat for the avid viewers of the controversial reality show.
However, Dhinchak Pooja, who is famous for her cringe-pop songs like 'Selfie Maine Leli Aaj', 'Dilon Ka Shooter' and 'Swag Wali Topi', is least bothered about the contestants, their game and what they were upto. Her sole aim is to get maximum mileage on television and meet superstar Salman Khan. "I am very excited. TV par aaoongi, Salman se miloongi (I will appear on television and meet Salman Khan). I will get a good platform on television, it will benefit my career," said Pooja, who has a strong presence on the internet and a huge fan following on social media. With Bigg Boss, she will make her debut on television, and it would be interesting to see her bond over music and rap with Akash aka A-Cash.
When asked if she has been following the show, and if she had any strategy planned to survive in the house, she merely said, "No, I haven't been watching regularly because I was  extremely busy preparing to go inside the house with my shopping, visiting parlour, so I haven't had the time to watch." She further adds, "No, I don't have any strategies planned. Also, I didn't have the time to plan because I have been busy packing and everything has happened in a rush."
When told about the explosive situation inside with contestants getting onto each others' throat, Pooja said, "It will all depend upon what kind of problems occur and I will accordingly deal with the situation. I am not into fights and I know how to control my temper. I don't get angry easily. So even if any contestant starts a fight with me, I will stay cool and won't give them much attention. As of now I don't understand what is happening inside the house and I don't even remember the names of the contestants, but yes, I am aware about the tasks to be performed and that sounds pretty exciting."
Meanwhile, Roadies Rising and Splitsvilla 10 star, Priyank, who was shown the door after getting into a physical fight with fellow contestant, Akash Dadlani, is all prepped up for his second innings. But he has decided to be careful this time on.
"I'm excited about the second chance I am getting. I will be careful, it was a huge lesson for me," said Priyank, furthering, "I was out for almost 10 days but I have been watching the show. Lot of things, lot of relations had changed for some time but now it's back the way it was when I left the house," said Priyank, further adding, "Hina and Arshi had sorted out their issues but they are back to fighting. Benafsha seems to be having problems with Akash and Muneesh, they have been after her, and I am not liking that one bit. Shilpa and Arshi are currently very quiet but they will soon erupt. Nothing can be taken for granted."
Apparently, both, Priyank and Pooja entered the house on Wednesday night and their entry will be aired in today's (Thursday) episode.
Entertainment
The house of Bigg Boss 16 is getting more and more chaotic. Recently, Tina Datta and Shalin Bhanot got into a massive argument for this reason.
Entertainment
While several speculations have been doing the rounds on the second instalment of the blockbuster film
Entertainment
Lauding Sajid, who was often called the mastermind of the 'mandali', Vishal said that he successfully executed his plan of rectifying his image in the public sphere.