Bigg Boss 11, Weekend Ka Vaar, 18 November 2017: Sunny Leone, Arbaaz Khan enter the house
In tomorrow's 'Weekend Ka Vaar' the audience will be treated to Deepika Padukone dancing on the tunes of Ghoomar as she will join Salman to promote her next release, Padmavati.
Salman Khan welcomes everyone on the show in a new clean-shaven look. Shilpa and Akash have an argument inside thekaal kothari all thanks to Puneesh, who is seen talking to Akash from outside and also trying to instigate him against Shilpa.  Shilpa tries to shut Akash up when he irritates her but latter says that he learnt  acting from her.
Then, Puneesh asks Shilpa whether she knows why is Akash, who used to be extremely close to her, is now upset with her?  Giving the reason, Puneesh says Akash was the only one in the house to support her when she and Vikas would have their massive fights and which continued for many weeks. But Shilpa says that she was enough to handle Vikas and she didn't need Akash's help. However, Puneesh insists that she used Akash. She refutes it. The housemates are happy to see Salman clean-shaven. Salman pokes fun at Akash who is now bald. He had gone bald to save Bandgi from getting nominated.
The dapper host tells housemates that they were all unhappy with the fact that Shilpa and Vikas are now friends. He continues to pull Akash's leg who seems to have a major problem with Vikas and Shilpa becoming friends. Hina tells Salman that Vikas and Shilpa fought for almost five weeks and they became friends within four days which was quite sudden and hence they were all shocked. But Salman explains to her that such things do happen suddenly and there was nothing strange about it.
Salman asks Akash if he really believes that Vikas and Shilpa scripted a fight, He also tells Akash that he is looking like a bloody fool as Arshi and Shilpa have not reacted to his antics and have remained dignified throughout. Salman criticizes him for isolating himself from Shilpa and that he broke her heart. Salman again takes Akash's case when latter doesn't like Shilpa and Arshi flirting with Hiten. Salman tells him that Hiten was capable of taking a stand for himself. Hiten, too, agrees with Salman and tells him that he has told Akash several times to mind his own business.
Further, when Bandgi refutes that she had not instigated Akash against Shilpa, Salman asks Bandgi sarcastically how many cameras are there inside the house. She says there are about 150 to 160 cameras, and Salman says they are all working. He tells Bandgi that he has seen her instigate Akash against Shilpa. As Salman is taking their case, Arshi, too, keeps taunting them. Salman tells Akash that silence makes the maximum noise as it reflects dignity which was shown by Shilpa and Arshi when he was irritating them with his comments.
When Salman takes a break, Hiten, too, tells Akash that he is looking like a fool because others are instigating and using him but he is not realising that. Shilpa tells Vikas and Hiten that she wouldn't blame Akash who fought with her. Shilpa also says that Hina was also a culprit but now she is pretending to be innocent
Salman now introduces the cast of Tera Intezaar -- his brother Arbaaz Khan and female lead, Sunny Leone who has earlier been associated with the show. Sunny enters the house with an interesting task, 'Thoda Khao Thoda Lagao'. Sunny's breakfast buffet has soya sauce, chilly sauce, butter and other things.
The first one to participate in the task is Shilpa and she's asked who's the most boring contestant in the house and Shilpa names Sapna which Sapna doesn't approve of. Sunny tells Shilpa that she has to apply chilly sauce on Sapna. Next is Vikas, who is given chocolate sauce, and he has to decide who needs to get sweeter in the house. Vikas names Hina and he pours the chocolate sauce on Hina. Hina pretends to be happy and starts licking the sauce.
Sunny now invites Arshi who is given butter for the person who does the most buttering in the house. Arshi applies butter on Hiten. Hiten is given the banana peels for the monkey of the house and he gives it to Akash. Akash takes it sportingly and even dances like a monkey. When Hina is given eggs by Sunny, she in vengeance breaks them on Vikas' head and asks him to come out of his shell. Vikas says Hina has a habit of saying right things but never practices them.
Now Salman asks Sunny to describe Bigg Boss 11 in one word and Sunny says, "Pagalpan". Salman supports her and says this season has a crazy bunch of contestants. Salman bids farewell to Arbaaz and Sunny and enters the house. He compliments all the contestants that they are shining after the task they performed with Sunny.
Salman asks Hina what she liked more – egg treatment or chocolate treatment. To which Hina says that she liked egg chocolate treatment. The caller of the week puts Puneesh in a dock and asks him that how has he got the right to call Luv stupid when he himself plays with Bandgi's mind and does everything in the house only for Bandgi. When Puneesh refutes this claim, Salman, too, tells him that it appeared so and that the caller was right.
Salman now talks about eviction. This week three contestants – Hina, Benafsha and Sapna are nominated for eviction from the house. But he says that the name of the evicted contestant will be announced tomorrow.
Soon after, the members of the show 'Entertainment Ki Raat', Raghu and Balraj join Salman on stage and poke fun at the contestants of the show. Raghu tells Akash that he will start looking like a bald Arshi if he starts going to the gym regularly.Raghu and Balraj show every contestant in their bald avatar and everyone is left in splits on seeing themselves in that avatar. In tomorrow's 'Weekend Ka Vaar' the audience will be treated to Deepika Padukone dancing on the tunes of Ghoomar as she will join Salman to promote her next release, Padmavati.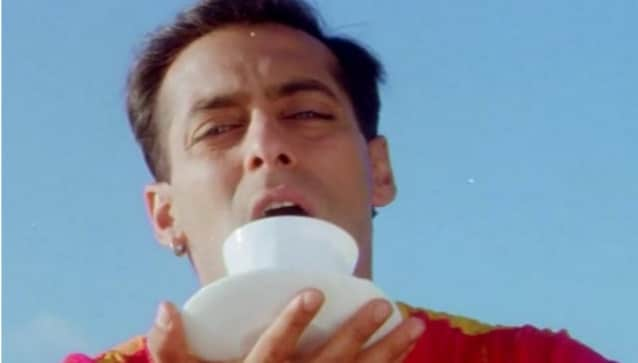 Entertainment
Starting in the 80s, food entered the Bollywood lexicon in the most inelegant, but ultimately defiant of ways.
Entertainment
Revealing how filmmaker Mohan Raja suggested Salman's name for the role, Chiranjeevi said that he told the director that he will try to bring the actor on board.
Entertainment
At the press event for the release of Godfather, which co-stars Chiranjeevi Salman decided to be funny when asked about the casting couch in the industry.