Bigg Boss 11: VJ Benafsha Soonawala, other contestants' final words before entering the house
Bigg Boss 11 is set to premiere today, and like every year there has been a constant buzz about the contestants participating in the show. But the suspense has now come to an end.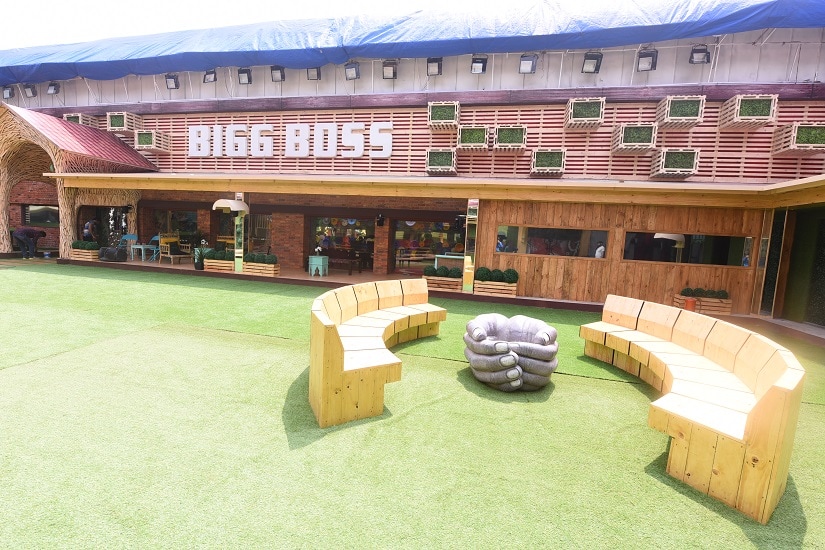 Like the last season, once again we will see a mix of celebrities and commoners joining forces and after much speculation, it has been revealed that the confirmed celebrities on the show include Yeh Rishta Kya Kehlata Hai's Hina Khan; popular television and web series producer Vikas Gupta; Splitsvilla-fame teen icon Priyank Sharma; Balika Vadhu actor Hiten Tejwani; Bhabiji Ghar Par Hain controversial actress Shilpa Shinde, and VJ Benafsha Soonawala.
Among the commoners, the names revealed by the channel include self-proclaimed God-woman Shivani Durgah; daughter of a clerk Jyoti Kumari; Haryanvi dancer Sapna Choudhary and the late underworld giant Haseena Parkar's son-in-law Zubair Khan.
As per the neighbourhood theme, there will be two houses and contestants will be divided into two lots. As part of their first-week task, the participants will have to keep an eye on each other and juice out maximum gossip.
Minutes before when some of these contestants stepped into the house on Saturday evening, Firstpost got the opportunity to talk to four of them – VJ Benafsha Soonawala, Vikas Gupta, Sapna Chaudhary and Zubair Khan, who sounded super excited about the whole new experience they were getting into for the next three months or so.
Benafsha is a chirpy girl who was in Karan Kundra's gang on MTV Roadies 13 and is now a VJ with the same channel. "Just imagine I will be making random music with random people dancing on it in the house. I'm ready for some fun and dance. It will be a real thrill. Outside life is great but this is going to be a good change. I will be moving from monotony to life with good mix of emotions. Also, I love to get up at the crack of dawn, so it would be a beautiful experience," said Benafsha.
The VJ is prepared to give a tough fight to the "complete bonkers" kind of people, if any, in the house. "I know we have to face a lot of problems in the house but I am not going to keep quiet. I have 100 per cent confidence in my personality and I will love or oppose depending upon the situation. Why put up the facade of staying calm just to show the audience? Usually we become a different person when we are inside but I won't change," she said.
Benafsha felt that Kishwar Merchant - one of the strongest contenders of Season 9 - had set an example with her "loving, giving and sacrificing" nature, and she wants to follow Merchant's path in her Bigg Boss journey. "Kishwar wasn't putting on an image. She was laughing and crying when she wanted to. She was being human. Not expressing one's true feelings can be mentally damaging," said Benafsha, as she bid goodbye and walked towards the Bigg Boss gate.
However, popular dancer from Haryana, Sapna Chaudhary, who is nicknamed Bindaas Chhori, does not believe in emulating anyone. But yes, her favourite is the winner from the last season, Manveer Gurjar. "I liked him for many reasons. He is a desi banda, he remained true to himself and never changed for any gains," said Sapna. When asked if she was armed with any strategy to play the game, she retorted, "I'm not going to fight a war inside, I will play with lot of love. I don't want to follow in anybody's footsteps. I don't want to prove anything and I don't fear anything. I'm just going for some new experience."
For self-confessed controversy king and producer-writer-actor, Vikas Gupta, the main reason for participating in the show is "big money". "I have always experimented. I have headed a channel, been a programming head on a GEC (General Entertainment Channel), worked as a show producer, done a chat show...and now I wanted to be part of a reality show," said Gupta.
Come what may, Gupta has decided to go with the flow. "I haven't seen many seasons and have merely heard from friends or those who have participated in it. So I decided to see some episodes recently and the previous season was an eye-opener. Also, as soon as your family and friends hear that you're going to be part of the show, they give you heaps of advice. They tell you - 'Don't get angry. Don't abuse. My mother said, 'Meetha meetha bolna'... But how much can you follow these advice when there is some friction, I don't know. So I have decided to go with the flow," said Gupta.
While there have been rumours of actor-producer Rahul Raj Singh entering the show, Gupta, who had accused Rahul for the abetment of his friend and television actress Pratyusha Banerjee's suicide, said that he will feel extremely sad if Rahul was to come on the show. "I will feel extremely sad and sorry if he is invited to the show," said Gupta.
Meanwhile, Dawood Ibrahim's sister Haseena Parkar's son-in-law, Zubair Khan, who seems to have fallen out with his wife and her family and is also in some kind of a dispute with them, has a set agenda. "For the last 10 months I have not spoken to my family, so I want to use this platform to connect with my children and start life afresh. I want my voice to reach the citizens of our country. But it's not that I will cry or complain, instead, I will do a lot of fun stuff to make my wife and children laugh," said Zubair. He had said in a recent promo of Bigg Boss - 'Underworld se mera nikaah zaroor hua hai par meri pehchan maine khud banayi hai (I have got married to the underworld but I have carved my own identity).
(Also read - Bigg Boss 11: Underground jail, 90 cameras and more - a tour of the new house)
Updated Date: Oct 01, 2017 15:45 PM