Bigg Boss 11: Hiten Tejwani says 'Shilpa Shinde got rid of me because I was a strong contestant'
In an interview to Firstpost after his elimination, Hiten Tejwani further said that he thinks Hina, Vikas and Shilpa will be the finalists of Bigg Boss 11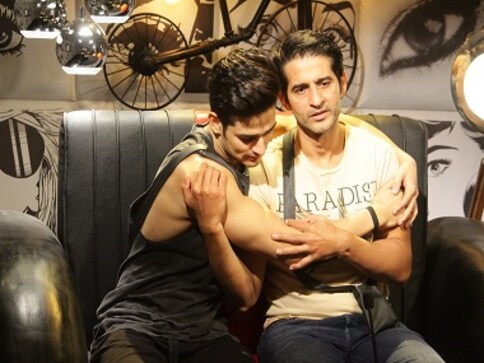 The biggest twist in the history of Bigg Boss unfolded when Salman Khan revealed that it's upto the gharwale to save one person between Priyank Sharma and Hiten Tejwani who were in the bottom two.
While Hiten – popular television actor and a brother figure to all who steered away from controversies — was most loved and respected, his presence in the house seemed to be too much of a competition, especially for the celebrity contestants, and the gharwale, by majority vote, decided to evict Hiten from Bigg Boss 11.

After his elimination, Hiten, who couldn't come to terms with the fact that some of his co-contestants didn't support him, said, "I will have only one regret, that the gharwale didn't support me even as I didn't behave badly with anyone. Had they supported me, then I would have reached in top five or four. It's a game, yes, but who will they play with? Weak contestants? Isn't it more fun to have strong competition?"
He further said, "I expected to reach at least the finale and was extremely shocked with the eviction. I didn't expect it to happen now after coming so far. I don't know if I was out because I can't fight unnecessarily, or can't shout at the top of my lungs. For the commoners, everything was for the cameras as they have never faced one before. But I was natural, I lived the way I live in my house."  
The one person Hiten expected to save him was Shilpa Shinde, who, at the last minute ditched him and decided to save Priyank. Talking about the unique elimination process wherein it was left on the contestants to decide who should stay and who should get evicted, Hiten explained, "Vikas, Arshi and Puneesh favoured me but Hina and Luv wanted Priyank to stay which was expected. But the major role in ousting me was played by Shilpa. She got rid of me because she felt that I was one of the strongest contestants. She was the major deciding factor in my elimination. And people who don't deserve are still inside, that is, Puneesh, Akash and Luv. I definitely didn't deserve to get evicted before these three," said Hiten.
Apparently, Shilpa changing her game plan and favouring Priyank instead of Hiten is attributed to what she saw in the CP Plus task where she got the privilege of watching video of some unseen footage two days back.
"Nobody expected this from Shilpa. But, what she saw in the video could have raised doubts in her mind. Vikas, Arshi and I were part of the same gang, but Shilpa had issues with Arshi, and now, after watching the footage, she's also got put off by Vikas, so she didn't want to support me as well," said Hiten.
The footage indicated betrayal by Vikas, who projects that he supports Shilpa but feels otherwise behind her back. Also, quite recently, Shilpa had held Vikas and Hiten responsible for Arshi's bad behaviour which she had told Vikas.
Hiten developed a strong bond with Vikas and he said that he would like it if Vikas wins though he accepts that Shilpa is a much stronger contestant. "When I was inside, Vikas wanted me to win, and now that I am outside, I would want him to win. But otherwise, Shilpa is quite strong in terms of votes and popularity. She has got a zabardast (huge) fan following. Her expressions of making fun of Hina crying was retweeted 7,00,000 times. She has been saved almost every time. So, only Shilpa can give Vikas a tough competition," said Hiten, further adding, "And the way Hina is going, now I have got to know that she has spoilt a lot for herself. She is also strong but I'm not sure if people would want her to win. But these three – Shilpa, Vikas and Hina — would definitely be in the finale."
Hiten further said that Shilpa is getting good footage because she never reacts to Akash and Arshi behaving badly or speaking rudely to her. "Shilpa ends up looking good and dignified. She is clever and she knows it. Also, she would handle kitchen single-handedly. She would sweep regularly and wash utensils even for others. Now that she's given up the kitchen chores after being accused of using tap water, Arshi and Akash will have to handle kitchen, and Shilpa would get lot of free time to play her game. Now Shilpa's next target would be Hina and once Hina is out, her line would be clear. Then probably she would target Vikas," said Hiten.
Hiten didn't flinch even once before calling Hina fake. Hiten said that he didn't understand Hina initially, but later on he understood that she was a hypocrite. "Hina says something but does something else only. She is fake. I never reacted when she brought my wife Gauri into the whole issue when she lost out on her captaincy because of my action which was in favour of Vikas and captaincy eventually went to Arshi. I never did any form of back-biting because I didn't want to react to fake people. Audience understands everything," he said.
"Actually Hina, Priyank and Luv's friendship is all fake but then they have to show that it's solid," Hiten added.
But Hiten is perhaps the only evicted contestant to have the best compliment from show host Salman, who got emotional on his ouster. Salman's last words to Hiten was that everybody is scared of a personality like his — someone who is calm, sensible, understanding and dignified.
"I am happy that I came out the same person that had walked into the house, though I am much calmer now. My sanity is intact. It showed my true self but I have become more patient and calm. This house couldn't change me despite of so many squabbles, back-biting, bitching," said Hiten, who was nominated just twice in the game.
Entertainment
Britain's queen consort, who worked with O'Grady to support animal charities, led tributes to a performer who emerged from the alternative gay comedy scene and became a national treasure.
Entertainment
He captioned the reel as "@deepikapadukone Engraved your name on my hand so that you're with me forever. I wanted to do this since a very long time so here it is- my first tattoo and obviously it had to be something related to you.:
Entertainment
The nightclub that Darcelle opened more than 50 years ago in downtown Portland, Darcelle XV Showplace, posted a statement on Facebook expressing grief and asking for privacy and patience.