Bigg Boss 11, Episode 8, 9 October 2017: Padosis enter the house; Vikas and Shilpa's fight gets fierce
A bad neighbour is a misfortune as much as a good one is a blessing. For the gharwales - it is time to test this theory as the padosis will finally come face to face with the other contestants in the main Bigg Boss House.
A bad neighbour is a misfortune as much as a good one is a blessing. For the gharwales - it is time to test this theory as the padosis will finally come face to face with the other contestants in the main Bigg Boss House.
On the other side, the unsuspecting contestants continue with their daily shenanigans. Tonight's episode of Bigg Boss 11 starts with Puneesh and Bandagi talking to each other late in the night. Before going to bed, Bandagi asks Puneesh to kiss her and he kisses on Bandagi's hand. We wonder what's cooking. The enmity between Shilpa and Vikas seems to be getting fiercer by the day with Shilpa admitting that she will ensure that Vikas' life is as miserable in the house as it can possibly be. Shilpa picks food from his plate to irritate him. In the process Vikas holds her hand, and she too touches him. On a humorous note, Benafsha is seen giving a running commentary on the side over the ongoing tussle between them.
Shivani and Arshi feel that Shilpa was going overboard in harassing Vikas. Everybody tells her to leave him alone but she doesn't give up. Soon there is an argument between Hina and Vikas over Priyank, who was evicted this weekend for getting physical with Akash. Vikas argues with Hina that she shouldn't have forgiven Arshi because Priyank had said while leaving the house that Arshi and her gang shouldn't be spared. Hina and Puneesh are of the opinion that Vikas was losing it because he was missing Priyank.
In a fit of rage, Vikas throws an egg on the kitchen floor and refuses to clean it up. His rising temper further adds fuel to the fire – leading to everyone turning against him.  Puneesh insists that Vikas cleans when Hina goes to swap the floor. Shilpa gets aggressive and shouts that if Vikas doesn't clean then he will be sent to jail. Finally, Vikas cleans the floor. As Vikas and Shilpa's verbal duel continues, he psyches her by coming too close to Shilpa and touches her on her forehead. They chase each other in this fight.
Staying true to the Monday blues, there is a nomination process in the offing. All contestants are tasked to run a propaganda campaign to gain votes from the rest of the gharwales, who have the power to cast a single vote. The one with the least votes is nominated for eviction. First up is Jyoti, who manages to convince Hina, Benafsha, Vikas and Hiten, who save her. Arshi, of course, doesn't really manage to convince others, but Shilpa saves her. Now it's time for Akash to run his campaign and he only gets Puneesh to save him. None of the housemates save Hina and Vikas. Arshi saves Shilpa. Sshivani saves Hiten. Sapna saves Bandagi not without a lot of convincing from the latter. Jyoti still had her vote and Puneesh was expecting her to save him, but when she starts contemplating, Puneesh gets angry and asks her not to save him.
Jyoti starts crying as rest of the housemates console her. Akash, however comes to Puneesh's rescue and saves him. Jyoti still has her vote and it is Sapna's turn to run her campaign, but she doesn't go upto Jyoti to get her vote. Jyoti gives her vote to Benafsha. After the completion of the voting process, Hina, Vikas, Sapna and Shivani are announced to be in the danger zone by Bigg Boss. But it doesn't end there, the padosis are given a special power to nominate a contestant as their choice for the weekend eviction.
However, they can exercise their power in the Bigg Boss House as in a final turn of events, the padosis finally find their way to the House. They announce Jyoti's name as the fifth inmate to be nominated. Going beyond their role of being mere spectators, Luv Tyagi, Mehjabi Siddiqui, Sabyasachi Satapathy and Lucinda Nicholas will finally lead the life of a contestant.
However, they have to continue pretending to be bound by a family tie; a story they have rehearsed since their time in the padosi house. Till the time they are able to hide their true identity, even as they were nominated, they won't be evicted from the house. Mehjabi is the first one to be introduced and Arshi addresses her as Aapa. Next is Luv, then Lucinda and finally Sabyasachi. With four more contestants added to the Bigg Boss House, how will the rest of the contestants react to this sudden change, we have to wait and watch.
Subscribe to Moneycontrol Pro at ₹499 for the first year. Use code PRO499. Limited period offer. *T&C apply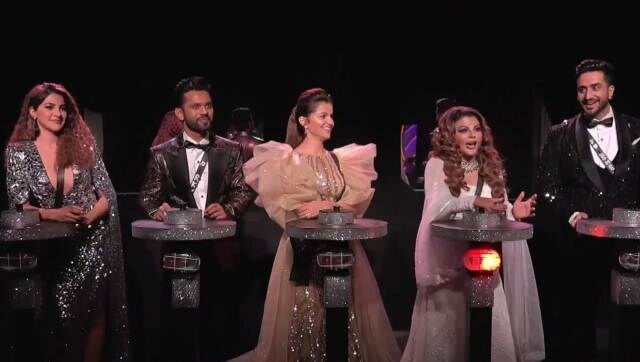 Entertainment
"I am not a popular television actor, so much love coming my way makes me humble," says Bigg Boss 14 runner-up Rahul Vaidya.
Entertainment
"At the beginning of the show I felt living in Bigg Boss house was not my cup of tea," says Rubina Dilaik, who was announced winner of Bigg Boss 14 on Sunday.
Entertainment
Aly Goni and Jasmin Bhasin bonded while shooting for Fear Factor: Khatron Ke Khiladi 9 in Argentina and became close friends. During their stint in Bigg Boss 14, the couple confessed being in love with each other.