Bigg Boss 11, Episode 71, 11 December 2017: Shilpa, Hiten, Priyank, Luv get nominated
All the updates from Episode 71 of Bigg Boss 11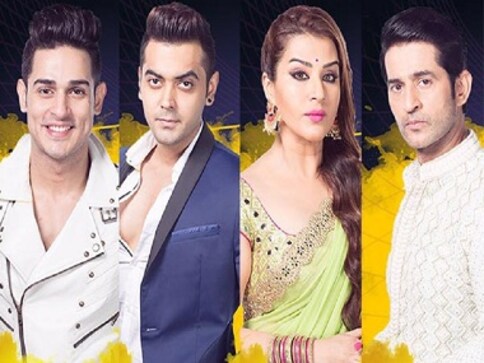 Hiten hiding the truth that he saved Shilpa and not Arshi during nominations has become a major topic for discussion.
After waking up to the song Rum Whisky from the film Vicky Donor, Vikas and Hiten discuss the matter, and latter accepts his mistake. Arshi is pissed as she tells Priyank that Hiten doesn't matter to her anymore just like Shilpa. Shilpa and Puneesh, too, discuss the same issue, while Shilpa says that Hiten wanted to be in the good books of Arshi and hence he didn't tell her.  Puneesh reveals Akash's game plan wherein he has told him that he will be with Arshi this week and next week with Shilpa.
Luv is still sulking over Hina and Priyank placing his name in the less deserving category yesterday. He has many arguments with Priyank, and Hina who wants their friendship to remain strong, becomes the mediator between them. She keeps telling them to end the fight, but Luv asks Hina to nominate him if she wants to. Priyank tells Hina to give Luv some more time. But, both, Hina and Priyank are not aware that this is Luv's trick. He is doing all this for the other housemates to feel that they are having an actual fight so that they start confiding in him, and Luv says this in front of the camera.  He says that they will be friends again in no time.
Luv writes a get well soon message for Hina on a tissue paper with the help of nail paint. Hina reads it and tells Priyank about it. Priyank tells her that he thinks that Luv has a soft corner for her, but he won't admit it because he is shy. Hina says he knows that she is in a relationship. Hina and Luv start talking, and she apologises to him again, but Luv says that he feels betrayed by the two people whom he loved the most. He tells her that he is looking stupid now as he is talking to them and that he will not reconcile till the time he wants to. Hina starts crying and Priyank asks Luv to let the bygones be bygones. After sometime, he has a change of heart and the three hug each other.
But Luv and Priyank's fight don't seem to end. Hina tries to get some information from Luv about other housemates, but he doesn't tell her. This doesn't go down well with Priyank. The argument intensifies and they both get into a war of words and threaten each other. Hina tries to be the peacemaker, but fails. Priyank points to the camera and apologises to Luv's dad for the repercussions. This angers Luv further and he again threatens Priyank to keep his family out of it. After sometime, Luv apologises to Priyank and he accepts. Hina tells both of them that they should not be fighting as people give examples of their friendship in the outside world.
The lawn area is now the grounds for the nomination task. A tree with apple shaped balloons will determine the fate of the contestants this week. Every balloon has the picture of one contestant on it. The current captain of the house, Arshi, has the authority to burst the balloon of any contestant she feels like, each time the gong rings. The 'gharwale' have been divided into two teams: Team Red and Team Blue. Both the teams have to come up with a strategy to convince Arshi to save them by not bursting their team's balloon. Blue team has Vikas, Puneesh, Hina and Akash, while red team has Luv, Shilpa, Hiten and Priyank. The two teams have to make sure that they have more apples than the opposite team after the task comes to an end.
Hiten and Vikas decide to have some fun and try to convince Arshi to pluck Akash's apple, just to scare him, and she does exactly that. The first gong rings and she cuts Akash's apple. Vikas tells Arshi to cut the apples of the red team for the next two times and she agrees, but when the second gong plays, Arshi cuts Hina's apple, who is in the blue team. When the third gong plays, Arshi cuts Shilpa's apple, because she thinks she is a strong contender. At the fourth gong, Arshi cuts Luv's apple as she thinks he doesn't deserve to be on the show. Arshi's decision after the fifth and the final gong rings is most important as that will decide the fate of the contestants. Hiten asks Arshi to save his team but she doesn't and cuts Priyank's apple and therefore Luv, Priyank, Shilpa and Hiten get nominated this week for evictions. Arshi then questions Hiten for lying to her, and Hiten apologises.
Meanwhile, Akash tells the other two commoners, Puneesh and Arshi, that he wants Shilpa out of the game as she is a big threat to him. On this, Arshi says that so far Shilpa got footage because of them (Arshi and Akash). Puneesh goes up to Shilpa and tells her what Akash told him and Arshi. Shilpa laughs about it and discusses the same with Hiten, who tells her that Akash has this habit of backstabbing people. Soon after, Shilpa getting irritated with Akash's touching her becomes the topic of discussion. Luv tells Akash to draw a line.
When Arshi and Akash discuss this topic while almost blaming Shilpa, Puneesh suggests Akash that he shouldn't drag this topic, because he will end up degrading his image. Hina is of the opinion that Shilpa is a strong woman and she should take a stand for herself. But when she learns that Shilpa wanted Luv to tell Akash, she's fine. Vikas says that Akash is definitely crossing the line and causing discomfort to Shilpa, while Arshi thinks that he has been doing this for 10 weeks, so why is Shilpa's raising the matter now. In fact, Arshi tries to use her point in favour of her friend, Akash, who is scared that Salman Khan may raise this issue during Weekend Ka Vaar, and he even thinks of a plan of saving himself from the host's ire.
Entertainment
Pan Nalin's Gujarati coming-of-age drama 'Chhello Show' (Last Film Show) was selected by a 17-member jury of the Film Federation of India, edging out movies like 'RRR' and 'The Kashmir Files'. Each year, a special panel selects India's pick for the Oscars — only three films have made the final cut
India
This is a significant step assuming that prior to abrogation of Article 370, the community was not recognised and all social benefits to them were denied
Entertainment
Jogi has the tools and the material to create something harrowingly difficult to watch and yet impossible to look away from. Instead, it settles for a mushy story that functions like an unearned, unnecessary twist.