Bigg Boss 11, Episode 53, 23 November 2017: Luv removes Vikas from captaincy task
Hina backs out of the captaincy task as she realises Shilpa has never been the captain of the house, on the 53rd episode of Bigg Boss 11.
The new verdict of the latest luxury budget task of courtroom drama divides the contestants of Bigg Boss 11. There are too many fights and heated arguments between the housemates and there are far too many disagreements between Sapna and Bandgi as judges since the former is close to Team Hina and the latter is more friendly with their opposition consisting of Vikas, Shilpa and Arshi, and, of course, Puneesh.
Hence they don't come to any conclusion as to who is the guilty party — Arshi or Hiten. Bandgi blames Sapna for not coming to any consensus when Bigg Boss tells both the judges to give their verdict. Instead, Bandgi says that Sapna is concerned about her own issues she has had with Puneesh.
Meanwhile, Hina throws a fit when Vikas tells everyone to concentrate on the task. She tells her gang of friends that Vikas was looking at opportunities for touching her, and both have a heated argument on this. Since Hina has the habit of crying at the drop of a hat, Bandgi says that she has attended acting classes and knows that Hina was fake crying today.
Inside the house, Sapna lashes out at Bandgi and Puneesh as Hina had earlier instigated Sapna saying that Puneesh was suspecting her occupation and trying to tarnish her image. There is total chaos in the 'court' with everyone screaming and fighting.  Later on, Bigg Boss announces that both the judges have failed and hence, the luxury budget task is disqualified.
Contestants wake up to the song 'Tu Kheench Meri Photo'. It is time for gharwale to see a change in leadership as this week's Captaincy Task is on the anvil. Based on the Bigg Boss Court task, all contestants have to pick five of the best performers and nominate them for the Captain's position.
Hiten and Shilpa are against making Akash the captain of the house. Akash goes and pleads to Hina that she should vote for him. Hina says that she will take his name but she cannot guarantee on behalf of the entire team. First one to be nominated is Akash, then Hina is picked, and the others considered, include, Shilpa, Hiten and Arshi. There is a tie of votes between Shilpa and Hina. Hina backs out as she realises Shilpa has never been the captain of the house.
Contestants vote again because of Sapna and Hina. Hina only gets five votes including her own. Akash changes his vote from Hina, that leaves her hurt. After much deliberation, Hiten, Vikas, Arshi, Shilpa and Akash are the final nominees.
Priyank wonders how Shilpa and Arshi can even be nominated. He further says that they are overweight and cannot even run. He adds that they have gained weight just by sitting and eating in the house. Team Hina hatches a plan to make Hiten a captain whereas Luv tells Hina that she should not have backed out of captaincy.
The task is announced by Hiten. Non-nominated contestants have to spray paint on the nominees' pictures to eliminate them when an alarm rings. Hina lashes out at Akash that he retracted his words.
Luv is the first one who gets a chance to spray paint pictures. He eliminates Vikas from the task because he did the same to him in Dino task. Vikas takes it sportingly. Priyank gets the next chance and he sprays paint on Arshi's pic. He repeats all the insult that Arshi threw at him while spraying paint on her.
He takes his own sweet time to do the task. Hina and Sapna are seen enjoying this. Arshi tells him that Allah will never forgive him. Priyank says that she should not talk about Allah. Vikas and Puneesh wonder what was wrong with Priyank and criticise him for his poor behavior. Priyank goes to the bathroom and cries and Hina consoles him saying that he has taken his revenge.
Akash convinces Puneesh to vote for him. Then in another conversation, Shilpa reveals that Team Hina has left the task on Puneesh, who wants to vote for Hiten. Akash begs Puneesh to vote for him. Shilpa says that it will look like they have betrayed Hiten if he does so. Akash gets hyper, starts ranting and begs Puneesh to not spray paint on his picture.
Entertainment
An FIR was registered at the Amboli police station against a man for extortion and other charges of the IPC, a day after an offence was registered against Bhushan Kumar for allegedly raping a woman under the pretext of providing her with a job in T-series.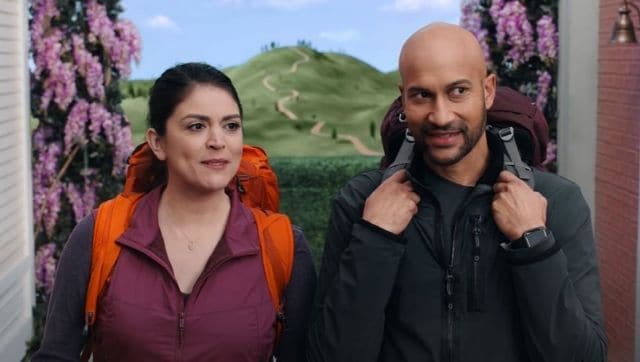 Entertainment
Though bumpy at times, Schmigadoon! is a feel-good comedy and a hat-tip to musicals, worth a slow-Sunday watch.
Entertainment
Britney Spears will have to undergo a psychological evaluation to end her conservatorship, which uneasily melds mental health criteria with legal standards.