Bhoomi, Haseena Parkar, Newton, Kingsman: The Golden Circle — Know Your Releases
Sanjay Dutt's Bhoomi, Haseena Parkar starring Shraddha Kapoor, Rajkummar Rao's Newton, Kingsman: The Golden Circle - Know Your Releases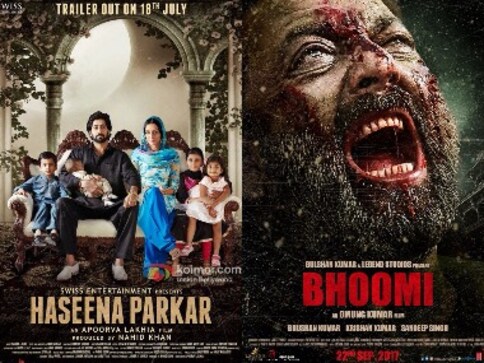 This Friday marks the comeback of Sanjay Dutt to the silver screen as he returns to Bollywood after completing his jail sentence with Omung Kumar's revenge-drama Bhoomi, also starring Aditi Rao Hydari. Another film to watch out for is Apoorva Lakhia's crime biopic Haseena Parkar starring Shraddha Kapoor in the titular role.
Headlined by Rajkummar Rao, Newton (termed a black comedy) is the third major Bollywood release on 21 September which will presumably provide relief to moviegoers as it will be a change from the other two dark and intense films that will see their release.
Across the seas, Hollywood too has some major releases in the form of Matthew Vaughn's Kingsman: The Golden Circle and William Oldroyd's debut feature film Lady Macbeth, a gripping British drama, which will see its Indian release.
Bhoomi

What's it about: Bhoomi is a revenge drama based on a father doing right by his daughter, who has gone through an unfortunate event in her life. By the looks of it, Bhoomi will be a hard-hitting thriller, showcasing Dutt doing what he does best — breaking some skulls and being an overall badass.
Who is in it: Sanjay Dutt, Aditi Rao Hydari, Sidhant Gupta, Sharad Kelkar, Shekhar Suman and Sunny Leone in a special appearance.
Why it may work: Sanjay Dutt's return to the big screen is one of the main reasons why moviegoers will presumably be heading to theaters in hoards. Director Omung Kumar, and the vision that he brings to his movies (critically acclaimed films like Mary Kom, Sarbjit) is another reason why Bhoomi might be a story for the ages.
Haseena Parkar

What's it about: Haseena Parkar is a crime biopic directed by Apoorva Lakhia, giving us a glimpse at the life of the sister (Haseena Parkar) of one of the most feared criminals of India — Dawood Ibrahim. Through his story, Lakhia wants to bring forth to the audience an authentic and unusual story of aspects of the Indian gangster (Parkar's) life that one may not usually think of.
Who is in it: Shraddha Kapoor, her real-life brother Siddhanth Kapoor playing her reel-life brother and Ankur Bhatia.
Why it may work: This film is the first of its kind for actor Shraddha Kapoor, who has not been seen in role with negative tonalities before. Having visibly put in a lot of effort into her appearance in order to resemble the real-life Parkar, it will be interesting to see Shraddha take on a meaty role such as the one she has in Haseena Parkar, giving the actor a chance to display her acting chops.
Newton

What's it about: Helmed by Amit Masurkar, Newton is the story of Nutan Kumar, a small-time government clerk, who has been sent on election duty to the conflict-ridden Chattisgarh forests of India, to a town controlled by Naxalites. Once there, Newton faces many challenges by security forces, along with the threat posed by communist rebels resorting to guerrilla attacks. The story follows Newton's efforts to conduct a fair voting process despite all the obstacles that bar his way.
Who is in it: Rajkummar Rao, Pankaj Tripathi, Raghubir Yadav, Anjali Patil , Danish Hussain and Sanjay Mishra.
Why it may work: One of the main reasons why Newton might work is the talented Rajkummar Rao and his acting prowess, coupled with his track record of picking scripts with meaty content, seen before in films like Trapped, Aligarh, Kai Po Che! and Bareilly Ki Barfi (to name a few).
Kingsman: The Golden Circle

What's it about: Kingsman: The Golden Circle is an action spy, comedy film that follows the story of an independent, international intelligence agency after their headquarters are demolished and the world is under threat. This time the Kingsman teams up with a US spy organisation called Statesman. The film follows the adventures of the now allied organisations as they tackle a vicious common enemy, in order to save the world.
Who is in it: Kingsman: The Golden Circle stars Colin Firth, Taron Egerton, Mark Strong, Edward Holcroft and Sophie Cookson reprising their original roles from the first film, with Julianne Moore, Halle Berry, Pedro Pascal, Elton John, Channing Tatum and Jeff Bridges joining the already star-studded cast.
Why it may work: A mixed ensemble cast is always tricky, and the odds are that the popular saying "too many cooks spoil the broth" is more often than not likely to come true. However, with a cast comprising of supremely talented individuals like Halle Berry, Julianne Moore, Channing Tatum, and Colin Firth (to name a few), Kingsman: The Golden Circle might just turn out to be a pleasant surprise.
Lady Macbeth

What's it about: Based on Nikolai Leskov's novel Lady Macbeth of the Mtsensk District, Lady Macbeth's plot revolves around a young woman who is married of to a bitter man who is twice her age and subsequently finds herself stuck in a loveless marriage, bound and stifled by the family that she has been married into, having strict restrictions that she must adhere to. The story then follows the romance between the protagonist of the film and a man called Sebastian.
Who is in it: Florence Pugh, Cosmo Jarvis, Paul Hilton, Naomi Ackie and Christopher Fairbank
Why it may work: Having been dubbed by some critics as a Victorian Noir (a genre that Shakespeare dabbled in excellently), Lady Macbeth is touted to have put a chilling twist on an age-old classic tale that is already filled to the brim with nail-biting elements.
Entertainment
Taking to social media, Shraddha Kapoor's coach and nutrition expert Maahek Nair shared a video of how the actress has consistently worked towards her goals for the film.
Entertainment
Tu Jhoothi Main Makkaar has been loved equally in India and in territories such USA, UK, UAE and Australia.
Entertainment
The actress has hit the bullseye with the audience with her commendable portrayal of a foxy girlfriend as 'Tinni', looking her glamourous best on screen.