Bharat trailer evokes hilarious memes of Katrina Kaif's dialogue in Salman Khan's film
As more people watched the trailer, social media platforms flooded with memes and reactions on Bharat, Salman's Eid release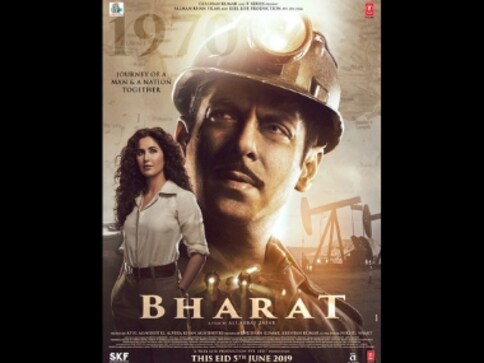 As Salman Khan dropped the trailer of his upcoming war drama, Bharat, fans and followers were prompt to watch the video clip.
Featuring Katrina Kaif opposite Salman, Bharat is helmed by Ali Abbas Zafar. As more people watched the trailer, social media platforms flooded with memes and reactions on Salman's Eid release. In fact, the Nagpur City Police also tweeted a funny picture with Salman's various avatars in the film.
Below are some of the best memes.
#BharatTrailer
Getting out of the friendzone be like- pic.twitter.com/ajFtVFsGdr

— σcεαη (@lameboredghini) April 22, 2019
When you have CCTV surveillance all around the city...#Bharat#SaferBharat #NagpurPolice pic.twitter.com/JeC5fIn34Q — NagpurCityPolice (@NagpurPolice) April 20, 2019
When smartphone sellers explaining about Mobile phone..... #BharatTrailer pic.twitter.com/zzIGZajZ8q — Tweetrollic ❁ (@ashvatthaama) April 22, 2019
Katrina to acting #BharatTrailer pic.twitter.com/ShR7iLQzTZ — Safarnama (@Stupidthings29) April 22, 2019
Food blogger Friend: I ate crispy fried bread with a dollop of butter and mashed potato curry with mint

Me : What's that?

Friend : Pav Bhaji

Me : pic.twitter.com/yit3wCXw0M

— Sagar (@sagarcasm) April 22, 2019
Me, at the time of Annual appraisal #BharatTrailer pic.twitter.com/ueFf0ADzN7 — Chirag (@igot10on10) April 22, 2019
When you write 2 pages For 2 marks answer Teacher : #BharatTrailer pic.twitter.com/2xgNJybUIv — Bohot Pyara 💕 (@Bohotpyara) April 22, 2019
Whenever your friend start talking about studies:#BharatTrailer pic.twitter.com/68NhazvgHz — Zeba🍁 (@ZebaMirza20) April 22, 2019
Bhai bhai bhai#BharatTrailer pic.twitter.com/Qb4vm9R0XQ

— aftab🇮🇳 (@biryani_babu) April 22, 2019
Society Aunties : Beta Shaadi Karlo, Life Set Ho Jayegi Fir... Me :#BharatTrailer pic.twitter.com/xbVWMuXkz1 — संदीप कुमार💞🔥 (@Sycoo_boY) April 22, 2019
Me after watching Salman Khan defy physics #BharatTrailer #Bharat pic.twitter.com/AEUsT3urzV — Nihaad Shaikh (@thenihadshaikh) April 22, 2019
#BharatTrailer RCB bowlers to Ashish Nehra pic.twitter.com/jFJqActDL4 — NaMo (Nayan Mongia ) (@Original_Namo) April 22, 2019
Bharat is scheduled to release on Eid, which is 5 June, 2019.
Find latest and upcoming tech gadgets online on Tech2 Gadgets. Get technology news, gadgets reviews & ratings. Popular gadgets including laptop, tablet and mobile specifications, features, prices, comparison.
Entertainment
Govinda confirmed that his son Yashvardhan Ahuja was unharmed after the accident.
Entertainment
Vivek Oberoi has announced his second film as a producer titled Rosie. The first instalment of horror-thriller will be directed by Vishal Mishra.
Entertainment
Shershaah, starring Sidharth Malhotra and Kiara Advani in the lead, is a biopic on Kargil War hero Captain Vikram Batra