Berlinale 2018: Director Q says Garbage explores love as a brutal emotion and how violence affects sexuality
Qaushiq Mukherjee, aka Q, has long been the 'Bad Boy' of Indian cinema. Like his previous work, Berlinale contender Garbage, too, is polemic and provocative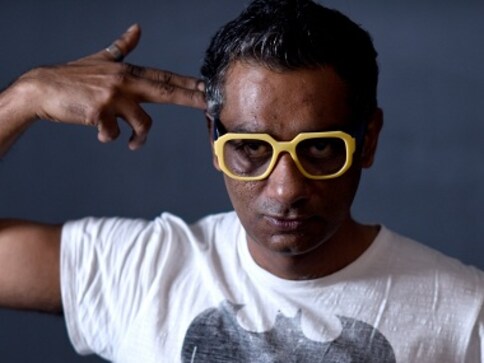 Qaushiq Mukherjee, popularly known as Q, has long been the 'Bad Boy' of Indian cinema. His work — especially his recent films Gandu (*ssh*l*), Brahman Naman and Garbage — is often extremely provocative, polemical, frequently features porn in a way that's plainly intended to shock. Despite all that, he is flourishing in Indian indie's favourite zone: edgy. Outrage is his default setting. But some of his films also offer powerful socio-political commentary on the state of the nation. Operating from a marginal space outside the regular infrastructure of film production, distribution and exhibition, Q does his own thing. He revels in his status as a cult, underground filmmaker of films hardly anyone can easily access in India. Yet, his work has been to top festivals worldwide: Gandu was in Berlin; and Garbage is in Berlin this year; his Brahman Naman, based on a bunch of horny students looking to get laid, was at Sundance.
In fact, Garbage, the feature film by Q, is the only Indian feature selected at Berlinale 2018 this year. It got a full house, warm applause and an engaged question-answer round following its first screening at the fest.
Set in Goa, the film is about the relationship between Phanishwar (Tanmay Dhanania), a taxi driver-cum-professional social media troll, Nanaam (Satarupa Das), a woman he has enslaved (she cooks and cleans for him and is his sex slave, but she lives with him literally like a dog, with a metal leash around her neck at all times), and Rami (Trimala Adhikari), a medical student whose life takes a turn for the worse after her ex-boyfriend leaks "revenge porn" online, involving her and two men having sex. Phanishwar is also an unquestioning devotee of a fraudulent religious baba, who sexually exploits him. There is a brutal role reversal in the climax that is hard to watch. It is hard to imagine this film getting a release in India; but it's likely that the filmmaker's fans will find a way to access the film eventually (both his Gandu and Brahman Naman have been released online by Netflix).
Garbage is a politically explosive film, making daring comments on the right-wing ideology taking over India's political discourse and policy. It also addresses head-on, patriarchy, misogyny, violence against women in the country, and the rise of religious hysteria. Most importantly, it is an acutely observed portrait of a professional social media troll — in fact, it must be India's first film whose protagonist has that profession. And it explores how all these issues are intertwined: right-wing ideology, patriarchy, misogyny, religious fervour, social media trolling and all. That's a lot to take on in a single film. And it's hard to think of another Indian director who would take all this on so frontally in this manner. The film is co-produced by Shaailesh Singh, Hansal Mehta (Shahid, Aligarh) and Q himself, and Wide Management is handling sales.
"Yes, it's like he's poking his finger in the wound," says Paz Lazaro, head of the Panorama section of the Berlin film festival, which selected the film. "All the press here are talking about the #MeToo movement, and I tell them look at this Indian film and see how it comments on how women are treated in India. It is also interesting how the situation turns round later in the film."
"The starting point of Garbage was when my friend Monika Ghurde was raped and murdered in her own apartment by the building security guard, close to my home. It was a crime of passion, but there were also issues of breach of trust and class," says Q. "I was looking at how violence affects sexuality, how love is also a violent form of emotion. My journey was to understand love, lack of it and lack of empathy. I did it Gandu-style: The film is almost entirely made within a 2km radius of my home, with available resources." He also researched thoroughly on online trolling. He acknowledges that Swati Chaturvedi's book I am a troll and journalist Rana Ayyub (who wrote the Gujarat Files: Anatomy of a Cover-up)helped him shape his thoughts.
Q, a Bengali filmmaker, moved away from Kolkata where he had worked for over a decade, and moved to Goa about four years ago. "Being a Bengali is a high-pressure job, culturally and philosophically," he says. "I wanted to negotiate my space with dignity, but Kolkata has ceased to offer that space. Many things happened in my life in the last 10 years. But I haven't left my primary position as an anarchist."
Explaining how the cast worked, Q said that actor Tanmay Dhanania (who trained at the Royal Academy of Dramatic Art, RADA, UK and was in Q's Brahman Naman), "became our production driver; he would not eat with us and lost 12 kg over two months. Satarupa Das was a model in a music video I had made earlier. She has a super interesting face that has hardly been seen, she looks like she could be African. Trimala Adhikari brought a lot of her theatre experience to the film."
Commenting on the right-wing ideology that his film addresses, Q says, "There are major economic, judicial, financial, administrative and educational policy shifts happening in India that are subverting and undermining who we are. This is happening at the Centre and in Goa too. To give only one instance, in Rajasthan, a Muslim man was killed, but nothing happened to the killer. So, there is a sense of self-validation — it's doable now; he feels he can be somebody now." In Garbage, the social media troll has a disease that could be fatal if not cured: "he had to have that, it's a symbol of our nationalism," Q sums up.
Entertainment
I've never felt more removed from the real Berlinale, as the yearly festival is known, or sensed more acutely the strange sterility of pandemic-era online movie watching.
Entertainment
The 69th Berlinale that ended last weekend also saw the end of tenure of its much-loved director Dieter Kosslick
Entertainment
Berlinale Talents program will run concurrently with the film festival from 22-27 February, 2020.