Berlinale 2018: Cedric Kahn's The Prayer, which bagged Best Actor prize, is a worthy addition to small list of films on faith
The Prayer is a fascinating curiosity. It is not overtly religious. For a film on faith, it doesn't position prayer as a cure-all.
Winter Light (1963), directed by Ingmar Bergman, is one of the most wrenching depictions of faith on film — rather, the lack of faith — given that the person in crisis is a pastor named Tomas. Like Jesus, Tomas murmurs to himself: "God, why have you forsaken me?" Elsewhere, when his lover Märta asks what's troubling him, Tomas replies, "God's silence." Again, the pastor is being likened to the Son of God. His words are echoed towards the end, when a parishioner narrates an episode from the life of Jesus. "He believed everything He'd ever preached was a lie. In the moments before He died, Christ was seized by doubt. Surely that must have been his greatest hardship? God's silence."

I was reminded of Winter Light while watching Cédric Kahn's La prière (The Prayer), which won Anthony Bajon the Best Actor award at Berlinale 2018. Here, too, we encounter musings about a silent God. And here, too, the protagonist in a crisis of faith is named Thomas (Anthony Bajon). This doubting Thomas is in his early twenties, and he's looking to recover from a heroin addiction. After an overdose, he comes to a remote retreat in the French Alps, run by Catholics, where he will have to follow strict rules. No cigarettes. No alcohol. No contact with the outside world. No girls. He will have to get by with friendship (there are other young men like him), hard work, prayer and — yes — faith.
The retreat, in other words, is like jail, and the film that springs to mind is Jacques Audiard's A Prophet (2009). There, too, a very young man is confined, given a number of tasks to carry out, surrounded by a kind of brotherhood, and elevated by a touch of divinity. But his innocence is slowly corrupted, while Thomas becomes purer, increasingly drawn to a higher purpose. It isn't easy at first, as the homilies keep coming faster than he can duck. "You have two legs, two arms, one brain - just like the others. There's no reason you can't do [this work] too." "God puts no more load on us than we can handle," Thomas flees, saying, "I'll shoot myself in that place." We feel his pain.
But he returns. (Otherwise there's no story, at least not the story promised by the title.) The Prayer is a fascinating curiosity. It is not overtly religious. It doesn't position prayer as a cure-all. That's why Thomas is made to work so hard — say, digging a hole in the icy ground and then filling it up again. Idle hands being the devil's workshop, etcetera. Keeping himself occupied (and away from society) is the only way out of temptation. And there is temptation. When Thomas stumbles on some drugs, and he holds it in his hands, the will-he-won't-he tension assumes Satanic/Edenic proportions. If he's caught, he will be cast out. Every scene cries out to be read in a Biblical light.
But there's also transcendence. The residents sing pop songs. They put on a Biblical play (about Lazarus, naturally, who found new life) and watch helplessly as the sets come tumbling down. They sing songs. And most movingly, they stand up and offer testimonials, like you'd see in an AA meeting. Only, this montage occurs outdoors, with the female wing joining in. As they talk about where they came from, what they've been through, we see the carpet of green behind them, the mountains beyond, sunlight streaming through a girl's blonde hair. It's like a TV commercial that positions faith as a form of rehab.
Gradually, we stop worrying whether Thomas is cut out for this monastic existence — though he gets a doubter in the form of Sister Myriam (Hanna Schygulla), who founded this retreat many decades ago. Is Thomas fooling himself that he has finally found his place? She slaps him when he says he believes. Perhaps she's seen enough people like him to see what they themselves cannot see. After all, during the brief time Thomas ran away, he did have sex with the daughter of farmers who provide supplies to the retreat. How seriously, then, are we to take this young man when he says he wants to renounce everything and become a priest?
The end is a surprise, but Thomas, by then, has received his answer. In an earlier scene, while discussing faith with another resident, Thomas is surprised that this man, who's been here for so much longer, still has his moments of doubt. The man says he wonders if God exists. He says he sometimes prays for a sign, and then a little thing happens and his faith is restored. Much later, when Thomas injures his leg on a mountain hike, after wandering off, and finds himself alone, he looks to the heavens. Then, he tries to walk, gingerly. To his delight, he discovers he can. That way, Thomas of The Prayer is luckier than Tomas of Winter Light. At least for an instant, he gets an answer.
Entertainment
The Korean culture critic Chin Jung-kwon called Ode to My Father "a low-class tearjerker". It's currently the fourth highest-grossing film in South Korean cinema history.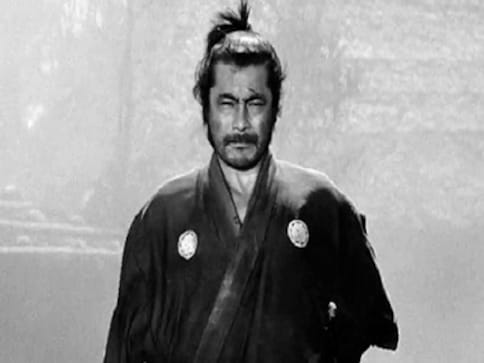 Entertainment
Sergio Leone's A Fistful of Dollars is widely thought to be an unofficial remake of Kurosawa's Yojimbo
Entertainment
One of the key motifs of The Newsroom is that of an idealistic knight-crusader going all out against those that threaten the fabric of democracy – hence the frequent shout-out to Don Quixote.