Bengali content finds pan-India audience with growth of Hoichoi, a regional language OTT player
In its first year, Hoichoi has emerged as arguably the biggest regional player of India in the OTT space. It has proved that Bengali content rises above the limitation imposed by the language.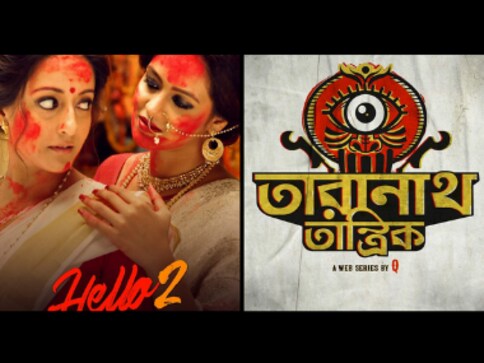 Web viewing has become the new form of entertainment. With most channels coming up with their respective OTT platforms, 'content' has become portable and most importantly sans the 'saas' and their consequent clashes with 'bahus'.
Regional consumption has also skyrocketed in the recent past, with many big banners going into plot lines that target niche audiences with nuanced narratives. An apt example of such investments can be actress Priyanka Chopra's Purple Pebble Pictures that has solely focused on regional narratives like Marathi, Bhojpuri, Punjabi, Sikkimese and Assamese. One of its first ventures, a Marathi film titled Ventilator, garnered considerable praise across the board and also bagged three National Awards.
Amidst the cacophony of the big players like Amazon Prime Video, Netflix, Voot and the likes, rises Hoichoi, a Bengali OTT platform that has just recently completed a year of digital content provision. Thus, the two upward trends of regional cinema and OTT platforms merge at platforms like Hoichoi.
Hoichoi's content has had a mix of new age as well as nuanced content that has attracted Bengali and Non-Bengali audiences alike, recording a streaming of over 240 million minutes of content. Drawing most of its content from Bengali literature, Hoichoi has successfully treated traditional folklore with contemporary lenses. It is a known fact that Bengali works have always had a global appeal, what with Rabindranath Tagore, Sarat Chandra Chattopadhyay and Byomkesh being inspirations for many-a-plots. With almost 20 shows in its collection of original web series, Hoichoi is the largest regional player in terms of content. The fact that they have achieved an average of almost two shows in a month within the first year of its inception is worth noting.
A few Hoichoi shows that have created quite a buzz so far are Hello!, Dupur Thakurpo, Byomkesh and Shrimoti Bhoyonkori among others. From first impressions, both Hello! and Dupur Thakurpo seem to have a common goal of putting across unconventional content.
Featuring Raima Sen, Priyanka Sarkar and Joy Sengupta, Hello! deals with a narrative around infidelity, with the backdrop of Durga Puja. Nandita (Sen) finds a video on her phone which shows her husband (Sengupta) having an affair with another woman (Sarkar). Irked and intrigued by the anonymous sender, Nandita launches into a quest to find the person. Sen's desperation to find the anonymous messenger forms the base of a lingering mystery in the plot.
The narrative gives a genuine shot at novel storytelling by dealing with subjects like sexual ambiguity. Director of photography Indranil Mukherjee manages to capture the elan of quintessential North Kolkata with its bonedi baris (opulent old Calcutta houses) and their tradition of celebrating ek chala (ek= one, chala= cover) Durga protima (idol). Samantak Sinhaand and The Folk Foundation provide fitting scores, especially in the thrill sequences, which aide in creating an atmosphere of intrigue.
Dupur Thakurpo, on the other hand, capitalises on the much-used trope of young boys falling for older women. The narrative features Swastika Mukherjee as Uma, Abhijit Guha as Jibon Babu, Anindya Chaterjee as CD, Indrajit Mazumder as Choco and Soumendra Bhattacharya as MTV among others.
The sex comedy depicts Swastika as the innocent seductress who has the six thakurpo's (brothers-in-law) enamoured by her coy smiles. Cheeky humour aplenty, the plot garners quick laughs. Swastika's performance is laudable, especially since she manages to add her personal quirkiness to the stereotypical role.
These two shows were out of the 24 originals that Hoichoi launched in its maiden year, averaging to about two originals per month. Hoichoi celebrated its second season on Wednesday with an introduction of a feature that dubs Hoichoi's popular shows into Hindi, Telegu, Arabic and Tamil. The platform's shows may now transcend the innate language barrier. They also launched their app through big players in India (Airtel TV), Bangladesh (Robi) and the UAE (Etisalat and DU) to bolster viewership across cultures and languages; almost like a horizontal geographical expansion of its already growing digital footprint. Through its Top Up card and pay-per-view services, it looks like Hoichoi aims at optimising content viewing on the economic verticals as well.
The second year brings in new web content as well. Thirty new web series will make a debut on Hoichoi which includes, Bidyut, Japani Toy, Dhanbad Blues, Miss Tipsy, Dhaka Metro, Bou Keno Psycho, Paanch Foron and Comedy of Terrors.
Taranath Tantric will be inspired by a character penned by author Bibhuti Bhusan Bandyopadhyay. The project, helmed by director Q, deals with a protagonist who dwells on the fringes of society, practicing the dark arts. Q mentioned that he had been developing the character for over three years and also published a graphic novel on the character. Digital was the obvious next step "since it's flexible in format and allow different kinds of narrative patterns," added Q.
Japani Toy's narrative revolves around an obsession for sex dolls, while Dhanbad Blues features actor Rajatava Dutta who plays an unsuccessful filmmaker, receiving validation from a group of coal mafias. Anirban Bhattacharya reprises his role of Byomkesh in the upcoming season, which will be adapted from Saradindu Bandopadhyay's Chorabali.
Other shows like Miss tipsy is being touted as a detective erotica while Bou Keno Psycho is set to be a dark comedy.
The platform will also release exclusive content in terms of films. These include Biryani, Do Not Disturb, Rong Bodol, The Festival and Teen Cup Cha. Teen Cup Cha will be an anthology of three short stories directed by Mainak Bhowmik, Debalay Bhattacharya and Pathikrit Basu, skirting around a common subject, a cup of tea.
Having had a very promising first year, Hoichoi can only go forward from this juncture, especially having done away with the language barrier. With content that cuts across borders and aims to depict well-crafted, nuanced stories, this regional player has become a trend-setter of sorts.
Entertainment
James Cameron stated that new universes will also be explored while continuing the story of the main characters in Avatar 3.
Entertainment
Naatu Naatu bagged numerous prestigious awards like Golden Globe and the Critic's Choice Award for Best Original Song before it won an Oscar.
Entertainment
Britain's queen consort, who worked with O'Grady to support animal charities, led tributes to a performer who emerged from the alternative gay comedy scene and became a national treasure.