Ben Hur review: A reminder that a terrible idea can lead to a disastrous remake
There is one fundamental problem with a 2016 reboot of Ben Hur – that absolutely no one needed it.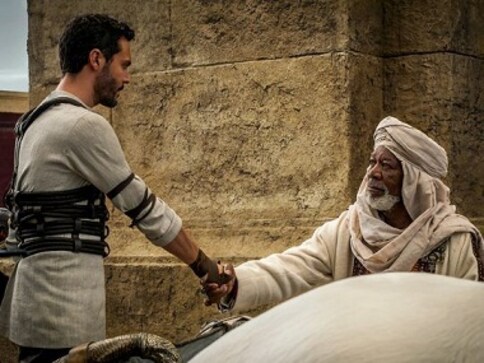 There is one fundamental problem with a 2016 reboot of Ben Hur – that absolutely no one needed it.
William Wyler's 1959 film is a classic and it's mind boggling that a bunch of people thought a remake in this day and age would be a good idea. This is of course the case with most remakes, and but the good ones like Cronenberg's The Fly have elements that make the remakes as enjoyable or even more fun that the originals. The 2016 Ben Hur, unfortunately, is a sad reminder that a terrible idea can lead to an epic disaster.
This is actually the fifth movie adaptation of the 1880 book of the same name by Lew Wallace, and the 1959 version was the best remembered for its gigantic scale, production design and the intricately designed chariot race sequence.
The problem with doing all those things again is that none of those elements are unique in 2016.
Thanks to Ridley Scott's Gladiator fifteen years ago there's been an influx of historical sword and sandal epics, and they all seem like clones of each other, and seem as grand as the 1959 film.
The story remains the same, except with an overtly prevalent addition of a religious angle. Ben-Hur (Jack Huston) is a young man in Jerusalem from an affluent family. His adopted brother Severus (Tony Kebbell) has always felt a little left out.
Pontius Pilate (Pilou Asbaek) leads the Roman army to take over the world and Severus decides to join him. Severus, corrupted by power also throws his half brother in prison and slavery.
At his lowest low Ben Hur is nursed back to health by Ilderim (Morgan Freeman) and figures out ways to usurp Severus and reclaim the innocence of the land.
The chariot race is in fact the highlight of the film, but with an abundant usage of CGI the whole thing looks unreal.
The filmmakers also throw in way too much grandeur and its destruction at our faces until the excess indulgence on the screen begins to feel repetitive. If you can picture a 'Fast and Furious Roman Drift' movie then Ben Hur's chariot race is pretty much that.
But the technicalities are more obvious because you care about none of the characters, which is sadly because none of the actors render any memorable performance. Kebell, who is in fact an excellent actor continues to make bad film choices, and no longer feels threatening as the antagonist because he's played the same role four times now. Freeman is downright laughable in dreadlocks and continues his tradition of phoning in a performance in a big film for a nice paycheck.
The shocking thing about this film is that it's directed by Russian filmmaker Timur Berkmambetov who made the amazing Night Watch films. None of the visual panache and sheer entertainment value from those films is seen in this movie and you wonder if he was a better fit as a filmmaker in Russia than in Hollywood.
Even his 2009 film Wanted had some interesting things going for it, but this is a catastrophe large enough to really hurt his career.
Entertainment
Vikrant Massey's impeccable and gripping performance makes Forensic a worth watch.
Entertainment
Nambi Narayanan's extraordinary story is marred by R Madhavan's average direction and superficial writing.
Entertainment
Blasted is the film you get if you try crossing The Hangover with Aliens In The Attic and Lazer Team.