Beauty and the Beast trailer: Emma Watson stars as Belle in this complete Disney package
Disney's live action re-telling of Beauty and the Beast with Emma Watson and Dan Stevens, is possibly less enchanting, but is a typical Disney film.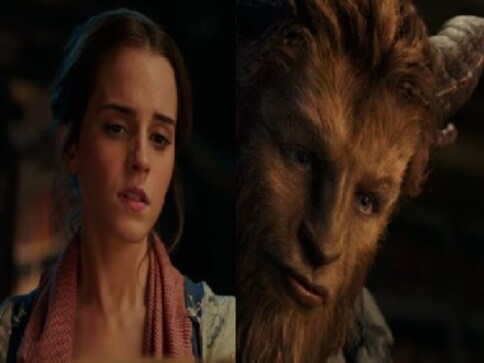 Disney's Beauty and The Beast from the 90s, the animated version, is possibly etched onto every 90s kid's mind. With the dancing teacups, the overly pink rose and the heart-warming grandfather clock, it was one of those popular Disney films that most households has a VCR tape of (remember those?).
In comparison, Disney's live action re-telling of Beauty and the Beast with Emma Watson and Dan Stevens, is possibly less enchanting, but replete with a magical background score, dreamy locations (or VFX), the age-old moral about inner beauty and Emma Watson playing Belle, this version is quite the complete Disney package.
The story is the same. Beauty and the Beast is a live-action re-telling of the studio's animated classic which encompasses the journey of Belle, a young girl who is taken prisoner by a beast in his castle. Despite her fears, she befriends the castle's enchanted staff and learns to look beyond the Beast's hideous exterior to his kind heart.
The film stars: Emma Watson as Belle; Dan Stevens as the Beast; Luke Evans as Gaston, the villager who woos Belle; Oscar winner Kevin Kline as Maurice, Belle's father; and two-time Academy Award winner Emma Thompson as the teapot, Mrs. Potts.
One thing is assured. On watching the trailer, you will definitely feel some nostalgia (even though Emma Watson looks nothing like the 90s Belle, and the monster from this live-action film is far scarier than the animated 90s version).
Some things haven't changed: Belle's flowing yellow gown, the magical rose, the huge library; and with John Legend and Adriana Grande helming the title track (also seen in the trailer), the music of this re-telling should be promising.
Watch the trailer here:

also read
Entertainment
According to reports, Prince Harry and Meghan Markle's spokesperson is shutting down speculation that the Sussexes exaggerated their New York City car chase in order to gain publicity.
Entertainment
No marriage is a smooth ride, and as for celebrities like Prince Hary and Meghan Markle, the journey is even tougher. Experts explain as to why all is not well in the Duke and Duchess' relationship.
Entertainment
After a lot of speculation Priyanka Chopra's Citadel will be coming up with its Season 2 on Prime Video.